Home / Sports / Iowa Hawkeyes
Hello, my name is...RB Akrum Wadley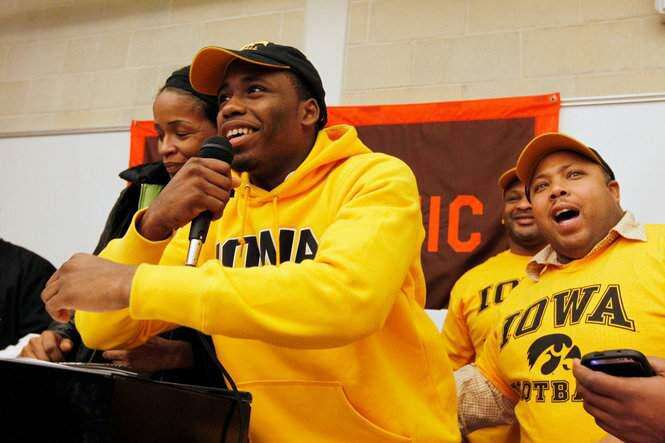 Position flexibility seems to be the thrust behind the recruitment of Akrum Wadley.
As a running back for Weeqhahic High School, Wadley finished with 1,548 yards on 105 carries (14.7 per attempt) and scored over 30 total TDs when he was named Essex county player of the year and second-team all-state.
He also had 11 catches for 153 yards and four touchdowns on returns as well. The Hawkeyes like his versatility and can see the two-star prospect at running back, slot receiver, or defensive back.
"They like me on both offense and defense actually," Wadley told HawkeyeReport.com. "I've talked a lot with the DB coach before, but when I went to my position meeting on Saturday they had me go with the offensive coordinator. He really likes me in the slot and maybe running the ball a little bit too, but I've got to gain more weight. They said we'll work out what's best for me once I get there."
Wadley was committed to Temple, but a visit to Iowa City helped him make the switch.
"When I was on the plane coming out to Iowa, I got a lot of text messages and calls from some of my friends that knew I was coming out here on a visit," said Wadley. "They were telling me it's all cornfields and country out here, but when I got here, it felt just like South Jersey. I was raised in Willingboro in South Jersey and it made me feel like I was home."
An old New Jersey connection helped pay off for Iowa and coach Kirk Ferentz.
From the New Jersey Star-Ledger: What helped Wadley get through this difficult period was the support he received from Weequahic coach Brian Logan and his staff. Wadley also had the help of Logan's good friend, Frank Verducci, the legendary Barringer coach who introduced Iowa to such Newark standouts as NFL Hall of Famer Andre Tippett, Keith Hunter, George Person, Norm Granger, Cedric Shaw and Houston Astros manager Bo Porter, the last Weequahic alum to play for Iowa back in 1994.
Scouting snippet (from various sources)
The Star-Ledger: Wadley, who is expected to be a running back and slot receiver, has plenty of talents to display. His speed, elusiveness and athleticism made [running backs coach Derrick] Foster, who spent a season with the Jets as a back, call him one of the top three running backs he has coached.
Also from the Star-Ledger: There were some questions surrounding Weequahic to start the season because of the amount of players it lost from last year's sectional finalist team.
What wasn't questioned was how Akrum Wadley would play.
Every time the ball touched his hands it was a must-see because he could any number of things when he got the chance.
The 5-10, 175-pound senior has the speed to leave defenders in his tracks, the power to throw a shoulder down and barrel his way through, the moves to leave defenses spinning and the athleticism to just jump over a would-be tackler.
He actually hopped over a defender who was practically standing up in the semifinals of the Central Jersey, Group 2 playoffs against Delran, you can find it on youtube. The only problem is that's a penalty and his run was called back.
MSG Varsity: Wadley, a multi-sport star like [former Iowa WR/baseball player and now Houston Astros manager Bo] Porter, attends University High in Newark, where he is an outstanding point guard on the basketball team. His Phoenix (12-6) reached the finals in both the Essex County and Group 1 state tournaments last year and again could be one of the top teams in Group 1. Wadley plays football for Weequahic since University does not field a team.
Wadley  is an accomplished enough point guard to play college basketball at some level, but he has long felt football was his calling. He wasn't so sure as he had ventured deep into the last football season with no sign of an offer.
"Some nights I didn't even get any rest, I didn't get to sleep," Wadley said. "I was sending my highlight tape (replete with explosive bursts and ankle-breaking cuts) to everyone. Once Coach Ferentz got in touch with me, I just felt very good. When DB coach Darrell Wilson came to visit and got me out of class, I was so happy words can't even explain how I felt."
What Iowa said . . .
Recruiting coordinator Eric Johnson: "It was an old connection [Frank Verducci], he used to filter a lot of recruits to Bernie [Wyatt, a former Iowa assistant coach with Hayden Fry in the 1980s]. He called up and said, 'I've got this kid no one is recruiting. I'm telling you he is a great one.' That kind of sparked coach Ferentz's interest, because, according to coach Ferentz, coach Verducci was never wrong in the guys he sent here. We watched the tape and were extremely impressed with him. Coach Ferentz watched him play basketball and was extremely impressed with him. His attitude, his mom and everybody, coach Ferentz thought he was someone we definitely needed on our team." Running back slash wide receiver slash slot? . . . "Yes."
What Ferentz said . . .
"We've known about him since December. It's like the Mike Daniels' story [NJ longshot type of recruit]. And Frank Verducci, the long-time coach, Andre Tippett's coach, Frank had four guys come out here from high school that ended up being captains here. When he called, that kind of got our attention because I think he really understands what it takes to leave home and be successful. He didn't call us about his ability or anything like that, he called us about the kind of young man he was and that got our interest going there."
What I think (FWIW, obviously) . . .
Wadley will either be part of the hybrid back thingie that Iowa seems to want to try out (and certainly recruited to this year) or he'll be a wideout or he'll be a safety. From Ferentz's comments, it sounds as though they recruited the attitude as much as the skill set. His video reel suggests offense. He's a player you want to get the ball to. Remember when Ferentz made the comment at the outset of recruiting, about wanting players who "score more touchdowns"? Maybe Wadley is one of those?
Video from the Star-Ledger