Home / Sports / Iowa Hawkeyes
Game-changer of a game for Hawkeyes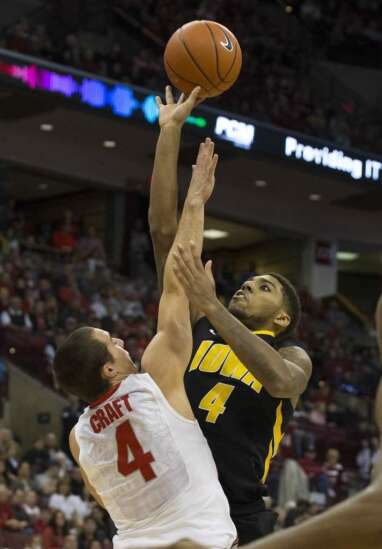 You'd have to go back a long way to find a more-meaningful Big Ten men's basketball victory for Iowa than the 84-74 it earned at Ohio State Sunday.
Just how long is debatable, but "a long way" is not.
This  win -- for now and maybe for the rest of this season -- is the cliched game-changer. This was a road win over the nation's No. 3-ranked team. It was Iowa's first win over a Top Five team in 13 years. It was this, it was that.
But you know what it was more than anything else. It was the big step forward.
This was not only standing up to second-half adversity, but knocking it down and kicking it to the curb. It was defeating an elite program on the road. That's as big a statement as you can make to say you're for real, a team to be reckoned with by everyone, everywhere. How many other times do you think the Buckeyes will lose at home?
There was no bad body language inside Iowa's uniforms when OSU briefly went ahead by nine points with 12:51 left in the game. The "here we go agains" whipping across Hawkeyeland weren't in the heads of the players. They defended ferociously when it mattered most, they started making 3-pointers in moments that mattered most, and they got genuinely first-rate leadership from senior guard Devyn Marble at both ends of the court.
"I think I'm as good a defender as you," was what Marble said he was thinking about Buckeye stopper Aaron Craft, and he certainly was. He had three steals and two blocks to go with his 22 points and his drawing of several Buckeye fouls.
"A phenomenal captain," Iowa Coach Fran McCaffery said afterward.
But it wasn't a one-man band. Forwards Aaron White and Melsahn Basabe played with that something extra that separates good from terrific. Basabe had a late tip-in that was huge.
Mike Gesell, much-maligned for his shot-selection at Wisconsin a week earlier, was a solid presence. Jarrod Uthoff and Josh Oglesby gave the Hawkeyes good stuff off the bench.
Ohio State had 17 turnovers, Iowa 10. On the Buckeyes' floor. That's your Stat of the Game. But a close second is Iowa's 40 rebounds to OSU's 31.
And while 5-of-17 looks like ho-hum 3-point shooting, the Hawkeyes made four of their final seven tries including a three-possession stretch of three-three-three from three different players.
This performance didn't come from out of the blue. It was a dam that was about to break. The Hawkeyes were so good for much of their loss against Villanova, so good for 38 minutes at Iowa State, so very good for a half at unbeaten Wisconsin. The Hawkeyes were piling up more respect from outside their state than inside it, as the weariness of not closing out games was wearing on their fans.
But it's a long season chock full of opportunities, and Iowa didn't wait until February or March to seize a big one.
You can make statistics do whatever you want, and overall wins and losses are the only things that ultimately matter. But in the category of road wins against the five clubs that you'd project as likely first-division teams -- Michigan, Michigan State, Ohio State, Wisconsin and Iowa -- only the Hawkeyes have one. Michigan State's win at Indiana could easily fit in that category, but it's not a certainty right now.
It's also just four-eighteenths of the conference season completed. And until someone beats Michigan State and Wisconsin anywhere, the Spartans and Badgers are still the league's top bananas. But both have to come to Iowa City.
"It's a grind," McCaffery said, "but it's fun when you have guys like this."
It got a lot more fun on Sunday.