Home / Sports / Hawkeye Sports
'Business as usual' as Iowa heads into Big Ten track championships
Hawkeye men won 2019 outdoor title and 2021 indoor crown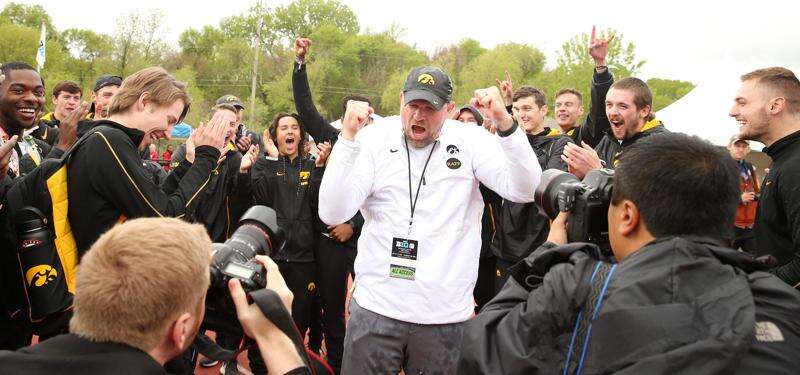 Joey Woody is taking nothing for granted.
Just because his Iowa men's track and field team won the 2021 Big Ten indoor championship and just because it also captured the last outdoor title, in 2019, doesn't mean this weekend's meet is a slam dunk.
"I always feel like we've got a chip on our shoulder a little bit," the Hawkeyes' director of track and field and cross country told Iowa's sports information office earlier this week.
At the same time, Woody hopes those athletes who were on that 2019 championship team have good memories.
"Fortunately, we have a lot of athletes who were on that championship team ... they came back specifically to compete and win another title outdoors," he said, noting the extra year athletes received after COVID-19 wiped out the 2020 season.
"We're definitely banking on those recent memories ... what we did and what we needed to do."
The Big Ten Outdoor Track and Field Championships begin Friday in Champaign, Ill. The three-day meet wraps up Sunday with, Woody hopes, another trophy to bring back to Iowa City. Maybe two.
"On paper, we're looking good, both men and women," he said. "I feel really good about where we're at right now."
The Hawkeye men are ranked 21st nationally, but first in the Midwest and the highest-ranked team in the Big Ten. The women are ranked third among Big Ten teams, 30th in the country.
While the outdoor season has been a roller coaster of sorts, Woody said after the Billy Hayes Invitational in Bloomington, Ind., things started to come together.
"I still think we've got some areas we can improve on ... (but) at the end of the day, we've just got to show up and do what we're capable of doing and let the chips fall where they may," he said. "If we just focus on ourselves, then we're going to have a really good chance to compete and win the trophy."
The men's team is led by Wayne Lawrence Jr., who ranks second in the league in the 400-meter dash (45.80 seconds) and fourth in the 200 (20.71). He also runs on Iowa's 1,600-meter relay, which ranks first in the Big Ten.
Austin Lietz has the best time in the 400 hurdles at 50.99, Jaylan McConico (13.42) and Jamal Britt (13.45) rank first and second, respectively, in the 110 high hurdles, Tysen VanDraska (1:48.21) and Alec Still (1:48.47) are 2-3 in the 800 and Daniel Soto is second in the 10,000 (28:48.18).
"I'm feeling good in the 110 hurdles," said Britt, a runner-up in the NCAA indoor 60-meter hurdles who also ranks fifth in the Big Ten outdoor 400 hurdles.
And that's just a handful of leaders in a handful of events. Woody said the Hawkeyes are a deep team with potential scorers in a variety of events.
"I think that's a positive," he said. "That's why we're good."
The women's team is led by Laulauga Tausaga, who has the best discus performance — by far — in the Big Ten (199 feet, 6 inches) and the third best shot put (58-10 1/4).
The 2019 NCAA discus champion, Tausaga owns eight Big Ten Championship medals in her career.
Jenny Kimbro ranks first in the conference in the 100 (13.42) and 400 (58.43) hurdles. She also ranks first in the heptathlon with 5,543 points.
Now it's time to "defend" that men's title and possibly win the first women's title in program history.
"We want to bring that same energy (as winning the indoor title) to outdoors," Britt said.
"For us, it's business as usual," Woody said.
Comments: (319) 398-8461; jr.ogden@thegazette.com