Home / Sports / Iowa Hawkeyes
50 Iowa moments since Title IX: Iowa tennis earns surprising spot in NCAA Round of 16 in 1999
Moment No. 21: Hawkeyes surprise everyone from security guards to coaches with pair of upsets to earn first, only NCAA Round of 16 spot in program history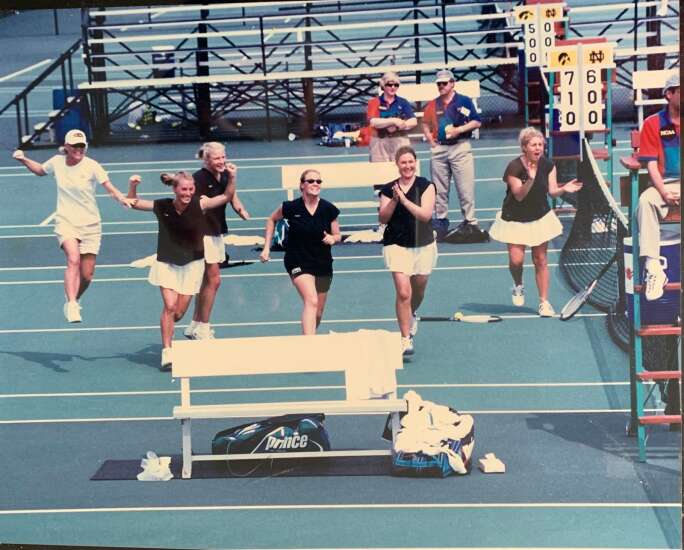 Editor's note: This is 30th in a series counting down the Top 50 moments in Iowa Hawkeyes women's athletics history in the 50 days leading up to the 50th anniversary of Title IX in June.
When former Iowa women's tennis coach Paul Wardlaw said "we weren't getting a lot of love" in 1999, he wasn't kidding.
The Hawkeyes' first-round opponent in the NCAA tournament, Florida State didn't even hide it.
"At the coaches' meeting before the tournament, the big issue was, how is Florida State going to get to Midway Airport by 6 p.m." Wardlaw said, "if the (Round of 32) match starts at 11?"
Then ahead of the Round of 32, Notre Dame parents already purchased flight tickets for the next round. Security couldn't believe Iowa won the first match.
"Security wouldn't let us in," Wardlaw said. "They're like, 'Well, you guys lost yesterday to Florida State.'"
But Wardlaw stunned Florida State coaches, the security guards and Notre Dame parents, taking the 1999 Hawkeyes to the Round of 16 for the first time in program history.
It was one of a handful of NCAA tournament firsts for the Hawkeyes — first team appearance, first doubles appearance with the tandem of Toni (Neykova) Bickford and Shera Wiegler.
The Hawkeyes' postseason success came despite finishing fifth in the Big Ten.
The 1999 trip to South Bend, Ind., and then Gainesville, Fla., set up future NCAA tournament trips "in a big way," Wardlaw said. Iowa made the tournament in five of the next seven seasons.
Still, the 18 wins in 1998-99 remain the most in program history although former coach Daryl Greenan's group matched it in 2005-06 and current coach Sasha Schmid neared it in 2016-17 with 16 wins.
Comments: (319) 398-8394; john.steppe@thegazette.com