Home / Sports / Iowa Hawkeyes / Iowa Football
You got college football trouble, folks, right here in River City
Lots of big boys are stumbling, and Iowa certainly is among them with an offense inducing ridicule from points near and far.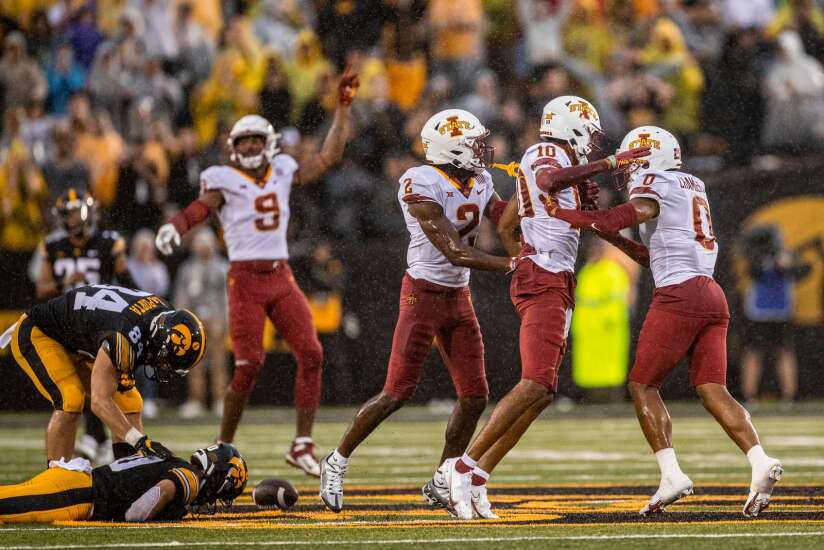 We'll get to Iowa here. Oh yes, we will. But first, let's celebrate all the goodness that came from college football Saturday.
Appalachian State winning at Texas A&M Saturday is wonderful. Georgia Southern triumphing at Nebraska is delightful. Marshall prevailing at Notre Dame is exquisite.
For all their money and might, three bigfoots were toppled by three members of the Sun Belt Conference. Casual football fans would have an easier time locating Uzbekistan on a map than Boone, Statesboro or Huntington.
The Big Ten and SEC have leveraged their power and popularity to build castles to separate themselves from the rest of their college sports brothers and sisters. But on the field of play, they can still look like houses of cards.
Two of the four visiting teams that walked out of Big Ten stadiums with wins Saturday were Duke and Washington State. Remember that alliance the Big Ten had with the ACC and Pac-12 that lasted about 15 minutes? Then the Big Ten swiped USC and UCLA from the Pac-12.
By the way, UCLA's two "announced" home crowds this season were 27,143 and 33,727.
Washington State, expected to finish well down the Pac-12 standings, won at Wisconsin Saturday. The Badgers were the odds-on preseason pick to win the Big Ten West.
Then there was Iowa State, which clipped Iowa 10-7 Saturday. The Cyclones are in the Big 12, a conference that has been raided twice by the SEC and once by the Big Ten. The latter got Nebraska, but the league has painfully learned it got Nebraska Lite, a program in such disarray that it fired its latest head coach on the second Saturday of September.
The Big 12 has been declared dead a few times in the last decade. Even with Oklahoma and Texas soon to depart, the league's pulse rate is fine. Who plays better, more entertaining football, the Big 12 or the Big Ten West?
Which brings us to Iowa. What has happened with the Hawkeyes through two games is extraordinary.
Call it piling on if you want, but we've never seen anything like this at Iowa. For it to not only be 131st and last in the nation in total offense with 158 yards per game, but to be 74.5 yards per game worse than the 130th team? Stunning.
Through two games, Maryland has 87 points. Rutgers has 88. Minnesota has 100. Iowa has 14.
Illinois' Chase Brown is averaging 165.3 rushing yards per game, and has played against two Power Five conference teams. Iowa is averaging 57.5.
Purdue's Charlie Jones averages 143 receiving yards per game and has four touchdown catches. Iowa averages 100.5 with zero TDs.
The Hawkeyes are 126th in completion percentage, tied for 129th in red zone opportunities, 130th in passing efficiency.
This isn't Massachusetts or New Mexico State. This is a major program that has been in the final AP Top 25 the last four years. Its recruiting has perhaps never been better than the last five years, and it got a verbal commitment Sunday from 3-star quarterback James Resar of Florida.
This is a program that has fan support Illinois and Minnesota and UCLA can only dream about. This is a program set up to print money for eternity thanks to its Big Ten birthright.
And it's suddenly getting ridiculed by people across the nation.
The season is just two games old. Maybe the offensive line will get incrementally better. Maybe the gradual return of injured wide receivers will make a noticeable difference.
Maybe. Of course, maybe Iowa hasn't made a quarterback change because there's no Ricky Stanzi or C.J. Beathard waiting in the wings.
Should Alex Padilla be moved from No. 2 QB to No. 1 this week as one would expect, it's a bit of a double-edged sword for Kirk and Brian Ferentz.
If Padilla sparkles, it's "Why the heck did you wait so long to make a change?"
If he doesn't, it's "What are you coaches doing to these quarterbacks?"
Nevada, the Hawkeyes' opponent Saturday night, lost 55-41 to Incarnate Word Saturday. FCS program Incarnate Word passed for 406 yards and rushed for 210. Iowa will be 2-1 going into Big Ten play next week.
I can't promise anything after that.
Comments: (319) 398-8440; mike.hlas@thegazette.com