Home / Sports / Iowa Hawkeyes / Iowa Football
Steppe's Stats: How 'Superman' Kaleb Johnson succeeds despite mixed results from Iowa's offensive line
True freshman Johnson picks up bulk of yardage after contact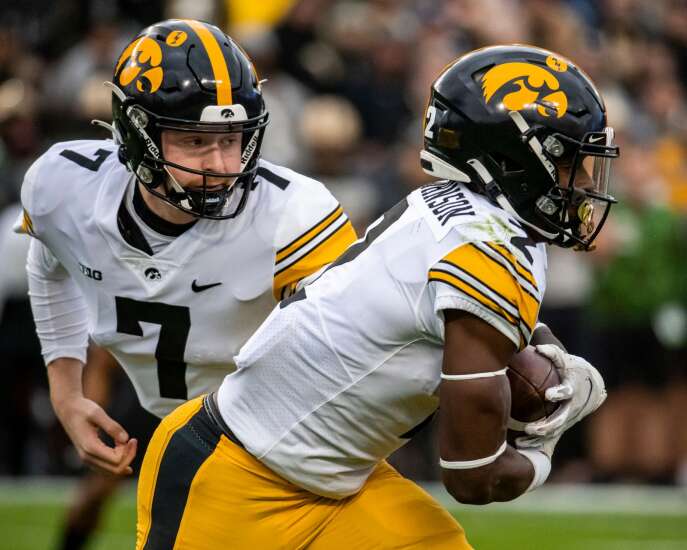 IOWA CITY — Kaleb Johnson picked up the nickname "Superman" in high school after a 320-yard, three-touchdown performance.
"Nobody could stop me," Johnson said.
Stopping the 212-pound Iowa running back has not been an easy job for Big Ten defenses either.
Johnson has averaged 5.8 yards per carry as a true freshman and last weekend became the first Hawkeye to rush for 200 yards in a game since 2015.
It's been despite working behind an offensive line that ranks 125th in Football Outsiders' line yards per carry stat and came into the season lacking experience.
Right tackle Jack Plumb is the only upperclassman in the starting lineup, and Nick DeJong is the only upperclassman listed on the second team.
The offensive line's challenges have been less of an issue, though, because of the Hamilton, Ohio, native's knack for breaking tackles.
"That's everybody's best friend, if you have a back that can do that," football coach Kirk Ferentz said this week.
Johnson is one of 15 running backs in the Big Ten to have at least 90 carries, which translates to 10 carries per game their team played.
Johnson ranks second among those players in percentage of yards coming after contact with a defensive player, according to a Gazette analysis of Pro Football Focus data.
The true freshman has picked up 68.2 percent of his yards after contact, behind only Ohio State's Miyan Williams' 69.2 percent.
In two of Iowa's first six games — the 7-3 win against South Dakota State and 9-6 loss to Illinois — he had more yards after contact than yards total. On average, an Illinois or South Dakota State defender would meet Johnson behind the line of scrimmage.
The South Dakota State game comes with an asterisk because he had a season-low three carries.
The offensive line's improvement has made life easier for Johnson.
Johnson averaged more than two yards per carry in back-to-back games against Northwestern and Purdue. The only other time he has had that luxury was against a Nevada defense that gave up 55 points to Incarnate Word the week before.
The increased space from the offensive line helped Johnson rush for 93 yards against Northwestern and 200 yards against Purdue — his two best performances against Big Ten teams.
Should the offensive line continue to do what it did against Northwestern and Purdue in its last three games, it would likely bode well for Johnson and fellow running backs Gavin and Leshon Williams.
Johnson's skill set goes well beyond breaking tackles. Johnson has accumulated 47.9 percent of his yards from breakaway runs, which go at least 15 yards, according to PFF. That's the third-highest percentage among Big Ten backs with at least 90 carries.
Johnson also has impressed Iowa's coaching staff in ways that are not as easily quantifiable as yards before and after contact or breakaway runs.
"I always think first he's just a delightful young guy," Ferentz said.
Strength and conditioning coach Raimond Braithwaite told Ferentz he'd consistently see Johnson and fellow freshman running back Jaziun Patterson "come by every day, 5:40, 5:45, smiles on their faces" for morning training sessions in the summer.
"'Hey, coach, how you doing,' all that kind of stuff," Ferentz said. "That's really unusual for young guys to be on top of things on a consistent basis like they were."
Comments: john.steppe@thegazette.com