Home / Sports / Iowa Hawkeyes / Iowa Football
Minus defensive magic vs. Michigan, Iowa football not a show worth watching
Iowa shows more of its season-long mediocrity on offense, and that was a recipe for a 27-14 defeat against the No. 4 Wolverines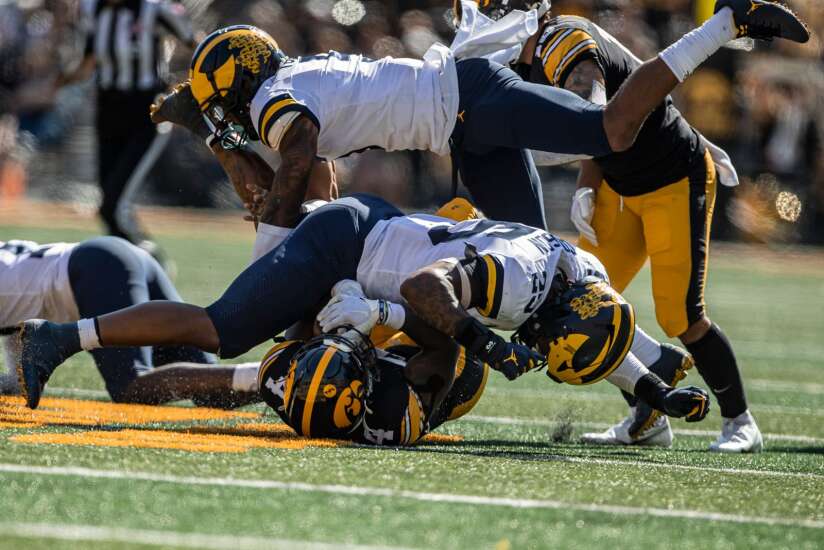 IOWA CITY — It's amusing and amazing that the pink walls of the visitors' locker room of Kinnick Stadium still matter to anyone, but everything about this place is significant to Michigan football coach Jim Harbaugh.
He spent a few of his formative years as a boy in Iowa City while his father, Jack Harbaugh, was an Iowa assistant football coach in the 1970s. He lost here as Michigan's quarterback in 1985 when No. 1 Iowa beat the No. 2 Wolverines on a last-second field goal.
In his lone previous game here as Michigan's coach, the Wolverines again were ranked second and lost on a last-second field goal. Iowa was an 18-point underdog. That was 2016.
So earlier in the week, Harbaugh didn't downplay from Iowa's success here over elite teams in recent years. He wanted it mentioned, wanted his guys fully aware of it and motivated to avoid a similar result.
"That's where top-five teams go to die," Harbaugh said about Kinnick, quite a statement given his guys are ranked No. 4.
And those pink walls? Michigan's players talked about them with glee after the game. They even waved pink towels on their sideline.
"Let 'em know that we don't care," said Michigan quarterback J.J. McCarthy. "The pink locker room? Bring it right out to the field, doesn't matter. It didn't faze us."
McCarthy was very good, running back Blake Corum was very good, Michigan's offensive line was very good. The fourth-ranked Wolverines led 13-0 at halftime, 20-0 entering the fourth quarter, and went home feeling in the pink after their 27-14 win.
Kinnick, where top-five teams go to die? Not in 2022. The only thing Iowa's offense puts to sleep is the audience.
The Hawkeyes had two touchdown drives — the second came after Michigan put the game out of reach — so that presumably is progress. But it wasn't the kind of offense to hang with a really good team in one of the games that are remembered when a season is over.
Iowa (3-2) is 0-2 in those, against Iowa State and Michigan.
The Hawkeye offense did have its best game of the season, aesthetically. Wide receiver Nico Ragaini's return to health has made the passing game better. The overall unit, however, isn't good enough to win games when its defense doesn't force turnovers.
"I think we're getting better up front," Iowa Coach Kirk Ferentz said.
"I think we've got backs that are doing a pretty good job. I think we have two tight ends doing a pretty good job, and getting Nico back, all that stuff goes together.
"I'm not discouraged by our guys. In fact, I'm encouraged by some of the things I'm seeing. But we're going to have to keep moving and obviously have to get better."
There was no defensive magic against a top-five team this day. Thus, there was no magic, period. There were no pick-6s, no scoop-and-scores. Relying on such things to win is fine against a Rutgers, but it's a lot to ask against Michigan.
The Wolverines came to this house of pain feeling no intimidation. They laughed at the pink walls, and didn't tremble because of crowd noise or the vaunted defense wearing black.
They established a vintage Michigan run game on its first drive, and established themselves as the superior team.
This wasn't the 42-3 Hawkeyes' humiliation at Michigan's hands last December in Indianapolis, but it certainly didn't close all of that wide gap. Iowa didn't score until the fourth quarter had begun, folks.
On fourth-and-2 from the Michigan 6 with the score 20-7 and about six minutes left, Iowa was called for offensive pass interference. The penalty was declined because the Hawkeyes had completed a pass for … 1 yard.
Ferentz has seen a lot of football and says he's encouraged. We've seen a lot of his teams, and know many got better in the second halves of seasons. The Big Ten West is there for Iowa's (or somebody's) taking again this year, maybe with three league losses this time.
But does that excite you? No, it does not.
A university that offers majors in art, screenwriting arts and theatre arts charges Hancher Auditorium prices to see a football offense that Ferentz calls "a work in progress."
As usual.
Comments: (319) 398-8440; mike.hlas@thegazette.com