Home / Sports / Iowa Hawkeyes / Iowa Football
Keagan Johnson, Nico Ragaini among players not listed on Iowa football Week 3 depth chart
First teams on depth charts in 2022 have often varied from in-game starters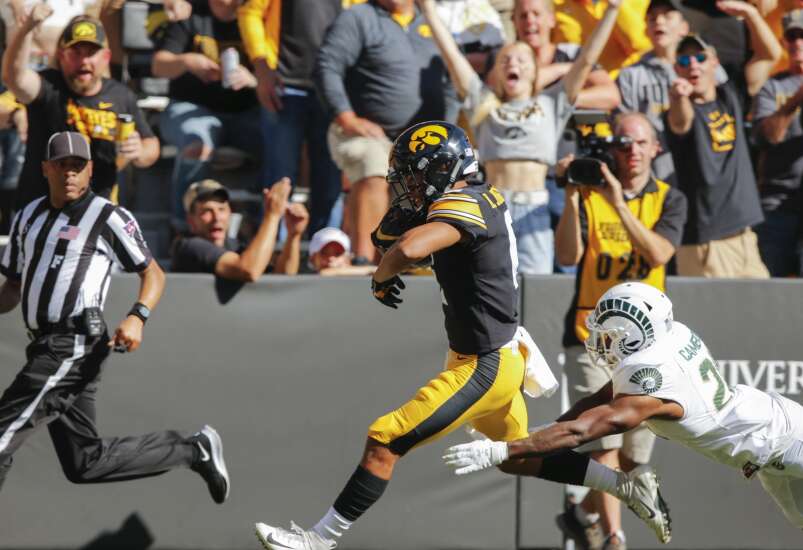 Editor's note: Kirk Ferentz provided injury updates on several players at his Tuesday press conference. The article with the most recent injury information is available here.
IOWA CITY — Iowa wide receivers Keagan Johnson, Nico Ragaini and Diante Vines still are not on the Hawkeyes' Week 3 depth chart after missing the first two games of 2022 with injuries.
Linebacker Jestin Jacobs and cornerback Jermari Harris also are not on the Week 3 depth chart. Harris has missed both games, and Jacobs left the Week 1 win with an injury.
Ragaini is "getting close" to being healthy, head coach Kirk Ferentz said Saturday, and Johnson's health "improved for the first time" last week.
An injury-related exclusion from the depth chart usually "means he has no chance to play this week," Ferentz said earlier this season.
If Johnson and Ragaini indeed miss Iowa's Week 3 game Saturday against Nevada, it would again leave a heavy burden on wide receiver Arland Bruce IV and Iowa's tight ends.
Ferentz has pointed to the lack of depth at wide receiver as one of the reasons for Iowa's offensive shortcomings although it is far from the only reason.
"It's certainly a factor," Ferentz said Saturday. "It's not an excuse, but it is a factor if you do the math on it."
Spencer Petras remains the No. 1 quarterback, but that might not mean much. Ferentz's depth charts this season have often varied widely from the starting lineups on game days.
Connor Colby, for example, has played exclusively at right tackle this season, but the Week 3 depth chart still lists him as the starting right guard.
Ferentz will speak to reporters Tuesday afternoon, which should provide a better idea of who is starting and available at key positions.
Comments: (319) 398-8394; john.steppe@thegazette.com