Home / Sports / Iowa Hawkeyes / Iowa Football
Joe Labas, others benefit from Iowa football's pre-bowl practices
Iowa's QB1 vs. Music City Bowl feels 'basically comfortable with everything' amid challenging transition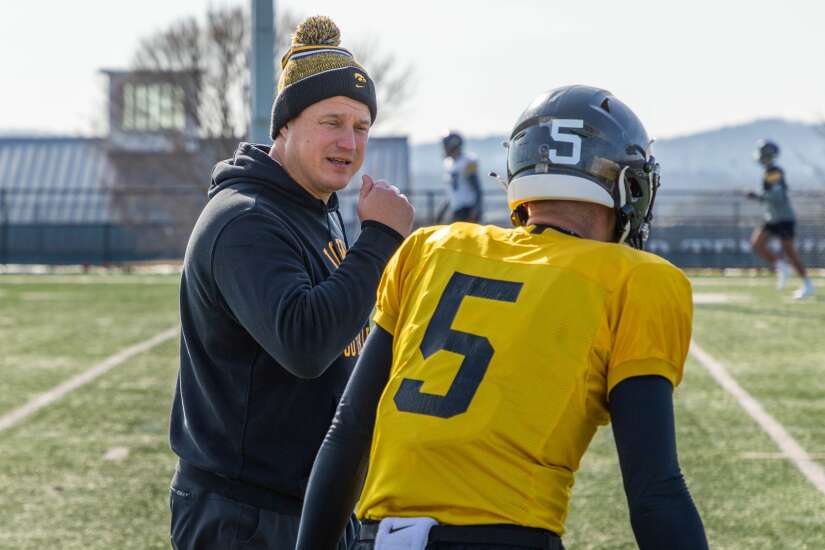 NASHVILLE — Iowa football players had to deliver without much time, relatively speaking, to prepare Wednesday evening for a competition.
With the help of a songwriter, a foursome serenaded the crowd with a country song — well, mostly country with a rap verse in the middle — with lyrics about Joe Labas "throwing that long ball" and Kaleb Johnson "busting through some walls."
"Not a lot of time to prep, but we got the win," Spencer Petras said after Iowa's singers won the pre-bowl songwriting competition against Kentucky. "And that's the goal for Joe."
Petras, Iowa's injured quarterback and now perhaps lead vocalist, is of course referring to Labas' transition from Iowa's scout team quarterback to Iowa's No. 1 quarterback for the Music City Bowl.
Labas said last week he is "basically comfortable with everything" Iowa's offense has been doing, and the playbook is "pretty wide open."
Teammates, meanwhile, have spoken highly of Labas ahead of his first career start.
"Joe's really done a good job of improving," offensive lineman Mason Richman said.
Petras has expressed confidence in Labas' work after bowl practices, too.
"I think he's going to play well," Petras said. "I'm excited for him."
What Labas is trying to do is not an easy task, though.
"Day 1 was a learning curve for sure," Labas said.
Richman said he noticed Labas was "doing this breathing where it was 'I have to breathe because I have to' instead of 'I want to breathe and relax a little bit.'"
"I had to teach him a couple breathing mechanisms just to relax out there," Richman said.
Petras said he personally has tried to "kind of shut up" so that he does not overload Labas with information when coaches already are giving instructions.
"I would love to tell him about every single play," Petras said. "I never want to overstep in that way and overload a guy like Joe — young guy."
As Labas adjusts to leading Iowa's offense, Iowa's offense also appears to be schematically adjusting to Labas.
Iowa has shown run-pass option plays in both portions of practices this week that were open to media as it tries to take advantage of his mobility.
The practice segments open to media represent a fraction of Iowa's overall practice time, though, so it is unclear how extensive the change will be in games.
With the addition of run-pass option plays, Richman said the scout-team defense has added calls to prepare the offense for how defenses might approach the RPO.
"I'm not sure if they have these calls for other teams with RPOs, but we never heard it until this bowl prep," Richman said. "We've grown with (the RPOs), handled it well."
Others to develop during bowl practices
Defensive lineman John Waggoner pointed to Max Llewellyn, Jeremiah Pittman, Aaron Graves, Caden Crawford and Brian Allen as some of the players at his position group that have been "doing some good things."
In the secondary, Riley Moss said Deshaun Lee has been "stepping up" and A.J. Lawson has "been doing a great job of really listening and understanding the defense a little bit more on a more conceptual level."
As the month of December changes with the proliferation of players transferring via the portal, Moss has noticed an impact on the December bowl practices.
When Moss was a true freshman and was preparing for the Outback Bowl, Iowa had a "full slate." Now, Iowa is essentially down 10 scholarship players after nine entered the transfer portal and one opted out of the bowl game.
"You really can't be as physical and aggressive, like we were in 2018," Moss said. "I do remember a couple times my freshman year getting hit pretty hard in full pads. … That made me grow up a little bit faster."
Comments: john.steppe@thegazette.com