Home / Sports / Iowa Hawkeyes / Iowa Football
Jack Campbell, Iowa football's team-first leader, brings 'double value' to Hawkeyes' defense
Star linebacker quick to redirect credit for success to teammates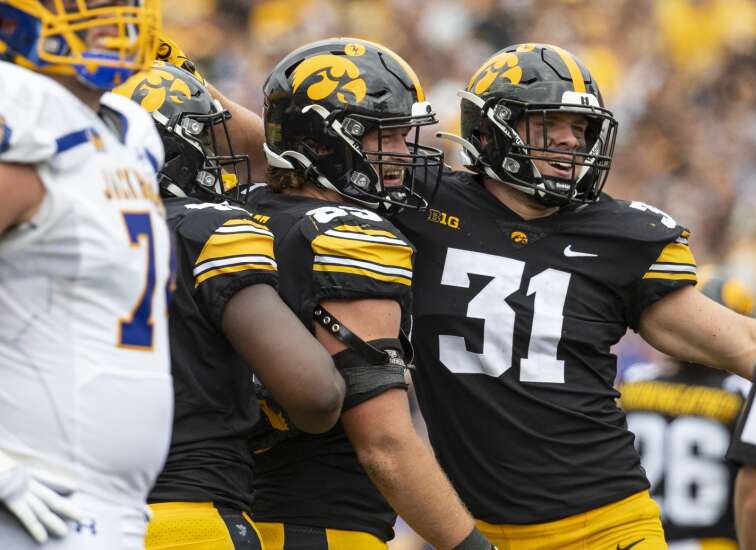 IOWA CITY — Standing at a podium in front of reporters after his team's 33-13 win against Northwestern, Jack Campbell was trying to deflect credit for his latest award recognition.
Iowa's starting middle linebacker had just been named a finalist for the William V. Campbell Trophy, which "recognizes an individual as the absolute best in the nation for his combined academic success, football performance and exemplary leadership." Every finalist will receive an $18,000 postgraduate scholarship.
"It's an honor," Campbell said last month. "But first and foremost, when I'm a finalist for something like that, that's all my coaches, my family and my teammates. They just put me in that position to be able to succeed in that way."
Then Iowa's humble star realized he could not quite deflect all of the credit for an award recognizing athletics and academics.
"I guess the academic part I can kind of put on me," Campbell said, met with some laughter from reporters used to him always finding someone else to give credit to for his success. "But I don't know. … I probably had a little bit of help here and there."
It was just one example of the senior linebacker's team-first leadership.
Head coach Kirk Ferentz described Campbell as an "exceptional player" and "exceptional team member on top of it."
"To me that's where the double value is," Ferentz said Tuesday. "That's what good players do. Like, they not only play well, but they also make the guys around them play better. He's definitely done that. … Whether it's on the field, off the field, away from the building, it's not hard to like everything he does."
Defensive back Cooper DeJean has seen Campbell lead with "the way he carries himself."
"If you saw him on the practice field, he's going 100 percent all the time," DeJean said. "I think that brings everybody along."
Defensive coordinator Phil Parker had a similar observation in a Zoom media availability earlier this month after a particularly intense practice.
"Sometimes we like to slow him down and make sure that we don't hurt our own guys," Parker said on the Wednesday leading up to Iowa's 13-10 win over Minnesota. "It was a very intense practice today. … We kind of took it up a notch today, and Jack was a big part of the energy and the toughness."
The senior from Cedar Falls has plenty of accolades.
Campbell was the preseason favorite to win Big Ten Defensive Player of the Year in a poll of Big Ten newspaper beat writers conducted by Cleveland.com.
He is a finalist for the Campbell Trophy and the Butkus Award, which goes to the top linebacker in the country. He also is a semifinalist for the Bednarik Award, which goes to the top defensive player in the country.
He was a semifinalist for the Rotary Lombardi Award, although he was not named one of the four finalists.
Campbell's portrait does not yet hang on the wall of Iowa's consensus All-Americans, but that likely will change after this season.
"Jack is not up there yet, right?" Ferentz said. "I'm going to go out on a limb and say he's got a chance."
Ferentz cannot recall every linebacker on the All-America wall off the top of his head, but he sees Campbell fitting in with the others on the west wall of the large, second-floor room in Iowa's football facility.
"(Andre) Tippett was a rare NFL Hall of Fame player, and he was a rare guy back in 1981," Ferentz said. "But outside of that … Jack fits in with pretty much any group you can find."
The accolade that means the most to Campbell, though, is not an individual one. It's a team one.
"The opportunity to play in the Big Ten championship last year," Campbell said. "Just because at Iowa, that's everyone's goal is to get into Indy and win it. Obviously, we came up short."
Campbell will have one more opportunity to achieve the first part of that goal again and get a shot at the second part of the goal. A win against Nebraska would crown the Hawkeyes as Big Ten West champions.
The division title implications aside, it also will be a special game for Campbell. Unless he uses his extra COVID-19 year of eligibility, Friday's game will be Campbell's last at Kinnick Stadium.
Campbell will "give all four of my parents a hug" and "thank them for everything that they've done for me" during the pregame senior day ceremony, but don't expect him to get too emotional about it.
"My parents already know this, but I'm going to go cherish that moment with them," Campbell said. "But at the same time, I know what I have to do, and I know where I have to be mentally. So I'm not going to — I don't know, maybe I will — but I don't think I'm going to be bawling out there."
Iowa football has "really taught me just the epitome of how to be a great young man in society today," Campbell said.
"Focus on little things," Campbell said. "Everything that I've learned on the football field is just like little fundamentals, discipline, details, and that's what I'm going to carry with me in the real world."
Campbell will "most of all" take away the relationships from the last four years.
His fellow linebacker and hunting buddy Seth Benson is "going to be successful in his next steps, whatever they are."
Then there are the many others, whether it be teammates or support staff "who want to see the best for me."
"I'm going to miss all these guys," Campbell said.
Long before any farewells, though, Campbell will have one more swarm entrance at Kinnick Stadium after hearing "Back in Black" blared from the Kinnick speakers, plus a swarm at the bowl game and maybe the Big Ten championship.
The tradition is symbolic of what Iowa football means to Campbell.
"Seeing that brotherhood every time in a game," Campbell said. "Win or lose, just everyone together. I've taken it in a different perspective from the back just to see everyone."
As the miscellaneous awards that recognize leadership allude to — the ones Campbell tries to deflect credit for — Campbell's time of being in the back of the team's collective entrance has passed.
"I kind of enjoy that, but now as a senior, you're kind of expected to get toward the front and just show the young guys what it's about."
Comments: john.steppe@thegazette.com