Home / Sports / Iowa Hawkeyes / Iowa Football
Iowa football rewind: Predictable plays, predictable results for Iowa offense vs. Illinois
'Self-inflicted' wounds add up for struggling Iowa offense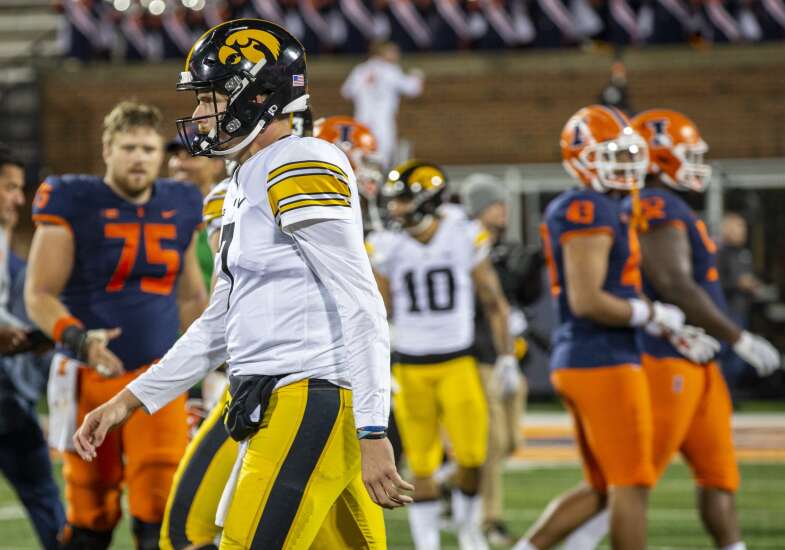 CHAMPAIGN, Ill. — Quarterback Spencer Petras saw "a lot of self-inflicted" mistakes by the offense in Iowa football's 9-6 loss to Illinois.
One doesn't have to look far on film to find some of those "self-inflicted" wounds.
A first-and-goal pass from Petras to running back Leshon Williams bounced on the ground two yards short of where Williams was. Had the short throw been on the mark, Williams might have scored a touchdown.
Gavin Williams never turned around on a third-and-4 in the second quarter when Petras threw to him. Had he turned around, the pass wasn't far off from where he was.
Those were two of the many problems for Iowa's offense in a performance with a 50 percent completion percentage, 1.7 yards per carry and no touchdowns.
Predictable choices by Brian Ferentz
Some clear trends emerged in offensive coordinator Brian Ferentz's playcalling Saturday.
While first-down calls were balanced between running and passing, his second-down calls were much more predictable.
On second downs that followed a Petras incompletion, excluding a play in the two-minute drill, Iowa ran the ball four of five times. The one pass was on a second-and-22.
On second downs that came either after a sack or rushing play that netted fewer than three yards, Iowa passed on six of eight occasions. When counting a replayed second down because of an offensive penalty, that goes up to seven of nine occasions.
One of the two runs following a short run or sack was at Iowa's own 3-yard line. Unsurprisingly, it was a quarterback sneak.
More predictable calls on early downs do not help the Hawkeyes' trend of having to dig out of third-and-long holes. The average distance for Iowa to go to convert on third down was 12.3 yards.
Negative plays add up
After slight, incremental progress against Michigan, 24th-year head coach Kirk Ferentz recognized Iowa's backward movement in the 9-6 loss.
"I'm not sure we took a step forward tonight," Kirk Ferentz said after the loss. "I felt like we did last week with the offense. Tonight, not the case."
The backward movement wasn't just metaphorical. It was literal.
Iowa's offense finished behind where it started on five of its 13 drives against the Illini.
Many backward plays put Iowa in unrealistic second-and-long and third-and-long scenarios.
Five Petras sacks resulted in a loss of 38 yards.
Seven offensive penalties cost the Hawkeyes 57 yards. An Illinois unnecessary roughness penalty offset a pair of Iowa unsportsmanlike conduct penalties that would've cost the Hawkeyes even more yards.
Iowa also had some questionable play-calls that resulted in big losses.
The Hawkeyes faced second-and-6 early in the fourth quarter in Illinois territory. A first down likely would've been enough for Drew Stevens to kick a go-ahead field goal.
Iowa called a play-action screen pass to LaPorta. Arland Bruce IV went into motion before the snap, leaving the left side of the field open with Illinois in man coverage.
After the play action, LaPorta went from blocking to running to the left side for a screen. Illinois' defenders weren't fooled (and likely shouldn't have been either considering LaPorta's threat as Iowa's primary receiver).
Offensive linemen Mason Richman and Logan Jones were ahead of LaPorta at the line of scrimmage ready to block, but multiple Illini players were already behind the line of scrimmage to meet Iowa's star tight end for a loss of eight yards.
Iowa had third-and-14 and was outside of Stevens' range. The Hawkeyes had to punt after an off-line Petras pass on third down.
Another costly example came in the final minute of the second quarter. Iowa had second-and-10 on the Illinois 18-yard line. A field goal seemed to be a given at that point.
Iowa faked a rollout to the right as Petras pitched the ball to wide receiver Nico Ragaini, who was running an end-around route in the backfield toward the left side.
Outside linebacker Alec Bryant was already in the backfield as the one Illinois player unblocked in the six-man rush. Bryant forced Ragaini to run farther behind the line of scrimmage.
Ragaini dodged Bryant, but it gave the rest of the defense a chance to catch up. Ragaini took a nine-yard loss. What would've been a 37-yard field goal for Stevens, the true freshman kicker, instead was 45 yards. Stevens missed the kick.
Iowa's third and final red-zone trip ended without any points.
Comments: john.steppe@thegazette.com