Home / Sports / Iowa Hawkeyes / Iowa Football
Iowa football early opponent preview: Michigan
Hawkeyes will have tall task when reigning Big Ten champions visit on Oct. 1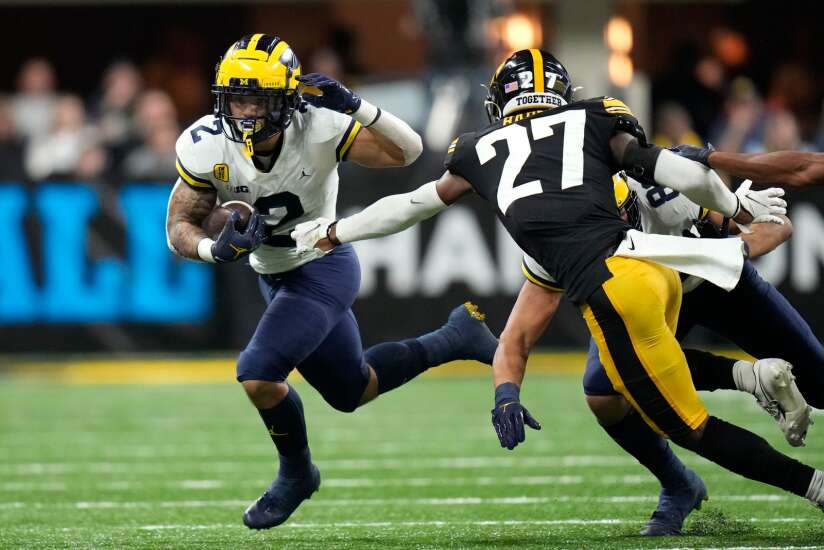 Editor's note: This is fifth in a 12-part series previewing Iowa football's 2022 opponents.
It's not hard to draw parallels between Iowa's 2021 matchup against Penn State and its 2022 matchup against Michigan.
Penn State was the marquee opponent on the 2021 schedule. Michigan is the marquee opponent on the 2022 schedule.
The Penn State game was Oct. 9, 2021. The Michigan game will be Oct. 1, 2022.
Penn State and Iowa were both undefeated in 2021. Michigan and Iowa both have favorable enough schedules in September to leave the possibility of an undefeated battle at Kinnick.
But preseason expectations for the Wolverines are higher in 2022 than the Nittany Lions had going into 2021.
While the Associated Press' preseason poll hasn't come out yet, many sportsbooks have Michigan in the top 10 for odds of winning the national championship. Many sportswriters have the Wolverines that high in their early 2022 rankings, too.
The team that routed Iowa, 42-3, in the Big Ten title game has many key players back for 2022.
The Wolverines have quarterback Cade McNamara back along with former five-star recruit J.J. McCarthy. Running back Hassan Haskins was drafted, but the speedy Blake Corum could be one of the best at his position in the Big Ten.
Michigan's offensive line won the Joe Moore Award in 2021, yet could be even better in 2022. The Wolverines have three starters coming back and added Rimington Trophy finalist Olusegun Oluwatimi via the transfer portal.
Defensively, Michigan will be without two elite edge rushers from last year — Aidan Hutchinson and David Ojabo, who are both in the NFL.
Iowa vs. Michigan: 3 things to watch
Blake Corum vs. Iowa's defensive front. Corum cut through Iowa's defensive front with ease on his way to a 67-yard touchdown in the Big Ten title game last year. He's back, and so are most of Michigan's starters on the offensive line. Iowa must do a better job of stopping the Wolverines' ground attack to stay competitive on Oct. 1.
How does Iowa's offensive line hold up against a respectable Michigan defense? Even without Hutchinson and Ojabo, the Wolverines are expected to have a formidable defensive front, led by defensive tackle Mazi Smith and linebacker Junior Colson.
Who is the starting quarterback on each team? Both starters from last year — McNamara and Iowa's Spencer Petras — are back, but neither has secured the role for 2022 yet. It should be an interesting quarterback competition between McNamara and McCarthy in Ann Arbor.
2022 prognosis
A lot has to go right for the Hawkeyes to have a similar result in the 2022 Michigan game as the 2021 Penn State game. It's possible although improbable. The result on Oct. 1 will be a good measure of how high the ceiling is for the 2022 Hawkeyes.
Iowa football opponent previews
» Nevada
» Rutgers
Comments: (319) 398-8394; john.steppe@thegazette.com