Home / Sports / Iowa Hawkeyes / Iowa Football
Historically, many Hawkeye teams have been cut off at the pass
Iowa's current offensive woes are reminiscent of far-worse times in the program's football history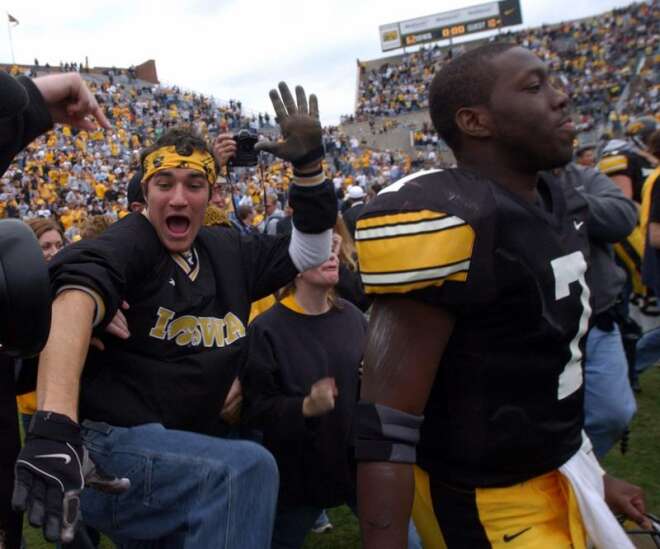 Twenty years ago, Iowa quarterback Brad Banks threw 26 touchdown passes and just five interceptions, and rushed for 423 yards and five scores.
The Hawkeyes went 8-0 in the Big Ten and 11-2 overall. They averaged 37.7 points. Banks was the Heisman Trophy runner-up and AP College Football Player of the Year.
For those of you who were 2 in 2002, believe this: Banks was really good.
The bad start Iowa's offense has endured over its first two games feels like 20 light years from Banks and the '02 Hawkeyes. However, this year's offense is comparable to many more past Iowa teams than the 2002 offense was.
Let's go to another anniversary year, the 50th. In 1972, Iowa went 3-7-1. Imagine how a 3-win season would play here now. Now imagine 3-7-1 being an oasis between the 1-10 Hawkeyes of 1971 and the 0-11 Hawkeyes of 1973.
This isn't meant to go all "Don't forget how bad things used to be," like some older Iowa fans still do after four decades of enjoying almost exclusively winning teams. We know, Pappy, we know.
But man, was it bad. In 1972, Iowa threw for two touchdowns and 15 interceptions. That's not a typo. It passed for 75 yards per game, and scored 9.9 points per game. It was shut out three times
How did those Hawkeyes win three times and get a tie? They didn't even have an Australian punter.
"I'm a lot happier after this season than last (when Iowa went 1-10)," Hawkeyes Coach Frank Lauterbur said after his 1972 team's season-ending 15-14 home win over Illinois before an estimated crowd of 25,000, "but I am by no means satisfied by the record."
Lauterbur's 1973 Hawkeyes then went 0-11, and he was out of a job.
That '73 club had five TD passes, 15 picks. Under three different coaches, the Hawkeyes passed for 44 touchdowns and 125 interceptions from 1970 through 1978.
I told you Brad Banks was really good.
Even Iowa's 1981 Rose Bowl team had just seven touchdown passes. But so did the Hawkeyes' opponents, and Iowa intercepted 21 passes. The defensive players from that team still let the offensive guys know who they think carried the load.
Things weren't much different last year when the Hawkeyes threw for only 12 TDs over 14 games, but their defense had 25 picks and the team won 10 times.
None of this is to make what's been going on with the current Iowa offense palatable. Averaging 158 total yards and completing 44.2 percent of passes is gross.
But Iowa has rarely been Quarterback U. Ever heard of Colin Kaepernick? Why, I'll bet you have. He played quarterback from 2007-2010 at Nevada, the Hawkeyes' opponent Saturday.
Kaepernick had 12,271 passing yards and 72 touchdown passes in the NFL. That easily tops the combined total of all the NFL quarterbacks who finished their college careers at Iowa, and Kaepernick's pro career was a lot shorter than it could have been.
And now, for something completely different …
A military veteran gets recognized at every Iowa home game during a first-quarter timeout. On Saturday, it will be three men who served during World War II, brothers Fred, Walt and Bob Lehman.
Fred is 99. He lives in Mount Vernon. He was a Marine. He met his wife of 73 years at a USO in Chicago. He has a "Fred's Jokes" page on Facebook that has 1,300 followers.
Walt is 98. He lives in the brothers' West Liberty hometown. He was wounded by a grenade exploding near his shoulder when he was in the Army and was awarded the Purple Heart.
Bob is 96 and also lives in West Liberty. He was a Marine and fought in battles in the Pacific Theater. All three brothers have been pillars of family and community.
"We think more of the ones that never made it home," Bob Lehman told KCRG-TV three years ago. "We just thank God that we've lived this long and had a good life."
Almost 300,000 Americans died in World War II. They and about 16 million other Americans served during that war, when fascism was squelched.
Democracy survived here. May that always be the case. It's our choice, right?
Comments: (319) 398-8440; mike.hlas@thegazette.com