Home / Sports / Iowa Hawkeyes / Iowa Football
Erick All Jr. adds to Iowa's existing strength at tight end in 2023
Lachey-All duo could mean another year of heavily featuring tight ends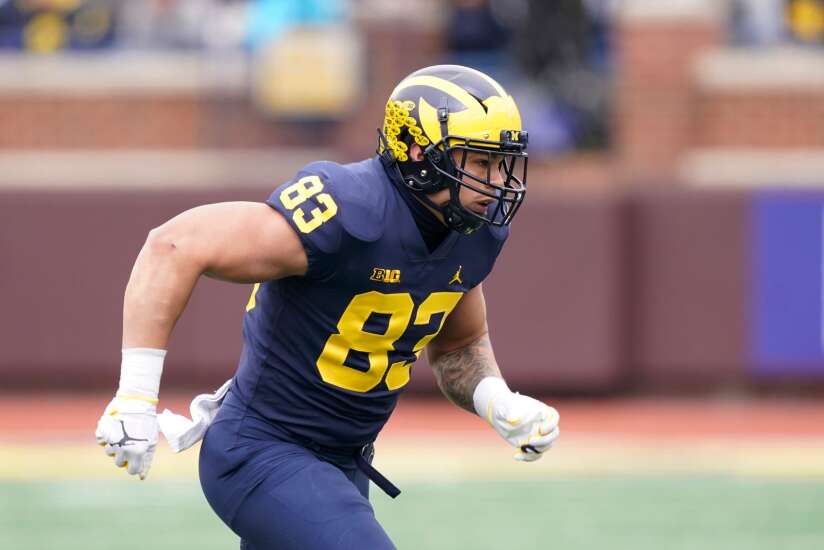 IOWA CITY — Future Iowa tight end Erick All Jr. "liked what he heard" when talking to current Iowa tight end Sam LaPorta on his official visit earlier this month, as LaPorta remembers it.
"You had 53 catches this year?" All said to LaPorta.
"I was like, 'Yeah, yeah, I think I had 50-something last year, too," LaPorta replied.
"Yeah, I had like 50 in my entire career at Michigan," All replied. (To be exact, it was 54.)
"I don't know man, I guess we get the ball to the tight ends," LaPorta said.
As All and LaPorta's conversation from a few weeks ago alluded to, Iowa is wrapping up a season that has featured tight ends even more prominently than usual for "Tight End U."
Iowa's tight ends had more catches than the wide receivers — 79 versus 72 — in the Hawkeyes' 12 regular-season football games.
In 2021 and 2020, wide receivers had 109-62 and 81-38 advantages in receptions over tight ends, respectively.
With All now joining what already was likely to be one of Iowa's strongest positions, 2023 could potentially be another year of especially heavy tight end usage.
Luke Lachey is nearing the end of a breakout season as a sophomore. The Columbus, Ohio, native has 25 receptions for 362 yards and three touchdown receptions heading into the Music City Bowl game.
"Luke has just taken tremendous strides since he came in here as a freshman — kind of a lanky, gangly kid who's only like 220 pounds," LaPorta said. "Now he's walking around, he's all filled out. He's got a beard right now."
All, an all-Big Ten honorable mention in 2021, was one of incoming quarterback transfer Cade McNamara's go-to targets and his roommate when Michigan went to the College Football Playoff.
"We're losing a top-notch tight end in Sam LaPorta, outstanding, and then you think about the way Luke Lachey is ascending, has ascended," Iowa Coach Kirk Ferentz said. "So we go from I think having two really good tight ends to hopefully the same situation, and that's certainly a good thing for us."
All is recovering from surgery in October, but Ferentz is "very confident he'll be fine" medically.
The high volume of targets to tight ends — an appeal for players like All — likely has not helped matters at wide receiver, though.
Three Big Ten wide receivers — Purdue's Charlie Jones, Ohio State's Marvin Harrison Jr. and Illinois' Isaiah Williams — had either as many catches or more catches than all of Iowa's wide receivers combined.
"The facts are you've got 11 guys out — whether they're three wide, four wide, two wide, one wide," Ferentz said. "The ball can only go so many places, and that is what it is."
Iowa has seen more attrition at wide receiver than any other position.
Since the start of the 2021 season, Iowa has lost six scholarship wide receivers to the transfer portal and have not gained any yet from the portal.
Ferentz believes "there's an opportunity for everybody," though, including at wide receiver.
"We've had a lot of good receivers play here," Ferentz said.
Early enrollees
Along with transfer portal arrivals All and McNamara and junior college transfer Anterio Thompson, running back signee Terrell Washington Jr. is expected to enroll in the spring.
Washington, a three-star prospect from Wylie, Texas, was committed to Purdue until Jeff Brohm left to take the head coach position at Louisville.
Any other early enrollees are "TBD" at this point, recruiting director Tyler Barnes said Wednesday.
"We'll see how the next three weeks goes here on some others," Barnes said.
Comments: john.steppe@thegazette.com