Home / Sports / Iowa Hawkeyes / Iowa Football
Chuck Long gave XFL coaching another shot, and is coming home with a title
Former Hawkeye quarterback/coach was on Bob Stoops' league-championship staff with the Arlington Renegades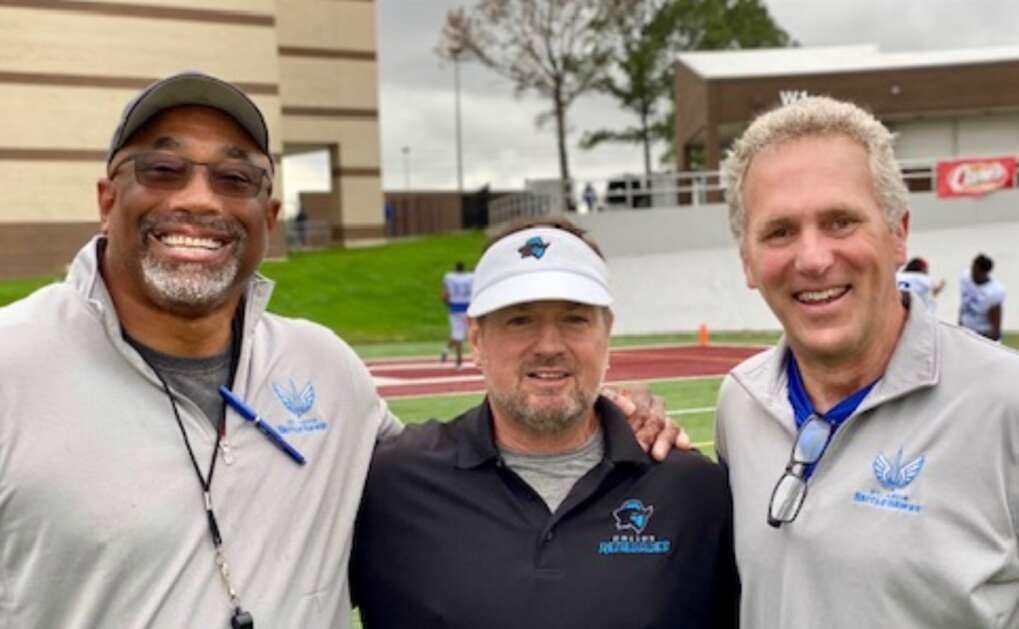 Chuck Long just got fitted for another championship ring.
He already had a few from his time at Oklahoma, including three Big 12 titles and the 2000 national championship when he was an assistant coach for Bob Stoops.
Those two Iowa football teammates in the 1980s, along with fellow Hawkeye Jonathan Hayes, helped coach the Arlington Renegades to a 35-26 XFL championship-game win over the D.C. Defenders Saturday in San Antonio, Texas.
Stoops is the head coach of the pro league's Dallas-area franchise. Hayes and Long joined him this season as co-offensive coordinators. Hayes handled the play-calling. Long coached the quarterbacks, including title-game MVP Luis Perez.
Long, for those new to Iowa, was the runner-up by a narrow margin to Bo Jackson in the 1985 Heisman Trophy voting after quarterbacking the Hawkeyes to the Big Ten title.
After his NFL playing days were done, Long was an assistant coach at Iowa and Oklahoma, the head coach at San Diego State for three years, and the offensive coordinator at Kansas.
In 2014, he became the CEO and executive director of the Iowa Sports Foundation. Coaching was in the past until he was on Hayes' coaching staff of the XFL's St. Louis Battlehawks in 2019 and 2020, and then the pandemic hit.
Arlington head coach Stoops added Hayes and Long to his staff, and they had a five-month experience in Texas this year.
"I thought I was done coaching," Long said Monday from Arlington as he was packing up to head home to Iowa. "Bob gave me a call. I said I'd be honored to join him, and I did.
"Our team had ups and downs. We were fighting and scratching."
The Renegades were 4-6 in the regular season, but that was good enough for a second-place finish in the four-team South Division of the eight-team league. They upset first-place Houston in the South playoff, 26-11, then beat the DC team that had won 10 of its other 11 games.
One of the players on the Renegades was tight end Shaun Beyer of Iowa and Cedar Rapids Kennedy. Long said Beyer "had a key block" in the championship. Former Hawkeyes Jack Hoerner and Jack Heflin also played in the league this year.
All-XFL defensive lineman Heflin became one of many XFL players to sign with NFL teams recently when he joined the New Orleans Saints Monday. The league isn't a retirement home for wayward players and old coaches.
"Bob was into it," Long said. "We didn't have any minicamps or OTAs. We were cold going into training camp. But Bob's a competitor. He came at with the same intensity and pride we had when I worked with him at Oklahoma.
"It was still hard work, long hours. We worked in the basement of old Texas Rangers stadium, with no windows. We didn't see the sun some days this winter. It was like being in catacombs, working late nights.
"It all paid off in the end."
In college football, your won-lost record is remembered. In the pros, it's what you did in the postseason.
"You get into that second season and you never know," Long said. "Jon Hayes really grew as a playcaller. His last two games were masterpieces.
"We got Luis Perez in a trade with Las Vegas in the middle of the season. He's the best worker that I've ever had when it comes to quarterback preparation."
Perez was awarded the title-game MVP award by none other than Hollywood megastar Dwayne "The Rock" Johnson, part of the XFL's ownership group that secured a five-year television deal with ESPN and the Walt Disney Group.
Long said he'll consider returning to Arlington next year if Stoops still is running things, and Stoops says that's his plan for now. Stoops said he likes the XFL because "It's just football. No recruiting, no compliance meetings, no babysitting players.
"Plus, the XFL season runs during the worst three golfing months of the year."
For Long, it's a labor of love. He lived in an Arlington hotel for four months, walking a mile to work each day "to get my steps in."
Wednesday, Long will be back in Ames for his full-time job, at an Iowa Sports Foundation board meeting.
And, he'll be watching the mail. A new ring will be showing up one of these days.
Comments: (319) 398-8440; mike.hlas@thegazette.com