Home / Sports / Iowa Hawkeyes / Iowa Football
A modest proposal: Las Vegas to follow L.A. into Big Ten
UNLV and its city have everything the Big Ten could want other than a competitive football program, and the league wouldn't need the Rebels to be any good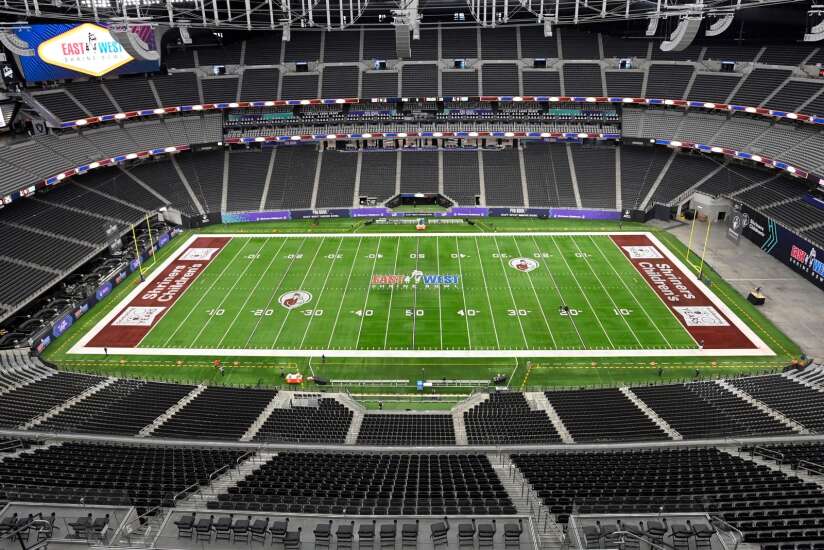 Last week's additions of UCLA and USC to the Big Ten raise more questions than even a man of my magnitude can answer, so I'll ask a few of my own.
1. Who else?
Big Ten expansion can't and won't stop with the two Los Angeles schools. There must be more, more, more.
You can make an argument why other Pac-12 members would be assets, and certainly Notre Dame would. But let's throw one in there that would be forward-thinking at its finest.
The University of Nevada, Las Vegas.
No, UNLV doesn't have a football program that is even a speck in the nation's consciousness. No, it isn't one of those hoity-toity Association of American Universities members the conference likes to brag about having in abundance.
Big deal. Face practicalities, people.
One, Las Vegas has gone from being taboo to fully accepted in American sports, a very ripe market. The NHL has a team there. The NFL has a team there. Baseball's Oakland Athletics may be headed there. The NBA has its summer league there.
College basketball has five men's and five women's conference tournaments there annually, including the Pac-12's.
UNLV plays football in an NFL stadium, and its basketball arena is over twice the size of those at Northwestern and Rutgers.
The Runnin' Rebels have had one winning football season since 2001, and were 2-10 in 2021, but so what? Someone has to lose. What, have Maryland and Rutgers been football title threats since they joined the Big Ten?
Plus, attendance at Big Ten football games in Vegas would be huge. USC fans would pack Allegiant Stadium every time the Trojans played there. Las Vegas is full of southern Californians every weekend as it is.
Plus, whenever most of the league's teams from the Midwest showed up, they'd bring along thousands of fans. It would be an event.
Most importantly, and trust me on this if you haven't compared for yourself: Las Vegas has better restaurants than Champaign-Urbana.
2. How are the USC and UCLA athletic programs overall?
Really good. USC was 12th in the 2021-22 NACDA Learfield Directors' Cup standings that chart the most success in athletics. UCLA was 15th.
Of Big Ten programs, only Michigan (3rd) and Ohio State (4th) top that. Iowa was 55th, behind every Big Ten program but Indiana.
3. What will happen to the Big 12?
No one ever knows what's next for the Big 12 after the big two conferences make big moves. The league was supposed to be a goner when three different conferences combined to poach Colorado, Missouri, Nebraska and Texas A&M. Now Oklahoma and Texas are out the door. The league has remained open for business.
A lot of television space will still remain after the Big Ten and SEC, and the Big 12 can be positioned to be a solid third if it picks off some of the Pac-12 schools UCLA and USC have abandoned.
BYU is already headed to the Big 12 from the western U.S. Add Utah, and the best of whatever's left in the Pacific Northwest, San Francisco Bay Area, Colorado, and the state of Arizona.
The markets of Denver, Phoenix, San Francisco and Seattle aren't small potatoes, especially compared to Waco, West Virginia, Lubbock and Des Moines-Ames. And if the Big Ten isn't smart enough to snap up UNLV, the Big 12 needs to be.
4. Did you know …?
The Big Ten has won an NCAA men's basketball championship more recently than the Conference of Champions, the Pac-12.
The Big Ten's last national champ was Michigan State in 2000. The Pac-12's was Arizona in 1997.
UCLA has won an NCAA-best 11 men's basketball titles, but has none since 1995.
5. Will the Big Ten football championship game or conference basketball tournaments ever get played in Los Angeles?
Probably, maybe, it depends.
If the money were right, the conference would hold those events in Qatar.
You want a better site for those things than L.A. or the Middle East? Vegas, baby!
Comments: (319) 398-8440; mike.hlas@thegazette.com