Home / Sports / Iowa Hawkeyes / Iowa Football
5-star offensive lineman Kadyn Proctor flips commitment from Iowa to Alabama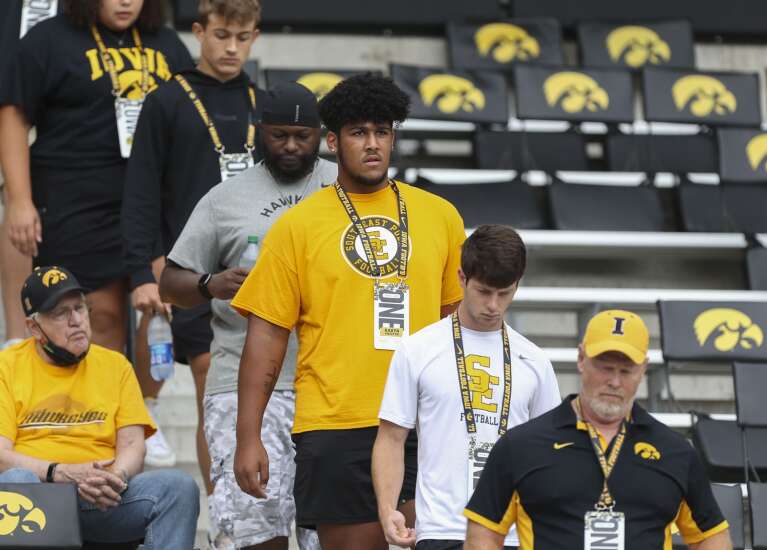 IOWA CITY — The highest-rated recruit to commit to Iowa football has changed his mind.
Five-star offensive lineman Kadyn Proctor, after verbally committing to Iowa in June, flipped his commitment to Alabama, he tweeted on Tuesday.
Proctor was the centerpiece of Iowa's 2023 recruiting class, which was in the Top 25 of Rivals and 247Sports' rankings.
Rivals now ranks Iowa 27th, and 247Sports ranks Iowa 35th.
The Southeast Polk standout could have potentially been an immediate starter on an offensive line in need of reinforcements.
Four other offensive linemen — Leighton Jones, Trevor Lauck, Cannon Leonard and Kade Pieper — are committed in the 2023 class, but none of them will arrive with ratings near what Proctor has.
When Proctor initially committed to Iowa, he told KCCI-TV in Des Moines other schools were offering him "a quarter-million a year, a million a year" in name, image and likeness payments.
"Yeah, making money is nice, but the goal is to get to the NFL where you make that money," Proctor said in the TV interview.
Since then, there were some warning signs of a possible fracture in the Proctor-Iowa pairing.
Proctor took an official visit to Oregon in the fall, and the Ducks' staff visited him last week. He took an unofficial visit to Alabama last weekend.
Comments: john.steppe@thegazette.com