Home / Sports / Iowa Hawkeyes / Iowa Basketball
Wednesday should provide an opportunity for Iowa's role players
13th-ranked Hawkeyes host Dartmouth in their final tuneup before Big Ten play resumes for good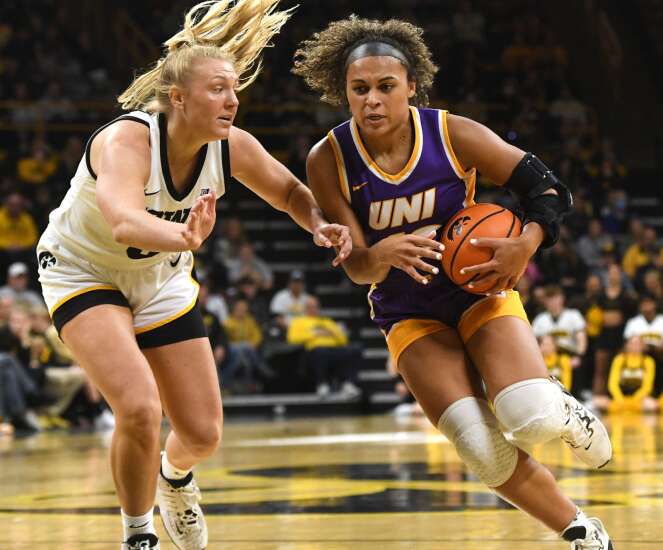 IOWA CITY -- The most challenging role on a basketball team, in the mind of Lisa Bluder, is that of a role player.
"The (starting) five know before a game what their minutes are going to be like, and usually the sixth player does, too," said Bluder, University of Iowa women's coach. "For the seventh, eighth, ninth, 10th players, you never know.
"It could be 10 minutes, one minute, no minutes ... but you have to stay mentally engaged. It's a hard role to play."
Wednesday afternoon, it could -- and should -- be an expanded role.
No. 13 Iowa (9-3) hosts Dartmouth (2-10) in its non-conference finale; tipoff has been moved up to noon at Carver-Hawkeye Arena.
On paper, it's the Hawkeyes' least challenging game of the season. Dartmouth holds a NET ranking of 336 among the 361 Division-I women's programs.
"Obviously, you look at their record, and it's not the most challenging game on our schedule," Bluder said. "It's not somebody we're going to overlook. We're excited to have an opportunity to execute well. We want to have a disciplined, well-executed, crisp game."
A likely mismatch should mean more opportunities for the reserves, players like Molly Davis, Hannah Stuelke, Addison O'Grady.
And Sydney Affolter, whose stock has risen recently.
Affolter was asked Monday about Bluder's comments about the challenges of being a second-stringer.
"It's definitely harder," she said. "You can't anticipate how many minutes you're going to play. But whatever minutes you do get, you have to play as hard as you can."
Kate Martin referred to Affolter as "the hardest worker we've got. She's so selfless. You can't have 15 stars on a team, but if we don't have Syd, we don't have as many wins as we do."
With the midpoint of the season fast approaching (this is Game 13 of 29 regular-season contests), Bluder still is waiting for somebody to emerge as a solid backup to Monika Czinano in the post.
"It's still up for grabs," Bluder said. "It's so close between Addi, A.J. (Ediger) and Hannah. Somebody needs to take this and run with it. It's still sorting itself out."
Stuelke also plays as a backup to McKenna Warnock at the "4."
A member of the Ivy League, Dartmouth has lost three straight games, including a 72-57 setback at UC-Irvine on Saturday.
Emma Koch, a senior from Iowa City West, has started in 10 games for the Big Green. She averages 5.1 points and a team-high 7.5 rebounds per game.
Iowa junior Caitlin Clark is a lock to become the fourth player in program history to reach the 2,000-point mark for her career. She enters the game with 1,993 points; Monika Czinano is at 1,969.
The Hawkeyes will scatter to their homes after Wednesday's game. They'll return to Iowa City next Monday and resume Big Ten play Dec. 29 at home against Purdue.
Comments: jeff.linder@thegazette.com