Home / Sports / Iowa Hawkeyes / Iowa Basketball
This month, Keegan Murray was Mr. Las Vegas
The forward from Iowa was as hot as, well, Las Vegas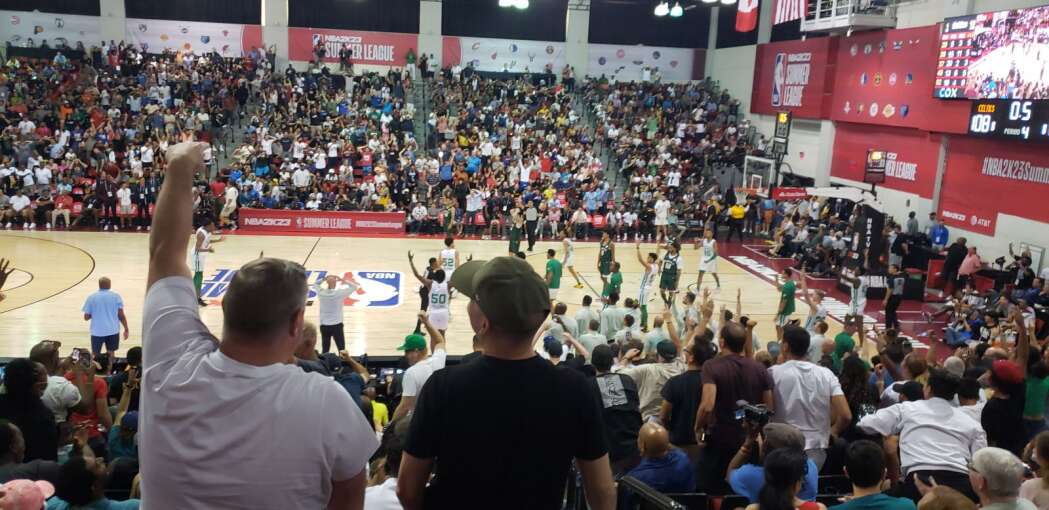 LAS VEGAS — You could call it a busman's holiday, a sports writer dropping in on the NBA Summer League.
Hey, I like hoops. I also like air conditioning when it's 111 degrees outside, as it was the day I landed in Las Vegas last week. I also liked being in one of the city's few public places without a slot machine. UNLV's Thomas & Mack is air-conditioned and slot-free.
If you're a basketball person and find yourself in Vegas next July, the 11-day Summer League is a good time. The 18,776-seat Thomas & Mack is connected to 2,500-seat Cox Pavilion. It's a very short walk from one to the other to see games in progress.
I saw parts of five different contests in a 3-hour period. You could stretch out in one arena, but had to wedge yourself into the other.
Besides rookies and young pros competing, you see a mini-basketball convention. All sorts of NBA executives and established players are in attendance, and some college coaches come to support their former players. Iowa's Fran McCaffery and Northern Iowa's Ben Jacobson were on hand last week.
I was interested in seeing as much of the three players drafted ahead of Iowa's Keegan Murray last month as I could. I didn't get there in time for No. 1 pick Paolo Banchero, because the Orlando Magic shut him down after two games. On TV, he looked like a No. 1 pick.
I did see No. 2 Chet Holmgren of Oklahoma City and No. 3 Jabari Smith of Houston. It's easy to see why they were drafted when they were.
Holmgren is a bit of a unicorn, a 7-foot, 195-pound 20-year-old who is long and quick, a good shooter, passer and shot-blocker. Smith is a 6-10 forward with long arms who seemed to thoroughly enjoy disrupting the opponents' offense.
It was Murray, though, who was the Summer League MVP. He scored at least 20 points in all four games he played in Vegas, and won over a lot of people who questioned if the Sacramento Kings had erred by taking him instead of Purdue guard Jaden Ivey.
By the time the teams had headed home, the consensus was the Kings knew what they were doing on draft night, and before. Which hasn't typically been the case in that franchise's recent history.
This week, McCaffery reflected on Murray's performance in Las Vegas. Immediately after Murray was drafted, McCaffery had told people in Sacramento to expect the player to be a really good pro, not someone with a so-called low ceiling.
"I was pretty outspoken about it," McCaffery said in Iowa City Tuesday. "When I was on NBA Radio and I was talking to, privately, a lot of NBA GMs, I spoke very candidly where I thought (Murray) should be.
"No disrespect to anybody that was drafted ahead of him, but I felt like Keegan and Banchero were the two best players in the draft and I said that to anybody that would listen.
"I'm a big Chet Holmgren guy, I love Chet, we recruited Chet. I just think Keegan's better than those other guys."
The summer league isn't the regular season, of course. What do you do over 82 games against the best players on the planet?
"That's a whole another challenge for him," McCaffery said. "But the thing about him is, he is perfectly suited for exactly that. He will not rattle or care who's guarding him. He'll do what he does. He makes shots, he makes plays.
"I thought some of the plays he was making (in Las Vegas) off the dribble for his teammates were among the most-impressive things that he did. On top of the fact that he shot it well from 3, that he shot it well from 2, that he got to the free-throw line, that he rebounded and defended.
"I think what you'll see is, he'll be the most-ready immediately, and then he'll continue to get better and fit in seamlessly with the other guys they have."
Since this report has a Las Vegas dateline, here's some betting information. At one sportsbook, Murray and Banchero are co-favorites to be the NBA Rookie of the Year next season at +250. In other words, $100 will get you $250. Holmgren is +400, Ivey +700 and Smith +800.
Last season's Rookie of the Year was Toronto forward Scottie Barnes. He was drafted, ahem, No. 4.
Comments: (319) 398-8440; mike.hlas@thegazette.com