Home / Sports / Iowa Hawkeyes / Iowa Basketball
Iowa's lone women's Final Four team wants to be joined by current Hawkeyes
The 1993 Hawkeyes are among the biggest fans of the 2023 team that is a victory Sunday night from reaching the Final Four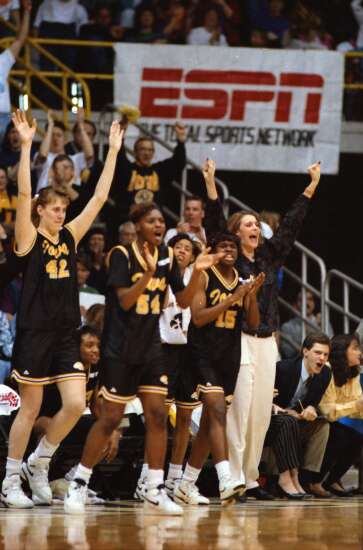 Among those cheering hardest for the Iowa women's basketball team Sunday night are the only women who have played for a Hawkeyes Final Four team.
"I'm partying!" Necole Tunsil texted from St. Petersburg, Fla., moments after Iowa defeated Colorado Friday night in their Sweet 16 NCAA tournament game in Seattle.
Tunsil was a junior on the C. Vivian Stringer-coached 1993 Iowa team that sailed through the NCAA tourney to reach the Final Four in Atlanta. They don't want to remain the only Hawkeye women's team to have done so.
"Absolutely," Tunsil said by phone Saturday morning from her St. Petersburg, Fla., home. "I love Iowa and Iowa City."
Tunsil played for a state champion at that school in 1989, and coached it to one in 2011. Sunday night, the Hawkeyes play Louisville to try to duplicate what Tunsil and her Iowa sisters did 30 years ago. Thirty years is a long time, but school ties are school ties. Plus, the '93 team still has a lot of direct contact with each other and basketball itself.
That club has people who have gone into police work, law, nursing and school administration (Big Ten Player of the Year Toni Foster, Laurie Aaron, Arneda Yarbrough, Andrea Harmon-Robins, respectively) but it also has a lot of coaches.
Tia Jackson, who scored 17 points in the second half of Iowa's 72-56 Mideast Regional final win over Tennessee in Iowa City to reach the Final Four, is an assistant coach at Duke. So is one of her 1993 teammates, Karen Clayton Lange.
Yarbrough and Antonia Macklin were college assistant coaches. Molly Tideback has coached high school teams in Georgia, Harmon-Robins in Texas. Cathy Marx is the girls' varsity coach at Clinton High School in addition to being the assistant parks and recreation director for that city.
"There is so much excitement around this Hawkeye team," Marx said.
"When we beat Tennessee at Carver-Hawkeye Arena to go to the Final Four, it was the best day ever. … I wear my Final Four ring with great pride. Pride for the accomplishment, for my teammates, coaches, my family and friends and for Hawkeye Nation."
Tideback, from Waterloo, is an assistant basketball and swimming coach at Sandy Creek High in Tyrone, Ga., near Atlanta. Coincidentally, that's where Iowa lost 73-72 in overtime to Ohio State in the 1993 national semifinals.
"No one believed we would make it past Tennessee except us," Tideback said. "I remember cutting those nets down was one of the most-amazing feelings ever. I only played maybe two minutes in that game but I was playing every play from the bench.
"The Final Four is the ultimate goal. Once you reach it it is life-changing. I am proud to be a Hawkeye and I am so proud of this Iowa team, Coach (Lisa) Bluder, Coach (Jan) Jensen, and Coach (Jenni) Fitzgerald. They have built a program to be proud of."
Tunsil has been a teacher and the head girls' basketball coach at Lakewood High in St. Petersburg for 19 years, helping several of her players earn athletic scholarships along the way.
"I'm a spoon in the community," Tunsil said. "I'm always stirring things up."
She played for a state-championship team at that school in 1989, and coached one to a state title in 2011. Coincidentally, Lakewood's school colors are black and gold.
"You cut me," said Tunsil, "and I'll bleed black and gold.
"My players can tell you everything about Caitlin Clark. I send them videos of the offense the Iowa Hawkeyes run."
The 1993 and 2023 Hawkeyes are wildly different in some ways. The '93 team led the nation in defense at 54.3 points per game. It made just 43 3-pointers over 31 games, and shot just 29.4 percent from that distance. But it forced 20 turnovers a game and was a great rebounding club.
This season's Iowa team can't compare defensively to the '93 club. But it leads the nation in scoring with an 87.3-point average. It has made 313 3s, connecting on 37.5 percent of them, and shoots a nation-best 51.1 percent overall.
The common thread between the two teams is one Tunsil stresses to her Lakewood team.
"The importance of teamwork," she said. "Coach Bluder has done a phenomenal job. And that team can stroke it."
Sunday night, spread across the nation, Hawkeye players of 30 years ago will root to no longer be the lone Iowa team to reach a women's Final Four.
"My blood," Tunsil said, "will be pumping."
Comments: (319) 398-8440; mike.hlas@thegazette.com