Iowa's Caitlin Clark leads country in assists, on and off the court
Iowa's National Player of the Year candidate has assisted her teammates on the court, entire sport of women's basketball off the court
IOWA CITY — Fifth-grader Ellianna Kapaun stood near the corner of the Target Center court as her idol warmed up ahead of the Big Ten women's basketball tournament quarterfinals.
Wearing her "From the logo" Caitlin Clark sweatshirt, she held up a sign with hopes of it catching a glimpse from the Iowa superstar practicing nearby.
With black marker and yellow tape on white poster board, her sign read "#22 sign my paper all about you!"
A paper was attached with a key ring to the lower-right corner of the poster. A picture of Caitlin Clark in Iowa's pink uniforms from 2021-22 was at the top of the research paper, which could be on any topic.
Below, it read, "Caitlin Clark, the women's basketball player you need to be watching."
Kapaun got her wish. Clark signed her school paper along with a mini basketball.
The guard with a national reputation for her limitless range and high-octane scoring also has been in a leader in assists — on the court as she locates passes with precision and off the court as she helps grow women's basketball with actions like signing Kapaun's paper.
Clark has signed myriad items, ranging from hats and shoes — "a lot of kids like to get their shoes signed," Clark said — to even a service dog's vest.
Clark's signature is on both sides of the pink vest for Devine — a brown-and-white German shorthaired pointer named after Aubrey Devine, the Hall of Fame Iowa quarterback from the 1920s.
"I'm a huge dog person," Clark said. "So I was like, 'Heck yeah, I'll definitely sign that for you."
The onslaught of autograph requests "can be draining," Iowa Coach Lisa Bluder said during the Big Ten tournament.
"Right now, we're trying to protect her a little bit, but I know she also really enjoys it," Bluder said. "She understands her responsibility in that. To me, she's the face of women's basketball across the United States, and she's treating that responsibility really well."
As Clark sees it, it's an opportunity for "how many people's lives you can change and how much joy you can bring to people in our community."
"Just five seconds can make somebody's whole year, and I think that's what's even cooler than winning a basketball game or winning an award or hitting the game-winning shot," Clark said.
Clark, a West Des Moines native, was once that young girl in Minneapolis catching a glimpse of her idol, Maya Moore, playing with the WNBA's Minnesota Lynx.
"I remember going to my first WNBA game and wanting all their autographs, and they always took the time," Clark said. "So why wouldn't I do that back to people that admire me in the same way?"
Clark was a factor in Big Ten women's basketball reaching new levels in 2022-23 in attendance and TV ratings.
"My little nephews run around in Caitlin Clark jerseys," said Megan Kahn, the Big Ten's vice president for women's basketball, earlier this month. "It really transcends gender at this point, which, as we know, has been very hard to do at this point in women's basketball."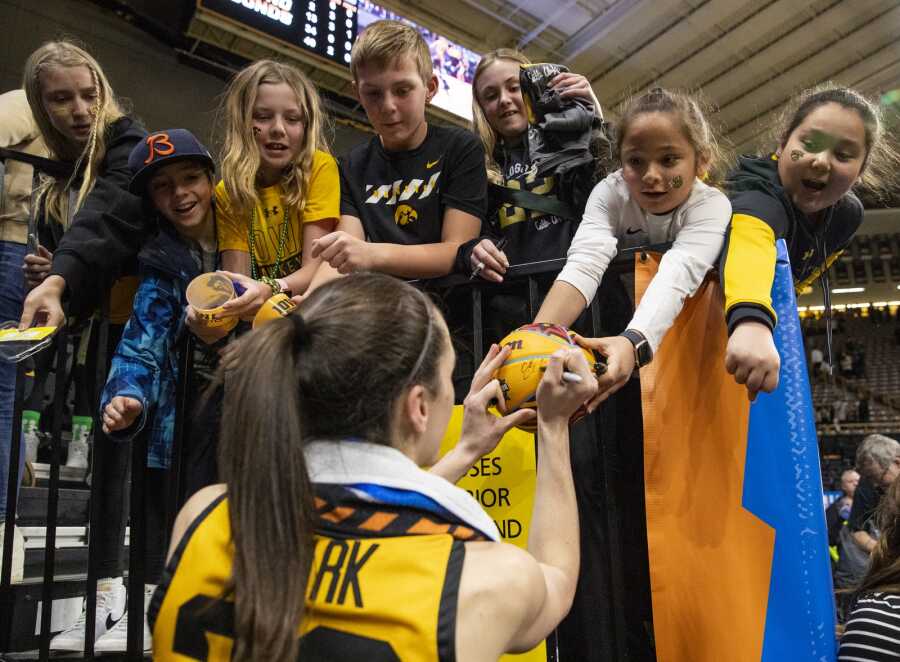 On the court, Clark's passing has not received the same recognition as her shooting, but it has been one of the best aspects of her game this season.
She leads the country with 8.5 assists per game — more than a half-assist higher than any other player.
Her 48.6 percent assist rate — how many of her teammates' field goals are a result of her assists — leads the country among players who have appeared in at least 10 games, according to Her Hoop Stats.
"Her passing is, I think, as elite, if not more, than her shooting," associate head coach Jan Jensen said. "She can make passes that, unless you really appreciate the game or really know it, you can just take for granted."
Jensen said it is "beyond fun" to watch Clark's passing.
"She will make a three-quarter-length, bounce pass off one hand that is really next level," Jensen said. "She sees it like a pro player."
Clark's passes come with risks and, therefore, turnovers. She averaged 4.8 turnovers in her first two seasons although her turnovers decreased to 3.9 per game in 2022-23.
Her assist-to-turnover ratio this season (2.22) ranks 33rd nationally.
"You can't expect her to do all of those amazing passes without giving her the freedom to take some risks," Jensen said. "It's worth it for her to take those risks on some of those passes that don't get there."
Clark's court vision has a major role in the passing success.
"She can see things unfolding," Bluder said. "It's a real gift."
The Iowa point guard has been working with many of the same players for three years now. Iowa's starting five is the same now as it was when the reigning Dawn Staley Award winner was a freshman.
"You kind of know where your teammates are going to be before they're even there, so it's truly something special," Clark said.
Center Monika Czinano has often been on the receiving end of some of Clark's best passes.
"Me and Monika don't even need to talk to each other to know what's happening," Clark said earlier this month. "We just got telepathy like that."
With Czinano's efficient shooting — she led the nation in field-goal shooting percentage in 2020-21 and 2021-22 and was second in 2019-20 — those passes turn into assists at a high rate.
"I'm lucky to play with one of the best players in the country who converts baskets at one of the highest rates in the country," Clark said.
Clark's ability to distribute been a key part of the Hawkeyes' success this year. When Clark has 10 or more assists, Iowa is 11-1 (versus 17-5 when she does not hit that threshold). The one loss was to then-No. 2 Indiana in Bloomington.
"When I'm able to pass the ball and get over 10 assists, I feel like it gives our team the balance we need to reach the goals that we want to achieve," Clark said. "But also, it frustrates the other team. It's hard to pick people who you are going to guard."
Sunday's NCAA tournament second-round win against Georgia was a case study for Clark's passing prowess and its importance for Iowa. Her shooting — 6-for-17 — was not up to her usual standard, but she had 12 assists en route to a 74-66 win.
"She is a beautiful passer," Bluder said. "It's not just one or two games; it is all the time."
As for young Ellianna Kapaun's paper on the "the women's basketball player you need to be watching," her teacher gave the best possible score on the rubric.
"I was worried you would not be able to find enough information, but you proved me wrong!" the teacher wrote. "Very impressive!"
Comments: john.steppe@thegazette.com