Iowa vs. LSU NCAA women's basketball championship box score, highlights, live updates recap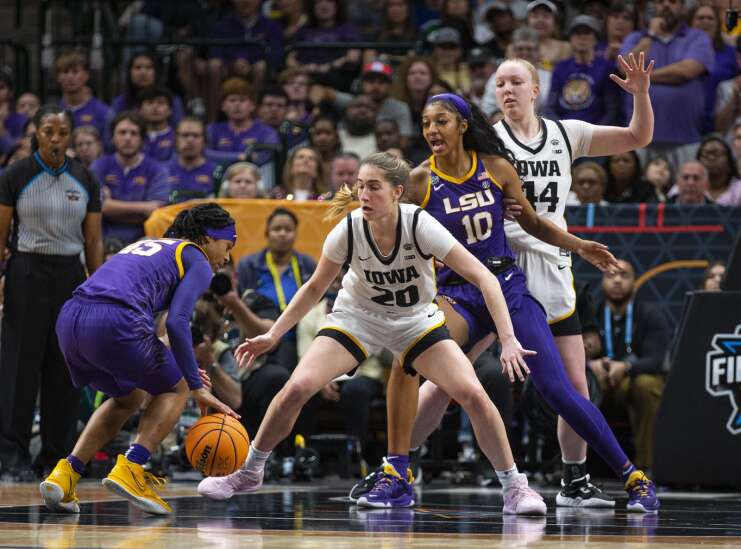 DALLAS — Jasmine Carson would have been low on the "Pick to Click" depth chart.
A non-starter averaging 8.6 points per game this season (and 0.0 in the past three contests), Carson was undoubtedly the difference the NCAA women's basketball national championship game.
Carson scored 16 of her team-high 22 points in a second-quarter rush, and ninth-ranked LSU raced past No. 3 Iowa, 102-85, for the title Sunday afternoon at American Airlines Center.
The title was the first for LSU (34-2), the fourth as a head coach for Kim Mulkey, who won three at Baylor before turning around the Tigers' program at warp speed.
LSU was 9-13 two years ago, before Mulkey was hired in 2021.
Carson was one of five Tigers in double figures. Alexis Morris added 21 points, LaDazhia Williams 20.
Angel Reese, who posted 15 points and 10 rebounds, was named the Most Outstanding Player of the Final Four. Morris and Reese joined her on the all-tournament team, along with Iowa's Caitlin Clark and South Carolina's Zia Cooke.
Clark scored 30 points and became the all-time leading scorer in an NCAA tournament. Monika Czinano and Kate Martin tallied 13 apiece, Gabbie Marshall 12.
The Hawkeyes (31-7) got out to a 9-5 lead, then fouls began to take their toll on the Hawkeyes.
Czinano and McKenna Warnock each picked up their second personal late in the first quarter.
Still, Iowa regained the lead at 30-29 and 32-31 early in the second period.
But Carson went on her shooting rampage to push LSU to a 28-10 blitz in the last 7 minutes of the half. The Tigers led, 59-42, at intermission when Carson banked in a 3-pointer at the horn.
LSU was 14 of 71 from 3-point range in the first five games of the tournament. The Tigers were 9 of 12 in the first half Sunday.
The Tigers stretched the lead to 21 before the Hawkeyes played their best stretch of the day.
A 15-2 run in less than a 3-minute stretch got Iowa back within stiffing range at 65-57. Czinano scored inside shortly thereafter to make it 69-62.
Then, at 73-64, came a catastrophic sequence for the Hawkeyes. Czinano was whistled for her third foul, then Clark picked up a technical for her fourth.
LSU took a 75-64 advantage into the fourth quarter. Kate Martin's 3-pointer got the Hawkeyes within 77-69, but that was the last stand. The Tigers scored the next six.
Czinano fouled out with 6:25 left, Warnock at the 1:33 mark. Those two are the two Hawkeyes who played their final game Sunday.
— Jeff Linder