Home / Sports / Iowa Hawkeyes / Iowa Basketball
Iowa-Northwestern men's basketball glance: Time/TV/other info
Wildcats coming off one of their most-glorious weeks in many a moon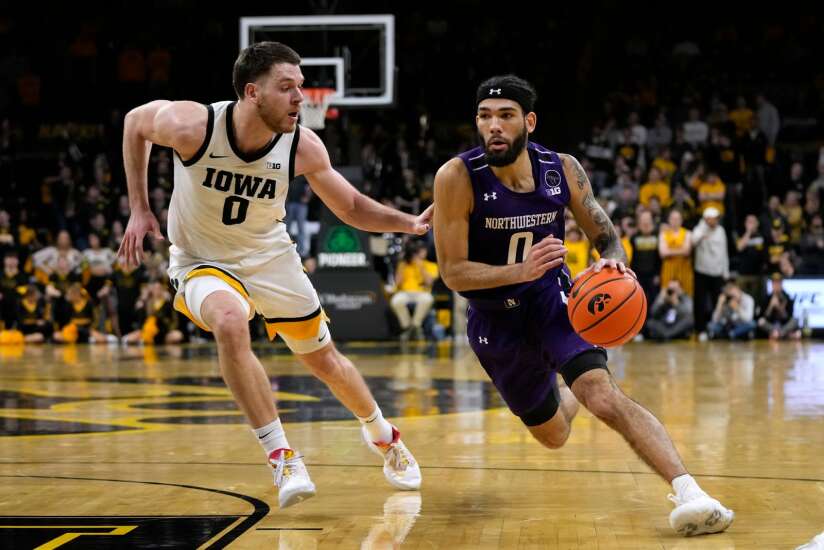 What: Iowa (17-9 overall, 9-6 Big Ten) at Northwestern (19-7, 10-5)
When/where: Sunday, 5:30 p.m., Welsh-Ryan Arena, Evanston, Ill.
TV: BTN (Brandon Gaudin, Stephen Bardo)
Livestream: Fox Sports
Radio: Hawkeye Radio Network affiliates, including WMT (600), KKRQ-FM (100.7) and KXIC (800).
Series: Iowa leads, 124-60
NCAA NET rankings (through Friday): Iowa 36th, Northwestern 42nd
Iowa's next game: Wednesday at Wisconsin, 8 p.m.
⧉ Related article: Northwestern is a hot team, and Hawkeyes-Wildcats men's basketball game Sunday is a hot ticket
Five Facts:
1. Iowa won the first meeting of the two this season, 86-70 in Iowa City on Jan. 18.
2. The Hawkeyes have won their last nine games against Northwestern, the last six by 13 or more points.
3. Northwestern has beaten four ranked teams in a season for the first time, including No. 1 Purdue and No. 14 Indiana in the Wildcats' last two games. Wildcats guard Boo Buie averaged 23.5 points in those wins over Purdue and Indiana.
4. Over its last four games, Iowa has 27 turnovers to its opponents' 59. Northwestern made just four turnovers against Indiana Wednesday.
5. Iowa's Connor McCaffery is one assist from being the seventh Hawkeye with 500 in his career.