Home / Sports / Iowa Hawkeyes / Iowa Basketball
Hawkeyes have bummer of a scrum, bounce out of Big Ten men's tourney early
Its 73-69 loss to Ohio State sends Iowa home to get ample time to reboot for first-round NCAA tourney game next week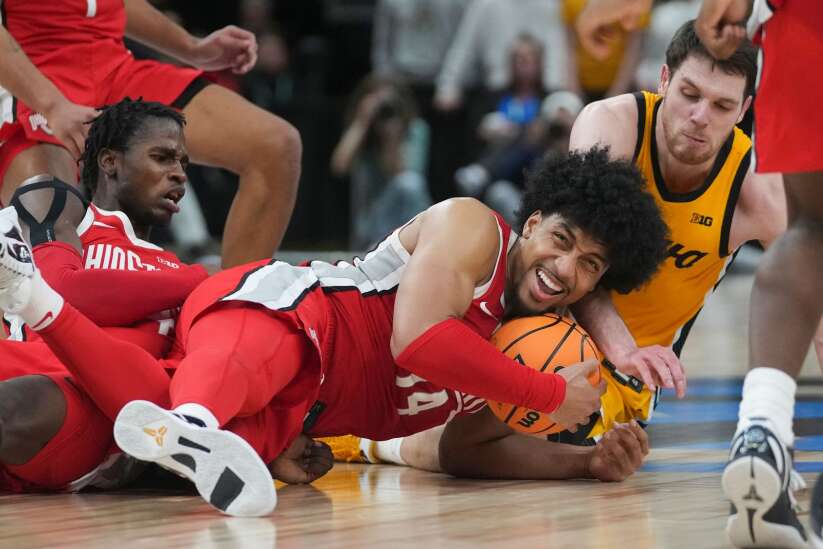 CHICAGO — It was 9.3 seconds of madness in March, and not the good kind for the Iowa men's basketball team.
The Hawkeyes lost 73-69 to Ohio State in Thursday's Big Ten tournament play at United Center after a lot of chaos near the game's end. For Iowa, it was a free-for-all with no payoff.
An insane scramble for the ball went from one end of the court to the other. Ohio State nearly turned it over in three separate instances, near both baselines and once in-between. The Hawkeyes were inches from either stealing it or falling on it and getting a turnover since the possession arrow belonged to them.
All 10 players on the court hit the deck at some point. Kris Murray got two off-balance dribbles, slipped, and slapped the ball toward Connor McCaffery as he slid over the baseline.
McCaffery lunged for it and knocked it back toward Murray. He made a semi-amazing move to get his entire body in-bounds, but his desperation flip of the ball down court went to no one, and skipped out-of-bounds.
The clock had gone from 20.8 seconds to 11.5, the Buckeyes still led 71-69, and they finished the game off with two Justice Sueing free throws. Ohio State advanced to Friday's quarterfinals against Michigan State with a 15-18 record.
"We could have tied the ball up to get a jump ball, or tried to call a timeout," Iowa guard Tony Perkins said.
"We didn't get a full grip."
They never got a full grip during this game with 18 lead changes. No one led by more than four points in the final 27 points.
Iowa takes a 19-13 mark into Selection Sunday, and is expected to be somewhere from a seventh to a ninth seed. Which means a first game against a theoretical near-equal.
Ohio State played more like a team that now has won four of its last five games rather than one that was 5-15 in the Big Ten. Iowa again played like a team that has had more trouble with its league's second-division teams than those in the upper crust.
The Hawkeyes made 22 of their 39 2-point shots, which is good. They made 4 of their 17 3-pointers, which is not.
The Buckeyes were 7-of-18 from deep, including one from Roddy Gayle with 3:24 left that broke a tie. OSU led the rest of the wild way.
Gayle scored all nine of his points in the final 6:02. He came in averaging 3.7 points, and had made just 12 3s all season.
College basketball history is full of early conference-tourney flameouts who made a racket in the NCAA tourney. So, we'll see. Iowa, through no desire of its own, will try this NCAA thing a little differently this year.
The Hawkeyes' Big Ten tournament appearance lasted a mere two hours instead of the four days of last year. Now they have seven and maybe eight days between games depending on Sunday's NCAA pairings.
Last year, Iowa wrapped up its Big Ten title run late on a Sunday afternoon, was on a plane to Buffalo, N.Y., two days later, and was bounced from the big tournament by Richmond two days after that.
Some outsiders suggested the team was tired. Fatigue certainly won't be the case this time around.
"We lost today," Iowa guard Tony Perkins said. "Next game we get the chance to play, we're most definitely going to turn it up a notch, make sure we win, make sure we make up for today."
Comments: (319) 398-8440; mike.hlas@thegazette.com