Home / Sports / Iowa Hawkeyes / Iowa Basketball
Hawkeyes 4th, Cyclones 8th in preseason AP women's basketball poll
Defending champion South Carolina is a unanimous No. 1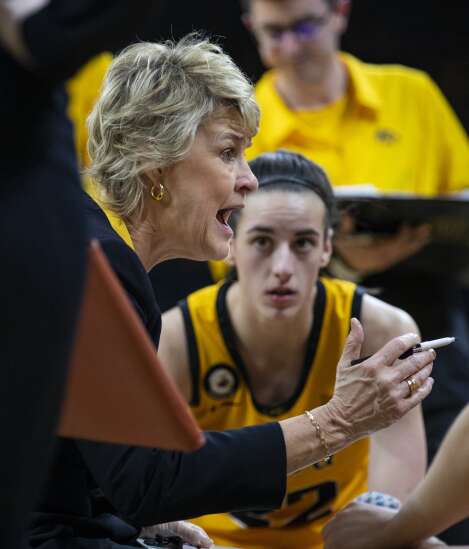 The Iowa Hawkeyes will go into the 2022-23 women's basketball season as the fourth-ranked team in the nation, according to the Associated Press.
It is Iowa's highest preseason ranking since 1994, when the Hawkeyes also opened at No. 4.
Iowa went 24-8 last season, shared the Big Ten regular-season championship and won the Big Ten tournament. The Hawkeyes reached the second round of the NCAA tournament before losing to Creighton.
All five starters return, led by All-Americans Caitlin Clark and Monika Czinano.
"It makes no difference in March what we're ranked in October, but certainly I want my team to have confidence and be proud of what they've accomplished. Iowa is on the map," Coach Lisa Bluder told the Associated Press.
"We'll celebrate it and then forget about it."
Iowa State opens at No. 8. The Cyclones were 28-7 and reached the Sweet 16 in 2022. All-American Ashley Joens, an Iowa City native, leads the Cyclones.
Defending NCAA champion South Carolina is a unanimous No. 1. The Gamecocks are followed by Stanford, Texas, Iowa and Tennessee.
Connecticut leads the second five and is followed by Louisville, Iowa State, Notre Dame and North Carolina State.
Associated Press preseason women's basketball poll
1. South Carolina
2. Stanford
3. Texas
4. Iowa
5. Tennessee
6. UConn
7. Louisville
8. Iowa State
9. Notre Dame
10. North Carolina State
11. Indiana
12. North Carolina
13. Virginia Tech
14. Ohio State
15. Oklahoma
16. LSU
17. Maryland
18. Baylor
19. Arizona
20. Oregon
21. Creighton
22. Nebraska
23. South Dakota State
24. Princeton
25. Michigan
Comments: jeff.linder@thegazette.com