Home / Sports / Iowa Hawkeyes / Iowa Basketball
Construction of the 2023-24 Iowa women's basketball schedule is underway
Hawkeyes will play three games in Florida over Thanksgiving break, then face Cleveland State on Dec. 16 in Des Moines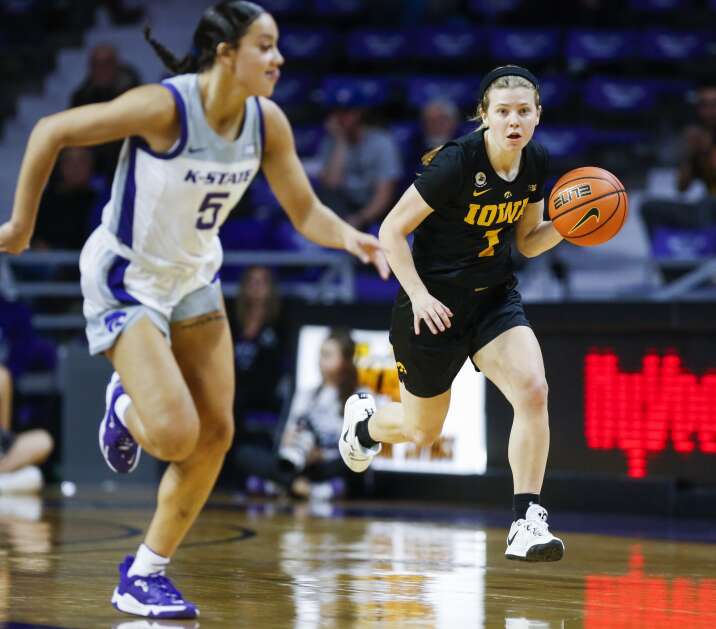 IOWA CITY — Four of Iowa's 2023-24 non-conference women's basketball dates are now in pen, with three others in pencil.
Wednesday's announcement that Iowa will face Cleveland State on Dec. 16 at Wells Fargo Arena in Des Moines is the first date and opponent that you can write on your calendar in Sharpie.
Three other dates are taken; the Hawkeyes are part of the Gulf Coast Showcase in Estero, Fla., during Thanksgiving weekend (Nov. 24-26).
Teams can play a three-game tournament once every four years, so that should mean that Iowa could play 11 non-conference games next season.
Three in-state games — at home against Drake, away against Iowa State and UNI — are presumed to happen again, though no dates have been set for any of them. If recent history is a barometer, the Hawkeyes will play at Ames on Wednesday, Dec. 6.
Unless the Big Ten strays from recent history, the Hawkeyes will play 18 conference games — nine at Carver-Hawkeye Arena, nine on the road.
The Big Ten has released the list of home, away and double-play opponents for men's basketball, and could do the same for women's basketball any day.
Conference games now bleed into early December before picking up for good around New Year's Day, so further December non-conference schedule assembly will have to wait until after the Big Ten posts its schedule.
Four non-conference slots remain out there to be filled. Some thoughts:
* First of all, remember that the ACC/Big Ten Challenge is no more.
* Second, the choice of Cleveland State was an excellent one. The Vikings were 30-5 and Horizon League champions last year. Certainly not a punching bag, but a likely win (and a "neutral" win would look quite good in the NET rankings come March).
* Kansas State owes the Hawkeyes a trip to Iowa City (the Wildcats won a thriller last year at Manhattan) at some point, so consider that a possible-to-likely November encounter, and with K-State All-American Ayoka Lee back after missing 2022-23 with a torn ACL, that would be a quality Carver matchup.
* Television, you would think, will try to arrange a showdown of national powers, perhaps at a neutral site (or maybe a two-year home-and-home). With the appeal of Caitlin Clark and the goodwill of last year's run to the NCAA final, it's a given that Iowa would draw hundreds of thousands of eyeballs to a national audience.
* Guessing two home "buy" games against lesser competition, though a more challenging regional game against Creighton, one of the South Dakota schools or DePaul might be a possibility.
Comments: jeff.linder@thegazette.com