Home / Sports / Iowa Hawkeyes / Iowa Basketball
A multitude of 'D' words come flying after Iowa's 94-81 loss to North Carolina State
Women's basketball: Hawkeyes were 'disappointed' and 'dull' defensively in the ACC/Big Ten Challenge defeat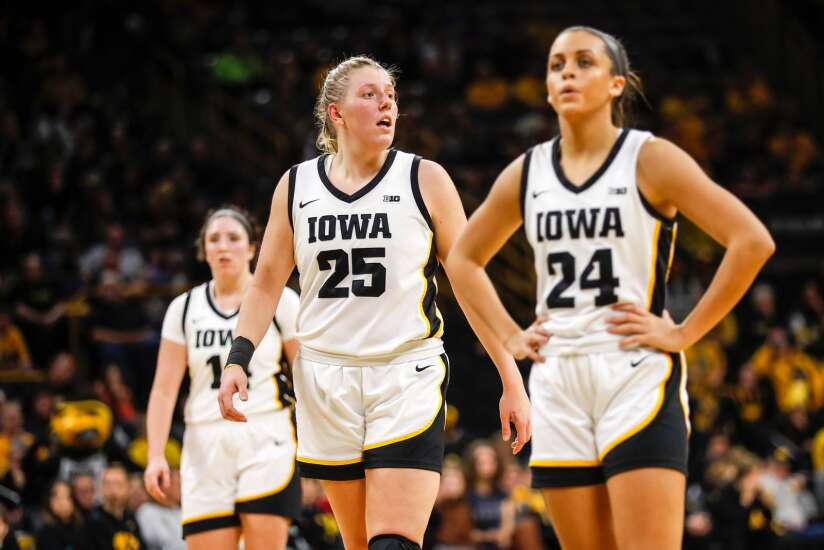 IOWA CITY — The "D" words came flying out in the Iowa Hawkeyes' postgame press conference.
Caitlin Clark was "disappointed."
Lisa Bluder elevated it to "very disappointed."
McKenna Warnock used the word "dull."
Here's another: Defenseless.
No. 12 North Carolina State surrendered 45 points to Clark, but guarded everybody else — particularly the paint — and scored 81 points in the final three quarters of a 94-81 ACC/Big Ten Challenge women's basketball romp over No. 10 Iowa before a crowd of 8,250 Thursday night at Carver-Hawkeye Arena.
"Forty-five points, that's insane," North Carolina State's Saniya Rivers said. "But you can't win a game alone. We were the better team tonight."
No disputing that. The Wolfpack (7-1) had five players in double figures and were the superior squad on this day.
What was it?
"It was everything," Warnock said. "We didn't have a sense of urgency. It was just a weird, dull (effort) on defense.
"We were off-key the entire night."
Clark finished one point short of her career high (46, last year at Michigan). It was little to no consolation for the All-American guard.
"Whenever I score 40 points, we lose," she said. "That's not what I want to do."
Iowa is 2-3 in Clark's five 40-plus bombardments through the past two seasons.
Clark was 16 of 28 from the field (5 of 13 from long range) and made all eight of her free throws.
"I don't know how you stop her," a visibly flabbergasted Wolfpack Coach Wes Moore said. "Maybe run a triangle and two and put two on her. I don't know.
"I don't know if I've seen anything like that. It was unbelievable.
He paused and looked down at the stat sheet. "Sixteen of 28? Keep shooting, honey."
Moore could afford a little joviality. His team was headed back to Raleigh, triumphant.
The Hawkeyes (5-3), on the other hand ...
"I'm disappointed in our effort today," Bluder said. "I'm very disappointed with our defensive effort.
"We've got to go back to work tomorrow. We've got to get back to the basic skills of basketball."
North Carolina State made the Hawkeyes a one-dimensional outfit, two if you count Warnock's 15 points. Monika Czinano took just four shots and scored only five points, and that grated on Bluder, too.
"Why can't we pass it to the post when (the defense) is on her back? It's maddening," she said.
It all started well and good for the Hawkeyes, who led throughout the first quarter, by as many as eight points.
But the Wolfpack caught and passed the Hawkeyes in the second quarter, and led the rest of the way.
This year marks the end of the ACC/Big Ten Challenge. The Hawkeyes finished 4-11 in the event.
They've lost back-to-back games. There were plenty of positives to take out of the Connecticut loss Sunday.
Thursday, not so much.
"We still have a lot of opportunities," Clark said. "One loss, one win doesn't define your season. It's a long journey. We're disappointed. We should have done better. We should have won this game."
A reporter noted that the Hawkeyes' two losses have come to extremely good teams.
"We want to be there, too," Bluder said. "And we're not."
Iowa opens Big Ten play at 1 p.m. Sunday at Wisconsin.
North Carolina State 94, Iowa 81
ACC/Big Ten Challenge, at Iowa City
NORTH CAROLINA STATE (94): Jada Boyd 6-12 0-0 12, Camille Hobby 4-7 2-4 10, Diamond Johnson 8-12 4-6 22, Jakia Brown-Turner 6-13 4-4 17, Madison Hayes 0-2 2-2 2, River Baldwin 2-4 0-0 4, Aziaha James 0-2 0-0 0, Saniya Rivers 9-11 1-2 22, Mimi Collins 1-2 2-2 5, Jessica Timmons 0-0 0-0 0. Totals 36-65 15-20 94.
IOWA (81): McKenna Warnock 3-9 7-8 15, Monika Czinano 2-4 1-2 5, Kate Martin 2-5 2-2 7, Caitlin Clark 16-28 8-8 45, Gabbie Marshall 0-5 0-0 0, Sydney Affolter 0-0 0-0 0, Molly Davis 0-2 0-0 0, Addison O'Grady 1-1 0-2 2, Hannah Stuelke 3-4 1-2 7, Taylor McCabe 0-1 0-0 0. Totals 27-59 19-24 81.
NC State 13 26 24 31 — 94
Iowa 17 18 18 28 — 81
3-point goals: NC State 7-13 (Boyd 0-1, Johnson 2-3, Brown-Turner 1-2, Hayes 0-1, James 0-1, Rivers 3-4, Collins 1-1), Iowa 8-26 (Warnock 2-5, Martin 1-2, Clark 5-13, Marshall 0-3, Davis 0-1, Stuelke 0-1, McCabe 0-1). Team fouls: NC State 21, Iowa 17. Fouled out: none. Rebounds: NC State 34 (Johnson 9), Iowa 30 (Czinano 9). Assists: NC State 15 (Rivers 5), Iowa 10 (Clark 4). Steals:NC State 11 (James 4), Iowa 9 (Marshall 4). Turnovers: NC State 11, Iowa 16.
Attendance: 8,250.
Comments: jeff.linder@thegazette.com