Home / Living / Home & Garden
Whether it's calming neutrals or more colorful, people are choosing what makes them feel happy for home decor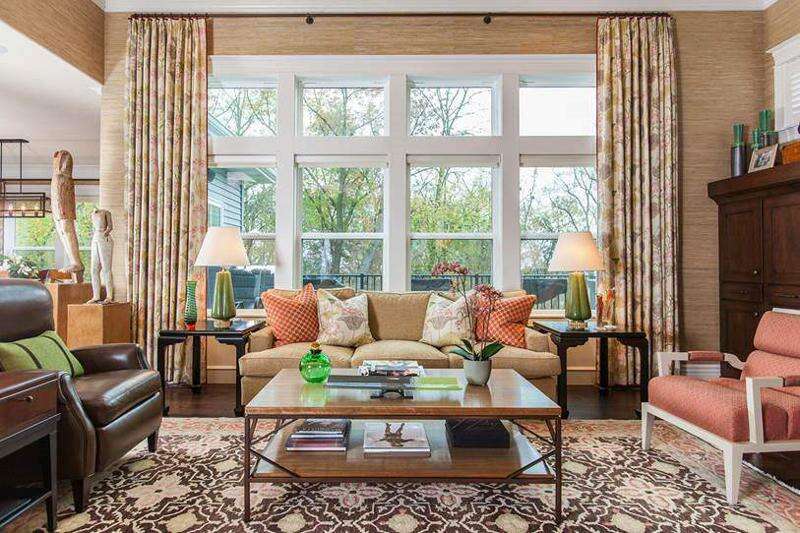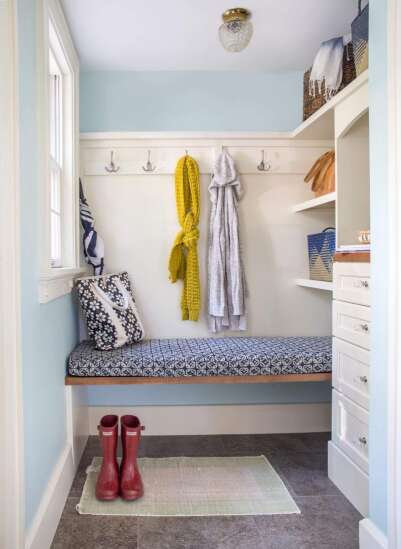 Have a favorite color for home decor? Don't worry if it's trending for 2021: chances are it's on somebody's Color of the Year List.
The manufacturers' colors of 2021 are all over the place, from the surprise of Pantone's shocking lemony yellow Illuminating and cool Ultimate Gray combination to Valspar's feminine Dusty Lavender, one of 12 colors on its 'fresh and familiar" 2021 palette.
Area interior designers say any color goes, so choose what makes you feel good in your home. People desire a space that reflects their personality, particularly now that they're spending more time at home. Some people thrive on color while others want the calming neutrals of a sanctuary space, said Mark Roberts, interior designer with Larry Roberts Interiors in Cedar Rapids.
Jan Finlayson, interior designer and owner of Luxe Interiors in Iowa City, said her clients go with colors they like.
'I think everybody wants to feel like they're up-to-date. Trends are just that: trends. Sometimes they last 30 seconds, sometimes 30 years," she said.
People see color differently, and it affects the way they feel. 'You've got to use what makes you feel good," said Finlayson.
Lori Wiles agrees.
'Color is relative to the surroundings, and your mood is relative to your surroundings. We can manipulate that. But everyone doesn't have the same feeling to the same environment," Wiles said. An interior designer, Wiles is the founder and CEO of Lori Wiles Designs in Cedar Rapids.
Roberts said he almost hates using the word trend. Interior design is an investment.
'If I'm making an investment, I don't want what's hot for 2021. I want it to be great for a long time," Roberts said.
Colors of the Year
What's hot for 2021? That's hard to say. If you had to choose a color by its description, you'd probably struggle.
Behr was the overachiever, releasing a 21-color palette for 2021, including 'soft and serene" Smoky White, the deep eggplant of Euphoric Magenta, and a rich, saturated green named Royal Orchard. PPG paints selected three colors: a warm beige Transcend, a freshwater blue Misty Aqua, and Big Cypress, described as ginger with persimmon undertones. Most companies included some sort of blue for consumers this year.
Benjamin Moore chose Aegean Teal as its one and only 2021 Color of the Year. Finlayson said the blue-green isn't much different from the teals and watery tones that decorators have been using. The design trend is to pair these colors with more clay and copper tones with almost a Southwestern story to it, she said.
'The psychology behind it is that a lot of people feel comfortable with teal. It can be modified, so it still looks blue and fresh," Finlayson said. 'I think it's going to be one of those adaptable colors. It makes people feel they're still up-to-date."
She described Sherwin-Williams 2021 color, Urbane Bronze, as 'very rich and moody." Because it's a darker color with brown undertones, Urbane Bronze will have some staying power, Finlayson said. Bigger pieces of furniture are like a little black dress: you can change the pillows and accessories to give it a different look, Finlayson said. She wouldn't hesitate to put Urbane Bronze on a sectional because it has that type of staying power.
Urbane Bronze also would look beautiful on the walls of a large room with a lot of light. But Finlayson sees the rich color being used more as an accent, such as an accent wall behind a headboard. She'd pair it with other earthy colors that are lighter in tone, such as soft yellows or orange.
Finlayson wasn't as thrilled with Pantone's choices: Illuminating and Urban Gray.
'To me, it has a 10 years ago sort of feeling. The gray is cold, and the yellow acidic. For us, I don't see it happening," Finlayson said.
The variety of colors of the year indicate that manufacturers are simply trying to bring color into homes. When she started in the industry, color palettes were limited. In the last 10 to 15 years, color palettes have exploded. Consumers can buy things for their homes in their favorite colors.
'The colors come from the industry and are not coming from the public. The industry is driving the movement because there's money in it," Wiles said. 'Their hope is that color drives commerce. That's what's trending."
Just because manufacturers push a color doesn't mean consumers will go for it. A couple of years ago, shrimp pink was the hot color at designer shows in Atlanta and Las Vegas, Wiles said.
'Really? People just didn't buy it," Wiles said.
Neutrals: is gray on its way out?
Roberts' clients have been choosing neutrals. Gray is still popular, but more and more clients are moving towards creams, browns and beiges for their neutrals.
Most people are happy with neutral walls. But more people in 2021 will be open to some saturated colors on walls or larger upholstered furniture, Roberts said. Instead of a beige couch, he expects more clients to choose blues or greens, for example. People are wanting a splash of color, he said.
Finlayson agrees. While she expects neutrals to remain popular, people have been missing the warmth and color that color gives them, she said.
Homes had been so entrenched in beiges and taupes until about 10 years ago when gray started making headway.
'Everything has been so grayed out it's kind of washed the palette clean," Wiles said.
What's popular in Iowa
A designer often starts with color when working with a client. Finlayson will help them choose colors by showing them a paint deck, rug samples, a piece of art, or ask them to find a picture they feel comfortable looking at.
'I ask them if we have a blank canvas, what colors they gravitate to," Finlayson said.
Iowans seem to be open to colors that they like, first of all, and just color in general, Roberts said.
Décor in coastal areas often trend toward beachy blues, and rich greens and browns are common in mountainous regions. Iowans don't tend to choose their colors based on the natural environment around them.
'In Iowa, we use literally all the colors in the palette. Our top colors are greens and blues, reds and golds, then beiges. But we have some people who love lavender or sunny yellows," Mark Roberts said.
Some want bright yellow walls - hello, Illuminating - while others want a room in red or rich greens. 'It varies," Roberts said.
Rich, earthy colors are never going to go wrong in Iowa, Roberts said.
'We're doing some things that are pretty colorful, whether it be paint or wall covering," Roberts said.
'We are seeing earthy shades of green, rust tones to dark reds, and even brown sneaking back in. Blue will continue its dominance, but with more of a green undertone - teals and peacock blues," he said.
Finlayson has been putting rich caramel tones with teals and peacock blues, plus adding black accents.
'Traditional styles are coming back in decorating, and these colors are rooted in it," Finlayson said.
Designers guidance
Roberts said a designer's role is often to get clients to stretch a little bit but stay within their comfort level. A designer can present ideas that the client wouldn't have thought of on their own.
'That's why they come to me. We're giving them a lot of different ideas," Roberts said.
Roberts said color, pattern and texture are great weapons to use to create an eclectic but timeless look.
Designers help clients pair colors in ways they wouldn't think of on their own. Finlayson said she'd pair Benjamin Moore's Aegean Teal with clay and buttery undertones. 'There is a hint of nostalgia that goes along with these colors, a nod to happy memories and better times."
Earthy greens are finding their way into Iowa homes, from wall color to upholstery. Finlayson recently sold a client a sectional in a deep, dark, rich green. While sophisticated, the green fabric also brought a sense of comfort to the room. Rich greens also look good with many other colors. Pairing it with black and peacock makes it feel dark and moody while light colors and neutrals brighten up dark green.
'I think it would be a great color to paint a powder room or as an accent piece," Finlayson said. Roberts sometimes plays the devil's advocate by putting out color samples. He shows the client how their room would look with a neutral sofa, then brings in another color that goes in the setting. People who more comfortable with neutrals are often willing to add a little color into the room.
'I like to show people different options so they can choose for themselves," Roberts said. 'We're guiding them, but, in the end, they're living there."
He loves to work with color in interior design.
'I find it hard to do a completely neutral setting with no color of any kind," Roberts said. 'But we will do it if the customer is adamant."
Dens and family rooms are where people want to be cozy and comfortable. That's where Roberts finds his clients using what's most comfortable. But he's finding ways to add more color to kitchens. Clients may choose an island painted in a deep blue or ask for a pop of color in their backsplash.
Wiles primarily works in Iowa, Wisconsin, Minnesota and Missouri, with occasional remote California or Florida projects. Because they desire clean, fresh color, she can see the trending yellows coming into client homes.
'I really am seeing people use more of the lemony yellows, pale pinks, maybe even a mint green, pale blue, or pale aqua - because it feels fresh," she said.
She says gray is still used as a base, but white is huge.
'We're seeing white on white on white," Wiles said.
The all-white palette feels as though people are washing way history, Wiles said. Instead of color, some are more into texture and shapes. With younger consumers and homeowners, she's seeing a lot of white with black accents. Sisal or antique rugs and woven wall hangings and draperies add texture.