Home / Living / Home & Garden
The Iowa Gardener: How to patch your lawn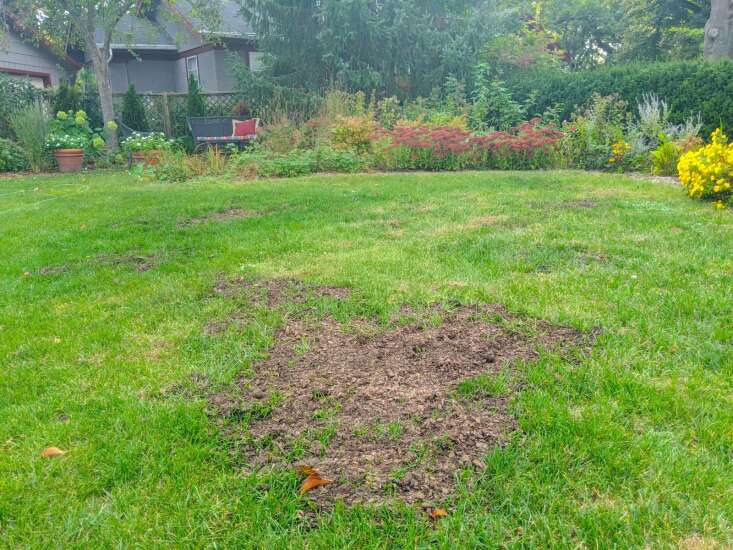 There's an old saying that beautiful lawns are made in the fall, and unlike some old sayings, this one is actually true.
Cool-grass turf grasses, like the ones that most of us here in the upper Midwest plant, do well when they are planted in the cooler days of fall, usually when the daytime temperatures are no longer topping 80 degrees.
I have an established lawn, but like many lawns, over the summer, it will develop bare or problem patches because of heavy traffic, diseases, pets or pests. I've come up with an easy-peasy solution that doesn't cost more than $20 and will deliver almost surefire results. Here it is, step by step:
Mow the lawn if it needs it.
Cover the problem areas with topsoil, right over any existing grass. Grass seed must make excellent contact with soil, or it won't take off. That's why it so seldom works to simply scatter grass seed over established lawn. It can't get down into the soil the way it needs.
So my method is to buy a bag or two or three at the garden center of topsoil, or any good rich soil, which may go also under the names like raised bed soil, garden soil, etc. It's OK if it has fertilizer in it. It should not have any weed killer in it, because depending on the type of herbicide used, it may kill your grass seed.
No need to dig out problem grass first, though if there are any large weeds, it's smart to pull (not hoe) those out.
I then spread that soil evenly with a rake to a depth of about 1 inch over the existing areas to assure an excellent seed bed.
Bonus: If the problem area is in a low-lying area, you can add additional topsoil to help level it out.
Spread the grass seed according to package directions. For patches like this, I just toss it with my hands.
Rake the grass seed in lightly so that about half of it is covered up with soil.
Tamp down the soil. In small areas, you can do this just by stepping carefully on the soil. In larger areas, use a piece of scrap plywood and stand on it to press down the soil firmly. Again, you want the seeds to make excellent contact with the soil.
Water well. Spray lightly (so seeds don't wash away) with a sprinkler or hand attachment until the soil is saturated and starts to make tiny puddles, but no more.
Now, the most important part: Keep it watered for two weeks. A neighbor of mine keeps patching a bare spot of his in his front yard and waters it for two or three days and then quits. It's still a bare spot. You must water the patched areas daily, unless it rains. Even after the grass starts to come up, continue to give it a very light daily watering.
After two weeks, water only if we have a dry spell, that is, more than four or five days with no moisture.
Do not mow until the grass is a couple of inches high.
Veronica Lorson Fowler is co-publisher of The Iowa Gardener website at theiowagardener.com.