Home / Living / Home & Garden
The Iowa Gardener: How to make an easy peace wreath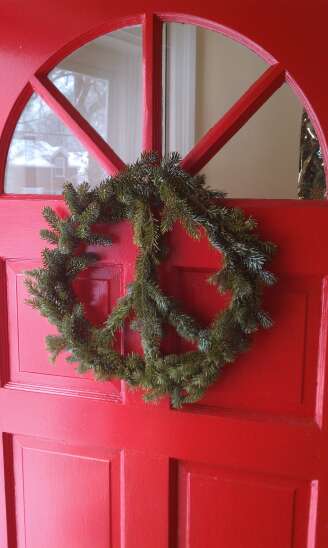 If you're tired of the same old traditional wreath, create a decoration for your front door that has a fresh take on the spirit of the season — a peace wreath.
If you use greenery from your garden, it costs just a few dollars to make and even less if you can use materials you already have, like a branch from the garden or leftover paint. You can use just about any type of evergreen — yew, spruce, pine, fir, boxwood, holly. And if you don't have that in your backyard, check in wherever fresh Christmas trees are sold. They often have scraps they will sell you for very little.
This is not a complicated project and is good even for beginners. Expect the project to take one hour if you're quick and maybe a couple of hours if you've never done anything like this before.
If you're allergic to evergreens or have delicate skin, you may want to wear disposable latex gloves. As you work, you're likely to get a little sticky sap on you, your tools, and maybe your work surface. Use any type of oil — baby, olive, vegetable — and a dry rag or paper towel to rub it off.
This wreath keeps best if outdoors, where the cool, moist air keeps the evergreen fresher. It will last outside for several weeks if not months. Indoors, it will probably last a couple of weeks before starting to shed needles.
Veronica Lorson Fowler is co-publisher of The Iowa Gardener at www.theiowagardener.com.
Make an evergreen peace wreath
Materials needed:
Wire wreath form
1/2-inch wood dowel or straight branches about 1/2- inch thick
Dark green spray paint or any other type of dark green pain
Duct tape
Hand garden shears
Dark green floral wire (cheapest to purchase a small spool rather than precut lengths)
Directions:
1. Purchase a dark-color simple wire form from a hobby or floral shop or online. Form the peace sign by painting a dowel (about 1/2-inch thick) dark green and cutting it to form the inside of the peace sign. Or use lengths of straight branches and don't bother painting them since the wood will blend in.
Duct tape the dowels/branches into place as needed. You can also push the dowels tightly into place, braced against the wires of the form.
2. Cut short lengths of greenery about 2 to 4 inches long. Wire the cut ends tightly together to form small bunches, as needed. Then wire the short bunches to the circular form with a length of floral wire. Then use another length of floral wire to wire the ends in place, following the curve of the wreath. Repeat, overlapping the lengths.
3. Repeat the process of wiring short lengths of overlapping bunches on the dowels/sticks, positioning them so they are sweeping downward.
4. When done, step back and look at the wreath. If portions of the greenery are poking out too much, use a length of wire to wire them closer to the form.
5. If desired, make a short loop of floral wire from which to hang the wreath.