Home / Living / Home & Garden
The Iowa Gardener: Grow your own mini pumpkins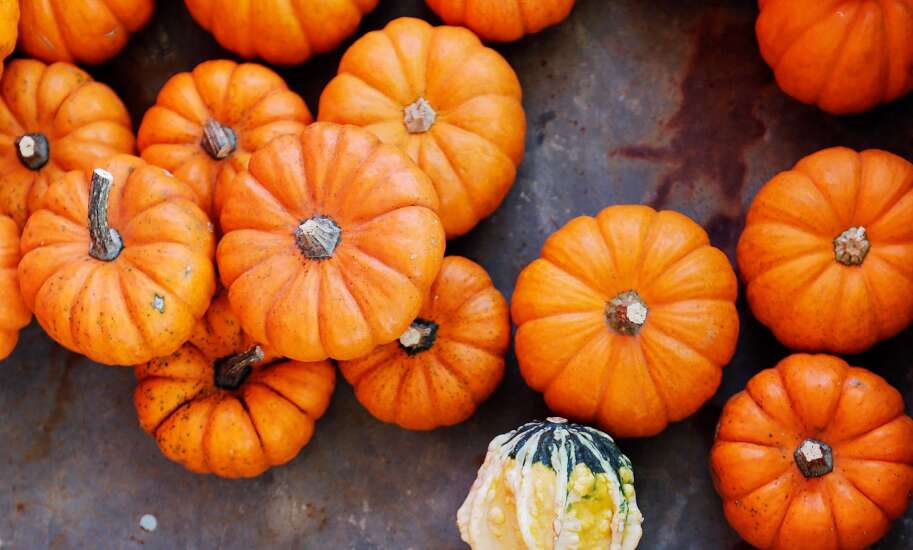 Growing full-sized pumpkins is tremendous fun, but also takes up tremendous space. One standard pumpkin plant can easily sprawl 10 feet across. Also, pumpkins need fully warmed soil in spring for plantings, and the larger types take easily four months to mature, so the timing in a short summer northern state like Iowa is tight.
Enter the mini pumpkin. Mini pumpkins have long been the darlings of interior decorators who love to scatter them across tablescapes and use them in other artful autumn arrangements, but they also are the perfect pumpkin to grow in Iowa, especially if you don't have a ton of space. They'll sprawl just a few feet, making them great for containers. They also mature in just three months or so, giving you more time in spring to get them planted so that they mature before hard frosts damage them.
Granted, it's too late to plant mini pumpkins in Iowa now, but it's the perfect time of year to save seeds from the mini pumpkins you purchase at the grocery store or farmers market. It's a wonderful activity to do with children to help them learn about the life cycle of plants.
Keep in mind that if your mini pumpkin is a hybrid (almost impossible to know unless you have the exact cultivar name), it may or may not come true from seed. But that's half the fun — playing Russian roulette with plant DNA to see what nature serves up next fall. However, don't worry about your mini pumpkin seeds growing into big pumpkins. The seed likely won't revert or mutate significantly. If it's an heirloom or non-hybridized seed, you'll likely get seeds that are exactly the same as the parent pumpkin.
Alternatively, you can purchase mini pumpkin seeds come spring, if you prefer. Either way, pumpkin seeds are among the easiest of all seeds to start.
If you choose to save your mini pumpkin for seeds, simply keep a desired mini pumpkin or two. Keep it in a frost-free place until it starts to get slightly soft (not rotten). If you bought your mini pumpkin in October, that means it likely would be ready to harvest the seeds in late November.
Then just cut open the pumpkin, pull out the seeds, and rinse the slippery, stringy pulp off the seeds with water. Drain and spread the seeds out on newspaper or paper towels for a day or so someplace indoors. Pick out any small, misshapen, broken, split, or otherwise inferior seeds. Then put the seeds in a paper envelope, paper bag, or other container that can breathe for another week or two, to further let them dry out, also indoors. If you dry your seeds outside, it may be too cool or too damp for them to dry well and they may rot in storage.
After the seeds have dried out more in the breathable container, put the seeds into a Ziploc or other sealed plastic bag to preserve existing moisture levels. You don't want them to dry out completely. Label and store in the fridge until spring.
In spring, no matter if you've saved seed or purchased seed, plant the seed in thoroughly warmed soil. Keep in mind that one pumpkin plant per household is usually plenty, but start at least a few so that if you lose one or two plants, you still have some backups.
Start them indoors in paper cups or similar containers no earlier than May 1. Pumpkin seeds germinate quickly and benefit from being set outside during the day and getting full sun but need warmer weather. The plants shouldn't be transplanted until around the first week of June, when the ground has warmed up.
If you choose to plant the seed directly in the ground outdoors, wait until the first week of June for the same reason. If you plant pumpkin seeds in cool soil, they may just rot or otherwise emerge weakened.
For container planting, choose a large planter, like a half whiskey barrel or planter that is the equivalent of a five-gallon bucket or so. Since the potting soil in the planters would have already warmed up, you can plant it outside after all danger of frost has passed, around May 12 in the Cedar Rapids area.
Keep the soil evenly moist for seeds and new transplants for the first week. After that, your pumpkin will need the equivalent of one to one and one-half inch of rain or watering a week for best growth. If you don't already have a rain gauge, this is an excellent reason to purchase one.
The best fertilizer for your pumpkin and just about any other plant is compost. Work in a couple spades full at planting time or spread a one-inch layer around the area where you've already planted your pumpkin.
If you choose a synthetic or organic fertilizer, read the label carefully and apply sparingly. Too much nitrogen will encourage lots of green growth that takes up a lot of space, requires a lot of water, but does not produce a lot of pumpkins.
Mulch for pumpkins is essential. It keeps down weeds, conserves moisture, prevents diseases, and if any of the pumpkins ripen on the ground, it prevents the portion of the rind that touches the ground from rotting. Straw, hay, grass clippings, shredded wood (not fresh) or bark, and newspapers all make excellent mulch.
You can tell your pumpkins are ready to harvest when they appear to be fully colored and the rind is hard and difficult to penetrate with a fingernail. Also, the vines are likely starting to yellow and shrivel.
Use hand pruning shears to cut off the pumpkin, leaving at least a little stem to help delay drying out and decay. Be sure to harvest pumpkins before the first hard frost to prevent them from going soft. In our area, that usually is, conveniently, a week or two before Halloween.
Pumpkins of any sort will last longer indoors, where they are not exposed to freezing temperatures. But outdoors, if not cut into a jack-o'-lantern, they will often stay attractive until after Thanksgiving, when it's time to remove autumn decorations and replace them with winter or holiday decor.
I usually toss my pumpkins onto my compost heap, a method that has a decided bonus. More than once, in spring, I notice a volunteer pumpkin plant or two. I pull out all the pumpkin plants but one, let it grow, and in fall I get to enjoy a bumper crop of mini pumpkins.
Veronica Lorson Fowler is co-publisher of the Iowa Gardener website at www.theiowagardener.com.