Home / Living / Home & Garden
Project GREEN Garden Forum to feature the Friends of Vander Veer Botanical Park director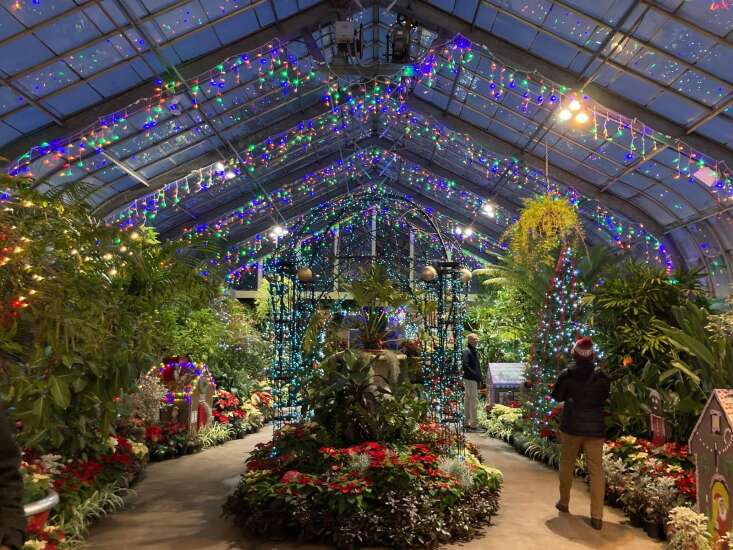 IOWA CITY — Project GREEN and the Iowa City Public Library will offer a series of Garden Forums in 2022. The first will be held from 2 to 4 p.m. Jan. 9 at the Iowa City Public Library, 123 S. Linn St.
Natasha Sottos, director of The Friends of Vander Veer Botanical Park, will share The History and Highlights of Vander Veer Botanical Park. She has raised hundreds of thousands of dollars in support of this Iowa gem. Sottos works with the City of Davenport in support of this public-private partnership to provide the Vander Veer Botanical Park's horticultural and education initiatives.
This 33-acre Iowa gem features a conservatory, outdoor gardens, decorative fountains, a nationally-recognized rose garden and hosta glade and an extensive collection of trees, some dating to the 1890s. Vander Veer includes The Grand Allee leading to the Stone Fountain. The conservatory is famous for its tradition of providing gardens under glass and seasonal displays.
The Vander Veer Botanical Park was built on the old Scott County Fairgrounds land and modeled after New York City's Central Park. In 1912, the park was renamed for the first secretary of the Davenport Park Board of Commissioners, A.W. Vander Veer. The park is maintained by the City of Davenport Parks and Recreation Department, with floral displays and other initiatives funded by The Friends of Vander Veer.
Additional Garden Forums will be held Feb. 13, with author and garden designer Dr. Benjamin Vogt (virtual); and March 13, with University of Iowa Urban Forestry Supervisor and campus arborist Andy Dahl (in-person).
Project GREEN (Grow to Reach Environmental Excellence Now) and library have partnered to offer the Garden Forums for many years. The forums are free. Attendance at forums qualifies Iowa State University Extension Master Gardeners for education CEUs.
Since Project GREEN (Grow to Reach Environmental Excellence Now) was launched in 1968, the nonprofit has funded nearly $2.2 million in projects, including Project GREEN Garden, a public garden at the city-owned Ned Ashton House at 820 Park Rd., parks, roadsides, riverfronts and median parkways and public school grounds. Project GREEN also supports efforts to educate citizens about the importance of beautifying private property as well. The organization celebrated 50 years of service to the community in 2018.