Home / Living / Home & Garden
Living the dream downtown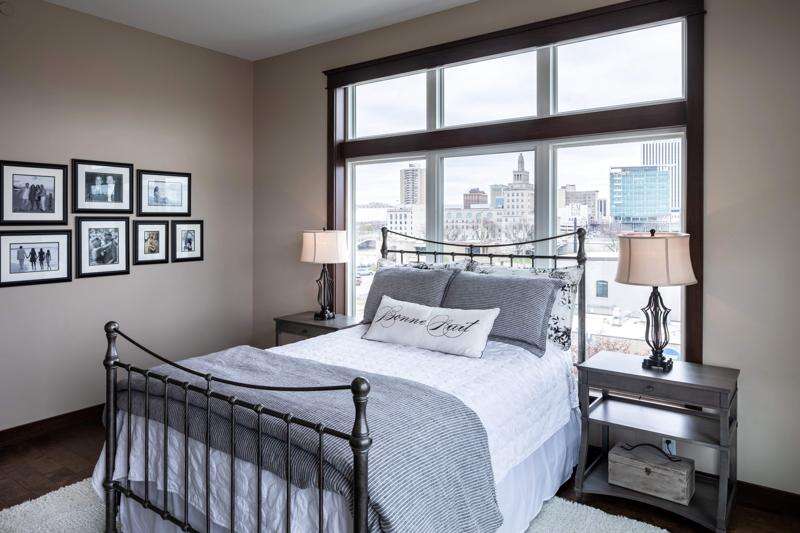 In a 5,000-square-foot, penthouse condo in one of Kingston Village's new condo developments, Angie and Kirk Nanke have created the perfect home for themselves and an ideal venue for spending time with family and friends.
They credit their ability to attain perfect-home status with the opportunity to be involved in the project even before a scoop of dirt was turned.
'We met with the builder, Joe Ahmann, before they broke ground," Kirk said. 'We'd only seen concept drawings."
'We kept the plans on our kitchen counters at the old house," Angie said. 'And every time I thought of something, I'd get out the measuring tape and start making notes."
When designing the home, the Nankes thought only of themselves.
'We built this house just the way we wanted it," Kirk said. 'We don't care about resale value." 'We've been together for 32 years, so we just know what we like and how we live," Angie added.
The couple has long had an interest in home design.
'Every year on my birthday, we'd go through the Parade of Homes and look for things we liked," Angie said. 'And we always sit and watch HGTV. Kirk would sketch while we'd watch. I never thought one day we'd be building our own dream home."
The couple relied on those sketches when it came time to lay out their condo's floor plan. 'They gave us a shell to work with and then they let us pick out everything we wanted," Kirk said.
Once the floor was down, the Nankes visited often to see how the layout would work.
'We started over with furniture, and we were amazed at how well it all worked in this space. I was here all the time," Angie said of the nearly two-year planning and building process.
In September 2016, the couple moved in, bringing just a few pieces with them from their other home - a vintage barber chair Kirk bought some 30 years ago, a baby grand piano their two adult daughters had learned to play, a pool table and an eclectic TV console.
'Our style is a mix between antiques and moderndesign," Angie said. 'We have a pretty classic style because we don't like to choose things that will go out of style in five years."
Once you step off the elevator into the Nankes' foyer, you realize all their attention to detail and planning paid off.
'This place just opens up, and people just don't expect it. They often say 'who knew this was up here?' " Kirk said.
The great room, featuring the kitchen, sitting room and home office, create a spacious welcome. 'We do entertain often so we wanted to create a space suitable for that," Kirk added.
'We bought this condo right before we both turned 50 so we had our birthday parties here," said Angie, noting she loves to cook. 'I think we had seven parties in the first six months we were here."
Running the length of the kitchen is a large pantry with open shelving.
Their spot on the fourth floor allows them a sweeping view of the river and downtown Cedar Rapids, and the perfect spot for a Fourth of July party to watch the fireworks.
The Nankes often remind friends and visitors that living in a condo doesn't mean losing out on storage space.
'We have so much storage, there are some drawers I've never actually looked in," Kirk said.
'We didn't give up anything in moving here," Angie agreed. 'When you see my laundry room and pantry and closet, you see that." As for that closet, well, let's just say it's been known to make jaws drop. One wall is for Kirk's clothes, the other for Angie's. All arranged by style and color. Kirk likes to joke about all of Angie's little black dresses. There is a floor-to-ceiling section for Angie's shoes. 'I measured everything in here and designed how far off the floor I wanted clothes to hang in the closet," she said.
The closet also has a door into the main hallway so that if one of them has to be up and ready early, they don't have to exit through the bedroom and wake up the other. It also has a door into the laundry room, with its meticulously designed cabinetry - including a giftwrap storage drawer - to accommodate items the Nankes want out of sight and helping Angie achieve her clutter-free design aesthetic.
Their condo also includes a private three-stall garage, a mudroom (with floor-to-ceiling storage for winter gear and shoes) and private elevator access. 'I put a ping-pong table in the garage for when I have the guys over," Kirk said.
The couple, who own Ledford Engineering, a tool and die shop in Cedar Rapids, had lived on an acreage outside of town. 'We travel a lot and had talked for several years about moving to a condo," Kirk said.
But Angie, who loved their neighborhood and neighbors, wasn't so sure, saying she 'was afraid I'd feel like I was living in a hotel." But with their children in college, the couple both felt it was time for a change.
'This feels like home," Angie said. 'We were ready for this. And we still have parties with our old neighbors. There's just Uber involved now."
'We don't miss the yard work at all. And now, when we travel, we push a button and everything is secure. We have adapted really quickly to this," she added, noting the noise from street traffic was the biggest adjustment. 'And think about everything we can walk to," Kirk said. 'That was a big reason for moving here: the dinners and night life and coffee shops. We bought bikes. And we are definitely known by first name at several restaurants around here."