Time Machine: When April Fools' Day and Easter coincide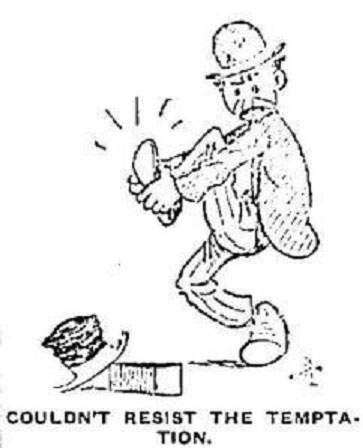 Easter, a Christian holiday celebrated around the world, and April Fools' Day, an event observed by pranksters everywhere, rarely fall on the same day. This year is one of the exceptions.
The two coincide because calculations made in the sixth century dictated Easter would fall on the first Sunday after the first full moon after March 21. That meant the holiday could not fall before March 22 or later than April 25. The rules allowed astronomers to calculate on what date Easter would fall far into the future, and on rare occasions, it fell on April 1.
Easter and April Fools' Day coincided in 1714, 1725, 1736, 1804, 1866, 1877, 1888, 1923, 1934, 1945, 1956 and this year. It will happen again in 2029.
Pranks that are pursued freely in other years wane in deference to the Easter holiday, but a few still pop up.
In 1877, the Burlington Hawk Eye warned pastors to check their chair cushions for 'bent pins."
In 1888, an April Fools' Day trick was played on the irascible Major John M. May, for whom May's Island is named in Cedar Rapids.
May, who alternately went by the ranks of colonel and major, had acquired title to the island before 1870 from the U.S. government.
May's Island was connected to east and west Cedar Rapids by two iron bridges that constituted Park (later Third) Avenue. The 300-foot-long street on the island between the bridges was named Island Avenue, and May's office was at No. 7 Island Ave.
May had a contentious relationship with local government over plans for dams or bridges that he felt might damage the island.
In 1884, when May objected to an abutment on the new First Avenue Bridge that he feared would channel water onto the island, he notified city officials they would be liable for any resulting damage.
Not only was there no damage, but The Gazette noted the extra watering of plants and trees made the island more luxuriant.
In 1888, Linn County was repairing the Park Avenue bridges. As part of that work, the county wanted to straighten the sidewalk on the north side of Island Avenue. May filed an injunction halting the work.
County Attorney Milo P. Smith managed to get the injunction temporarily lifted. Before May could get it reinstated, contractor Henry Bessler and his crew put down 90 feet of sidewalk.
'The major was caught napping for once and will probably regard the success of the county attorney in the light of a good April Fool trick," The Gazette reported the next day.
May was somewhat vindicated. The city didn't learn until 1903 that he had deeded the strip of property for Island Avenue to Cedar Rapids on April 3, 1871.
In 1923, the next time Easter and April Fools' Day coincided, Will Ford, a trusty at the prison in Anamosa, found himself in hot water over a prank.
When prison officials thought Ford - serving 10 years on a forgery charge - had escaped, officers were sent out to watch roads. Calls were made to surrounding areas to see if anyone had seen him.
Ford later crawled out of a root cellar, saying he was hiding, in honor of April Fools' Day, to play a joke on the guards. No one was laughing, and there was talk of adding five years to his sentence.
In 1934, the Sumner Gazette in northeast Iowa reported that despite the subdued tone of April Fools' Day, because it fell on Easter, 'one bunch of Sumner's young bloods who enjoy pulling a practical joke had the tables turned on them in grand style."
Some of the young men's friends offered to spike their glasses of grapefruit juice with some 'good stuff" on Easter morning.
'The good stuff was duly added to the juice," the paper reported. 'The two were carefully stirred together and with expressions of delight and smacking of lips, the mixture went quickly out of sight. Imagine their chagrin when they learned the so-called 'good stuff' was just plain water!"
In 1945, the day held more thankfulness than pranks for Ford Hilton, a baker aboard a tank landing ship at Iwo Jima, an island in the South Pacific the Allies had just taken in a hard-fought battle with the Japanese.
'What a day, Easter Sunday and April Fools' Day. It was one I'll never forget," Hilton wrote to his wife in Muscatine. 'We have come through another big invasion without a scratch. ... We are all pretty tired, but it didn't seem quite as bad as the invasion of Luzon."
During his service, Hilton had been to many of the big battle sites in the South Pacific, including Guam, the Philippines, including Luzon, the Marshall and Solomon islands, including Guadalcanal, and New Guinea.
That same year, a Cedar Rapids Tribune story reported, 'Not much April Fool trickery this time. Seems as though most of us were all concentrating on the significance of Easter, which is as it should be."
A story about the April 1956 issue of Woman's Day magazine was not so much a prank as an unintended misdirection.
Julia Schueler of Coralville had written an article, 'The Gentle Art of Doing Nothing," for that issue. In mid-April, she received a letter addressed to 'Julia Schueler, Route 1, Iowa City, Iowa" with a return address of 'Julia Schueler, Box 77, Perryman, Maryland."
The Maryland Julia explained in a letter that everyone in her family assumed she had written the article.
'My father-in-law, a newspaper editor, was so pleased with it because 'it is so typical of Julia.' My mother-in-law called my mother with the cheery news," she wrote.
The Maryland Julia's mother immediately made a 30-mile trip to discover why her Julia had kept such a secret.
The Maryland Julia set her everyone straight and added, 'It's quite thrilling to see the name Julia Schueler in print, even if this particular one does not belong to me."
l Comments: (319) 398-8338; d.fannonlangton@gmail.com