Home / Time Machine: Journalist Jean Strong left Iowa for Life magazine … but came back
Time Machine: Journalist Jean Strong left Iowa for Life magazine … but came back
Projects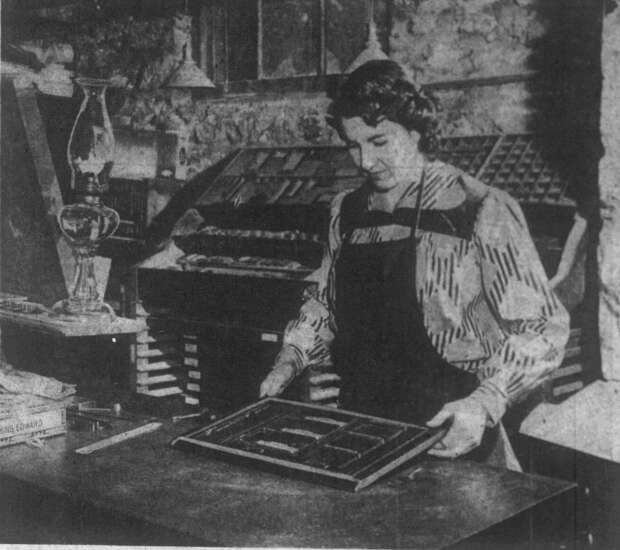 Betty Jean Strong was born on a farm north of Marion in 1925. She attended country schools, went to birthday parties for friends in Cedar Rapids and got a box camera when she was 12.
As photojournalist Jean Strong, she ended up covering world events for Life magazine in the 1950s before returning to Iowa.
After graduating from Springville High School in 1943, Strong was looking for a job so she could save money for college. She answered an ad in the Marion Sentinel newspaper offering "a young woman with ambition an opportunity to learn to be a linotypist." Even though Strong had to look up "Linotype" in the dictionary before applying, she got the job.
After two years working for the weekly, she enrolled at the University of Iowa. She worked for the Daily Iowan during the school year and took summer jobs packing boxes, waitressing and filling in for vacationing linotypists.
She began taking pictures professionally in 1946.
UI students elected Strong and William Shuttleworth, who became a well-known Cedar Rapids lawyer, as Miss Hawkeye and Mr. Hawkeye for the annual All-Campus Carnival in April 1949.
Strong's college plans were sidetracked in August 1949 when she became editor-manager of the Center Point Independent weekly newspaper after it was sold to Ralph Young, publisher of the Marion Sentinel.
At the Independent, Strong wrote news and editorials, set type and sold ads. "It was a great experience, an opportunity few women get and one few would turn down," she would say later.
In September 1950, she returned to the UI to finish her degree in journalism, graduating midyear in February 1951.
Strong worked as a feature writer and photographer for The Gazette in Cedar Rapids. She belonged to a national honor society, Theta Sigma Phi, and took a monthlong tour of Europe with the group in the summer of 1952, meeting the British queen in London and Pope Pius XII in Rome.
On to New York
Strong left The Gazette in the spring of 1954, heading to New York to become a reporter-researcher for Life magazine, a national magazine known for its high-quality photos.
At Life, according to her obituary, she helped famed photographer Margaret Bourke White catalog her photos. She stayed up all night writing captions for the film Life photographers sent back from the Cuba revolution that brought Fidel Castro to power.
Strong got her first big assignment in February 1955, trailing Britain's Princess Margaret during her monthlong tour of the British Caribbean Isles — Trinidad, Grenada, St. Vincent, Barbados, Antigua, St. Kitts, Jamaica, Bahamas.
She went on to cover hurricanes and plane crashes in the East River for the magazine. Other major assignments included the survivors of the SS Andrea Doria's sinking in 1956 and the murder of New York crime boss Albert Anastasia in 1957.
In 1960, nearing the end of her six-year career for Life, Strong and photographer Yale Joel took photos of the new Time & Life Building in Rockefeller Center.
Back to Iowa
After working for Life's sister publication, Fortune magazine, for about 20 months, she took a leave of absence and headed home to Iowa in April 1962.
"Standing on top of a tall building or working for a national news publication both afford a grand and broad view — but maybe you miss a sense of participation and the opportunity to make a real contribution in shaping the things that are to be," she wrote in a 1963 story in the Iowa Publisher.
"And if you don't particularly like what you see, perhaps the logical action is to change your vantage point."
In the fall, the Marion Sentinel's new owners, Willard and David Archie, asked Strong to take over. She resigned from Fortune on Oct. 31, working for the Sentinel until April 1963 when she became a freelance writer and photographer.
One of her first projects was a promotional brochure for the Marion Chamber of Commerce. Strong was active in the community and plunged into politics when she ran for Linn County supervisor in 1964. A Republican, she lost to Anthony Scolaro.
Her next project was the Iowa Illustrated magazine, a quality publication that promoted Iowa to Iowans, because, she said, "I think Iowa needs promoting inside of the state as well as outside."
She worked as an insurance agent for Central Life Assurance Co. until 1971, when she was on her way east again, having been named an associate editor at Countryside Press in Philadelphia. By 1976, she was working as a researcher for Time-Life Books in Washington, D.C.
Books
Strong retired in 1986 after a 40-year journalism and publishing career.
She was visiting the Iowa State Historical Society in Iowa City in 1986 when she stumbled upon a manuscript in the archives written by Isaac Kramer, her great-great-granduncle.
She began a four-year project of editing it and adding information about Kramer's life. The book, "A Prairie Almanac: 1839 to 1919," was published in 1996.
In 2005, she authored "The Marion Library: Doorway to the future, Picture window on the past," a tribute to her hometown.
Strong lived the rest of her life in Springdale in northwest Arkansas, where she helped turn a golf practice range into Mae Farm, an agritourism center featuring organic gardens, heirloom plants and heritage livestock.
Strong died in Arkansas on May 26, 2021, at age 95.
Comments: D.fannonlangton@gmail.com