Time Machine: Carl Van Vechten's friend, James Weldon Johnson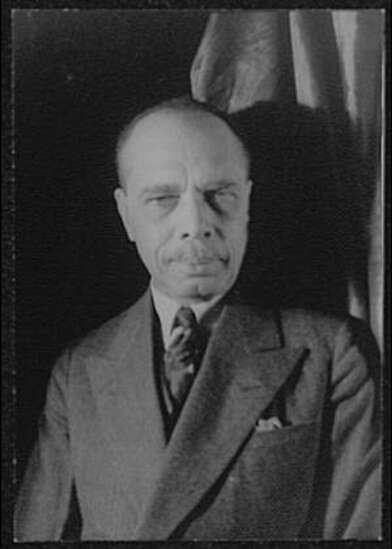 James Weldon Johnson, a Black poet and an early executive secretary of the NAACP, once said Cedar Rapids native Carl Van Vechten "has done more than any white man in America to publicize Black achievement in the arts."
Van Vechten left Cedar Rapids after graduating from high school in 1899 and became a well-regarded novelist, music and literary critic and photographer in New York City. He also brought attention to Black writers, musicians and entertainers during the Harlem Renaissance era from the 1910s through the 1930s.
In 1925, Johnson collected, edited and published "The Book of American Negro Spirituals." In the collection's preface, he included Van Vechten's opinion that spirituals could not be sung by whites. Johnson agreed, up to a point.
"Mr. Van Vechten made this statement in recognition of the element in the Spirituals without which their beauty of melody and harmony is lifeless," Johnson wrote.
But, he added, "I think white singers, concert singers can sing Spirituals — if they can feel them. But to feel them, it is necessary to know the truth about their origin and history, to get in touch with the association of ideas that surround them, and to realize something of what they have meant in the experiences of the people who created them."
Johnson's brother, composer John Rosamond Johnson, arranged the music for the collection.
Iowa visits
In 1926, James Johnson, by then the NAACP executive secretary, came to Des Moines to address a meeting of the Des Moines branch of the NAACP at the University Church of Christ.
He spoke on the recent acquittal of Henry Sweet in Detroit, who, along with 11 others, had been accused of murder after killing one of a mob that tried to drive Sweet out of his home.
While Johnson was busy with the NAACP, his musician brother and his associate, Taylor Gordon, were touring and promoting their book of Negro spirituals.
One of their stops was in Iowa City at the Natural Science Auditorium on Feb. 28, 1927. That was followed by an appearance at Coe College's School of Music in Cedar Rapids on Jan. 12, 1928.
"Taylor Gordon is featured as soloist, but behind him at the piano is the always dominating figure of J. Rosamond Johnson, who arranges the music, plays the accompaniments and occasionally adds his crooning melodic voice," The Gazette reported.
Cedar Rapids visits
On Jan. 28, 1934, James Johnson spoke in Cedar Rapids on "The Negro's Contribution to American Civilization" at St. Paul's United Methodist Church. He was introduced by Cedar Rapids poet Jay Sigmund.
Johnson appeared at the invitation of the Cedar Rapids Town Hall Club, a 1,000-member group dedicated to improving the city's cultural life.
Advance notices described Johnson as "an outstanding Negro poet and lecturer on the race problem"; a former U.S. consul to Venezuela; and author of "The Book of American Negro Poetry," "Fifty Years and Other Poems," and his autobiography, "Along This Way."
He returned the next year for a Jan. 28, 1935, town hall, again at St. Paul's, where he was introduced by Cornell professor Clyde Tull.
Gazette reviewer Naomi Doebel described her impressions of Johnson: "Tapering, expressive hands with poetry in their motion. A suave, velvety voice that seemed to conceal in its culture a resentment against prejudices that have kept the Negro from equality in the United States. An inner fire manifest chiefly as he read his own moving poetry — unfortunately, only two selections."
At a time when Blacks were unable to stay in most hotels, Van Vechten's niece and nephew, the Van Vechten Shaffers, invited Johnson to spend the night at their home on Nassau Street. They also had friends drop in to meet the poet.
One of Jonson's most popular books of poems, "God's Trombones," was released later that year.
Reading poetry
The Van Vechten Shaffers again hosted Johnson in February 1936. On Feb. 6, he lectured on "Negro Poets and Their Poetry" at the University of Iowa Memorial Union River Room in Iowa City.
The next day, he read his poetry at a lecture at Cornell College Chapel in Mount Vernon, and later dined with Mr. and Mrs. Raymond McConlogue of Lisbon. He left that evening for Chicago, where two more lectures were scheduled.
Two years later, Johnson died in an accident at a railroad crossing in Wiscasset, Maine. He was 67. He was buried in Greenwood Cemetery in Brooklyn with a copy of "God's Trombones" in his hands.
Van Vechten, who spent his life researching, collecting and promoting materials by Black writers and artists, found a way to honor his longtime friend. In 1941, he donated the materials to Yale University as the James Weldon Johnson Memorial Collection of Negro Arts and Letters.
Comments: D.fannonlangton@gmail.com