Home / News / Education / Higher Ed
Wild Bill's Coffee Shop in Iowa City drops coffee, keeps mission
UI space made famous in Bill Sackter's story being re-imagined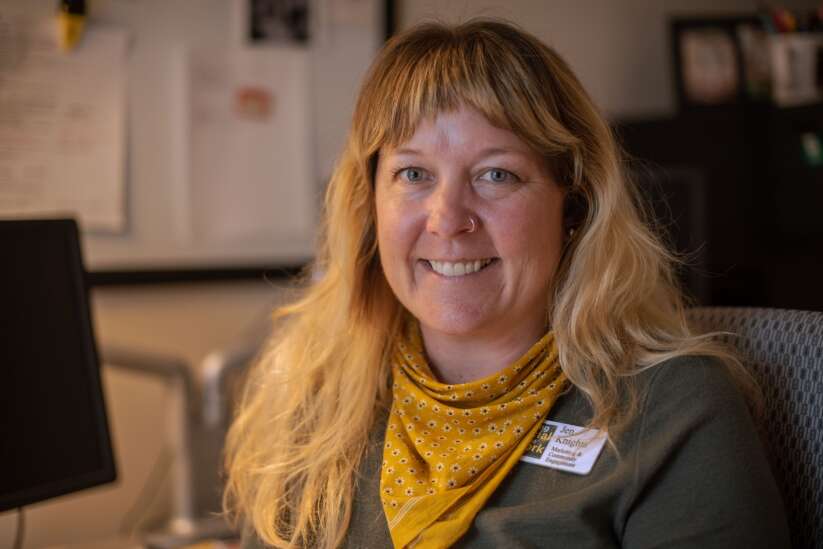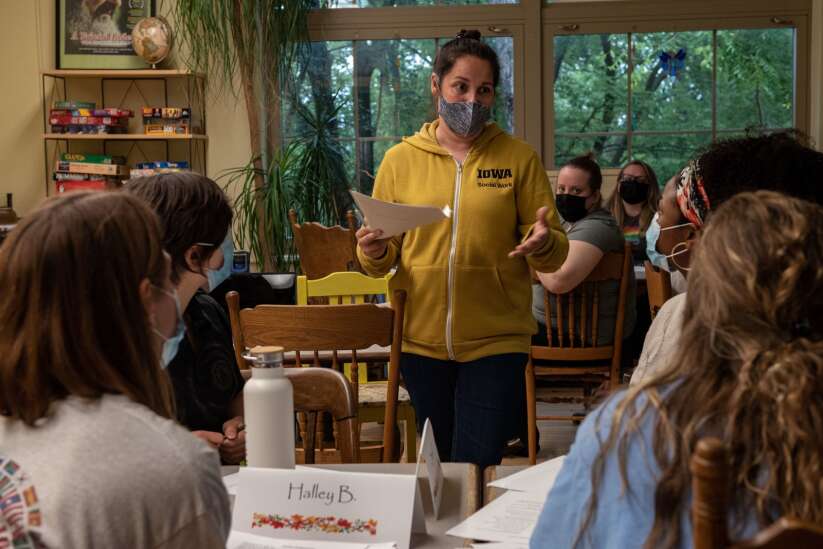 IOWA CITY — After 46 years of coffee service from men and women with disabilities — starting with Bill Sackter in 1975 — the University of Iowa's "Wild Bill's Coffee Shop" has brewed its final cup.
That last coffee service actually happened more than a year ago — in March 2020, just before the pandemic shut down the campus. But even before COVID-19, Wild Bill's was brewing a new concept — moving away from its model of employing disabled individuals.
"It was almost like a sheltered workshop, which has very much fallen out of favor over the years," said Jen Knights, marketing and community engagement specialist for the UI School of Social Work and chair of Wild Bill's Strategic Planning Committee. "We were aware that we needed to change that."
And starting this fall, it has. While Wild Bill's will keep the name of its founding inspiration — and its mission to serve people with disabilities and social work students — it is tackling that work using different methods.
"We are re-imagining the space as a workshop and classroom," Knights and UI School of Social Work Director Mercedes Bern-Klug wrote in a letter over the summer to interested parties. Among roles the new Wild Bill's will play:
Hands-on lab for social work students.
Discussion group, seminar and event space aimed at building community, leadership and advocacy skills toward a "social-justice-focused" end.
Multimedia production studio for projects meant to "advance understanding of social justice issues and advocate for the rights and inclusion of marginalized and oppressed people through storytelling."
An example of such a project is the new "Wild Bill's Cup of Social Justice" podcast that will record from the former coffee shop space, according to Knights — a co-host for the show.
"The first episode is all about the origin story of Wild Bill's and about Bill Sackter and how Bill became a national celebrity," Knights said. "The next episode, we're going to be talking more about the future of a Wild Bill's. And then from there, we are actually wanting to talk about all kinds of different topics — areas where social work actually advances social justice."
Customers have 'dwindled'
Tom Walz, a former UI social work professor and director of the UI School of Social Work who died in 2018, created Wild Bill's Coffee Shop in 1975 to provide work for Sackter — who had spent 44 years in a Minnesota mental institution before his discharge and happenstance meeting with Barry Morrow, a UI staffer. Sackter followed Morrow to Iowa City, where Walz put him in charge of the small coffee service in North Hall, benefiting both Sackter and social work students looking for hands-on experience.
The story gained a national audience when a made-for-television movie called "Bill," starring Mickey Rooney, was released in 1981.
"In 1975, people with disabilities had little access to employment and our students had little access to experiences working with disabled community members — so the coffee shop model was a wonderful solution to a big societal problem at that time," according to the letter from Knights and Bern-Klug.
Sackter died in 1983, but others with disabilities continued staffing the business. Over the years, though, "coffee shops and kiosks have proliferated around us, both on campus and nearby."
"And the number of customers in the coffee shop has dwindled, making our coffee shop staff (who are community members with disabilities like Bill) pretty lonely at times," according to the letter. "Additionally, people with disabilities have continued to achieve fuller integration into all parts of our community including through mainstream employment opportunities."
That, Knights said, has diminished the need to provide those individuals with jobs and to give social work students an opportunity to "interact with differently-abled people."
"That's actually pretty great news," she said.
'As we go'
When COVID-19 compelled Wild Bill's closure last March, it had 13 employees — people with a range of disabilities, from intellectual to physical — who would come in and work a shift a week. Although the closure wasn't ideal, the School of Social Work used it to pivot, according to Knights.
"We already were talking strategically about how we could better serve our educational mission and make sure that we are continuing to be innovative and have an impact in the community, especially in terms of social justice," she said. "So this pivot had started before COVID. COVID just made it so that we had to do it at the time that we did."
The space going forward will be open to a wide range of campus groups seeking a venue for hands-on learning, group discussions, seminars, lectures and creating toward the aim of social justice and beyond.
"A lot of this is actually being figured out as we go," she said. "But we definitely have started scheduling classes in the space. It's also open now, every day of the week from Monday through Friday 8 a.m. to 5 p.m. for people to come in for meetings or projects."
Although the coffee portion of Wild Bill's is gone, its legacy won't be. UI Libraries Special Collections is archiving historical materials.
"So we're not just folding it up and shutting it down," Knights said. "We really are considering very much how people will want to hear this story and learn about it in the future."
Comments: (319) 339-3158; vanessa.miller@thegazette.com