Home / News / Education / Higher Ed
University of Iowa hospitals ranks in two specialties, fewest in a decade
U.S. News releases 2022-23 Best Hospitals rankings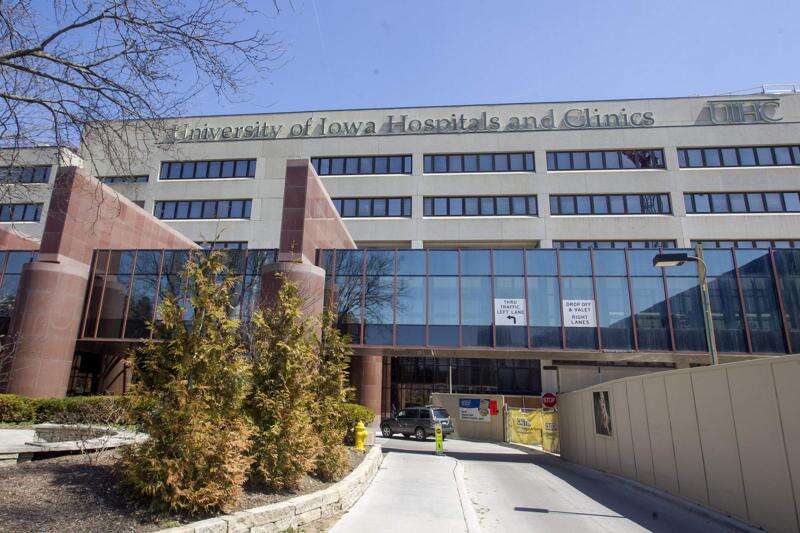 IOWA CITY — The University of Iowa Hospitals and Clinics this year ranked in the Top 50 nationally in two of the 15 specialties ranked by U.S. News & World Report — its weakest showing in at least a decade and continuing a slide from nine ranked specialties in both 2012 and 2014.
UIHC's two ranked specialties, according to the 2022-23 Best Hospitals list released Tuesday, are: Ear, nose and throat, which slipped to No. 31 from No. 23 last year and No. 7 the year before; and ophthalmology, which held steady in its top 10 spot at No. 7, where it fell last year one spot from No. 6 the year before.
Last summer, when the 2021-22 rankings came out, UIHC ranked in four of the 15 ranked specialties — on par with 2020 and down from six in 2019, seven in 2018, five in 2017, seven in both 2016 and 2015, nine in 2014, six in 2013 and nine in 2012.
The two specialties in which UIHC ranked last year but didn't this year are: Cancer, which last year was No. 47, down from No. 41 the year before; and obstetrics and gynecology, which came in at No. 41 last year, down from No. 34 and No. 19 in the two years before.
For its cancer care, UIHC still earned "high performing" marks — indicating it didn't make the Top 50 "but was significantly better than average." The university in the new rankings didn't earn high performing marks for its obstetrics and gynecology services.
In total, UIHC landed high-performing status for six of its specialties — the same as last year. They included cancer; gastroenterology and gastrointestinal surgery; geriatrics; orthopedics; pulmonology and lung surgery; and urology.
It lost high-performing status in diabetes and endocrinology, according to the U.S. News methodology — which for 12 of its specialties uses mostly objective, data-driven measures like survival rates, patient experience, nurse staffing levels, breadth of patient services and expert opinion.
In a statement, interim UIHC CEO and chief nurse executive Kim Hunter said, "We're so very proud of our staff who are connected to our hospital and these specialty programs.
"To be included in the 'high-performing' category is a mark of distinction — it means that you're among the top 10 percent of similar programs nationwide. It's also a sign of the great work you're doing. And to be ranked within the top 50 for any program is absolutely outstanding."
U.S. News ranks three of its 15 specialties solely on expert opinion, averaging the three most recent years of physician surveys in which doctors are asked to name up to five hospitals they consider best for complex cases in their specialty.
The three are rheumatology, psychiatry, and ophthalmology — UIHC's only top 10 specialty.
Last month, the university learned its Stead Family Children's Hospital made gains in the U.S. News "Best Children's Hospitals" for 2022-23 — upping its five ranked specialties to seven, and seeing meaningful gains in most of specialties.
Although UIHC lost ground in its adult specialties, it remained the No. 1 hospital in Iowa and the state's only hospital to rank in the Top 50 nationally in any category.
More than 2,000 hospitals met one of four standards to become eligible for ranking consideration — including being a teaching hospital, affiliation with a medical school, staffing at least 200 beds or having at least 100 beds and offering at least four advanced technologies.
Other Iowa hospitals considered in the rankings include MercyOne Medical Center in Des Moines, which ranked second in the state; UnityPoint Health Iowa Methodist Medical Center in Des Moines, which ranked third in Iowa; and UnityPoint Health St. Luke's Hospital in Cedar Rapids, which ranked fourth.
None of those campuses ranked in the Top 50 or achieved high performing marks in any of the ranked specialties.
U.S. News, though, also offers high performing, average or below average marks for hospitals in 20 specific procedures and conditions — like hip replacement and certain types of cancers. And MercyOne earned high-performing marks in 11 categories, while both UnityPoint locations achieved high performing in nine.
UIHC earned high performing in 14 procedures and conditions.
U.S. News officials said the rankings are meant to be a guide for the 30 million patients a year admitted to U.S. hospitals for a procedure or other care. And the highest-ranked facilities aren't necessarily the best fit for everyone.
"Hospitals are evaluated across a wide range of conditions and procedures," according to U.S. News "Within that range, hospitals can and do perform differently."
On the 20 hospitals earning the highest rankings and the most high-performing marks, U.S. News bestows "honor roll" recognition.
One of those hospitals — University of California San Francisco Health-UCSF Medical Center — is led by UIHC's former Chief Executive Officer Suresh Gunasekaran, who left Iowa in February for the presidency and CEO post atop UCSF Health.
1. Mayo Clinic
2. Cedars-Sinai Medical Center
3. NYU Langone Hospitals
4. Cleveland Clinic
5. (Tie) Johns Hopkins Hospital
5. (Tie) UCLA Medical Center
7. New York-Presbyterian Hospital-Columbia and Cornell
8. Massachusetts General Hospital
9. Northwestern Memorial Hospital
10. Stanford Health Care-Stanford Hospital
11. Barnes-Jewish Hospital
12. University of California San Francisco Health-UCSF Medical Center
13. Hospitals of the University of Pennsylvania-Penn Presbyterian
14. Brigham and Women's Hospital
15. Houston Methodist Hospital
16. Mount Sinai Hospital
17. University of Michigan Health-Ann Arbor
18. Mayo Clinic-Phoenix
19. Vanderbilt University Medical Center
20. Rush University Medical Center
Comments: (319) 339-3158; vanessa.miller@thegazette.com