Home / News / Education / Higher Ed
University of Iowa aids research showing benefits of updated COVID booster
'These new results suggest that the bivalent shot is a valuable tool for protecting vulnerable people at a time when COVID-19 case numbers are climbing again'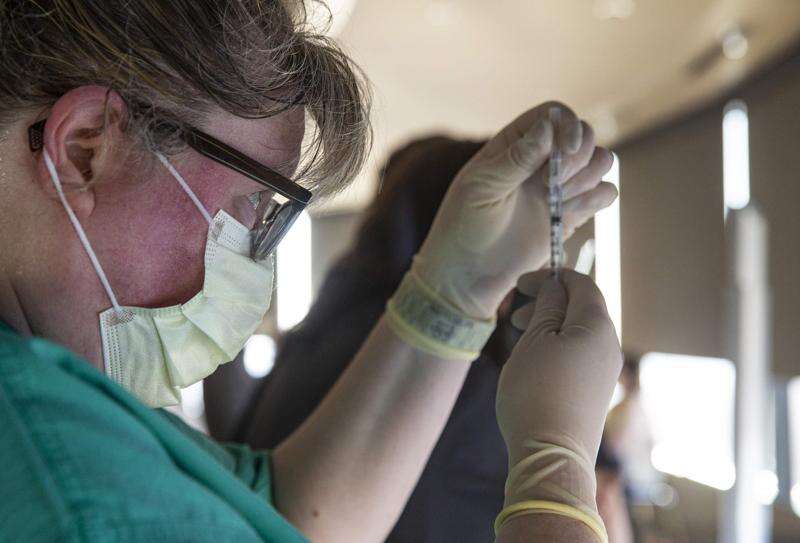 Although just 39 percent of Americans 65 and older have had both the initial COVID vaccine series plus an updated bivalent booster against the omicron strain, new University of Iowa-involved research shows "significant protection" from that bivalent shot among those older adults.
Specifically, Americans in that older age range who got the updated booster were found to be 84 percent less likely to be hospitalized with COVD than unvaccinated people and 73 percent less likely to be hospitalized than those who were vaccinated to some degree — but not with the bivalent booster, according to research published Dec. 30 by the U.S. Centers for Disease Control and Prevention.
"These new results suggest that the bivalent shot is a valuable tool for protecting vulnerable people at a time when COVID-19 case numbers are climbing again," UI professor of emergency medicine, anesthesia, and epidemiology Nicholas Mohr said in a statement, citing the research in advising "older adults get the bivalent booster to maximize their protection against COVID-19 over the winter months."
Nationally, 414,721 COVID cases were reported for the week Jan. 11 — up from weekly counts in the 200,000s in October and November and from weekly counts under 200,000 in March and April. Weekly COVID deaths nationally jumped to 3,907 on Jan. 11, up from 2,705 the week prior.
In Iowa, weekly cases have held steady of late at over 2,000 — down from the summer months, when weekly case counts neared 6,000. But weekly deaths in the state ticked up to 46 on Jan. 11 from the teens and low 20s in November and December.
The CDC's Advisory Committee on Immunization Practices on Sept. 1 recommended Americans get the bivalent booster against the omicron variant, as prevention of COVID hospitalizations remains a core goal. But uptake has been low and slow.
About 16 percent of Americans 5 and older have gotten the updated booster, creeping up to 18 percent among those 18 and older and 39 percent among those 65 and older, according to the CDC. Meanwhile, 94 of Americans 65 and older have completed the primary vaccine series, as did 79 percent of those 18 and older.
Data are lacking
Reasons for the low uptake "are complex," Mohr said. But, given previous research has shown immunity from the primary vaccine series wanes over time, research into the booster's effectiveness was important in encouraging more to get the shot.
"Data on the effectiveness of a bivalent booster dose against COVID-19 hospitalization in the United States are lacking," according to the study that sought to change that by tapping a network of research institutions — including UI Hospitals and Clinics and its College of Medicine.
Between Sept. 8 and Nov. 30, 22 hospitals across 18 states enrolled 798 patients 65 and older — including 381 who tested positive for COVID and 417 who were hospitalized with COVID symptoms but tested negative.
Study participants were lumped into three groups: unvaccinated; vaccinated with two or more doses of the original monovalent mRNA vaccine; and vaccinated with the primary series plus a bivalent booster.
Among the 381 case patients who tested positive for COVID, 21 percent were unvaccinated, 73 percent received the primary vaccine series, and just 5 percent had gotten a bivalent booster. Of the 417 control patients who didn't test positive, 15 percent were unvaccinated, 71 percent got the primary vaccine series, and 14 percent had the bivalent booster.
The study showed the bivalent booster offers "strong protection" against COVID hospitalization, which is meaningful as nearly nine of 10 of the 400-some Americans dying from COVID daily are over age 65, UIHC officials said.
"These early findings from a cohort of adults aged ≥65 years, 74 percent of whom had multiple underlying conditions, are among the first to document real-world evidence that receipt of a bivalent booster dose after completion of at least a primary COVID-19 mRNA vaccination series is protective against COVID-19 hospitalization," according to the study.
"Continued monitoring will be important to understand ongoing protection in the context of expanding omicron sublineages and new emerging variants, as well as whether waning of bivalent vaccine-induced immunity over time is observed, similar to that seen after monovalent COVID-19 mRNA vaccine booster doses."
UIHC COVID research
The bivalent booster study specific to older Americans is among a growing list of COVID-related research UI Health Care has or is continuing to participate in or lead, including a test of the ongoing effectiveness of the primary vaccines and boosters.
Using health care workers as its research subjects, that study additionally aims to identify differences in vaccine effectiveness by age; by job setting and category; by vaccine brand and dosing; by infection history; and against emerging variants.
The university also is participating in studies of new COVID vaccines, therapies, and long-running symptoms.
Vanessa Miller covers higher education for The Gazette.
Comments: (319) 339-3158; vanessa.miller@thegazette.com