Home / News / Education / Higher Ed
UNI lands $2 million gift for Gallagher Bluedorn expansion, renovation
Construction scheduled for summer 2022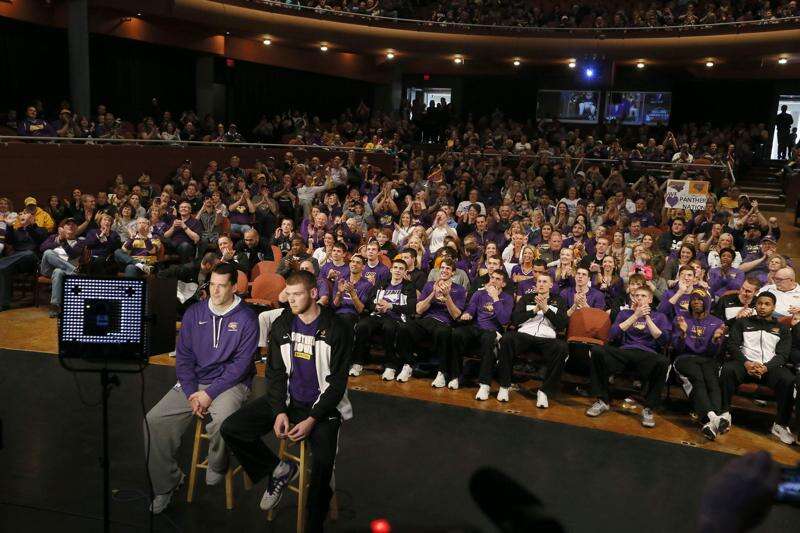 COVID-19 and other financial headwinds facing higher education have colleges and universities leaning harder on philanthropy — like a recent $2 million gift the University of Northern Iowa recently received to renovate and expand its Gallagher Bluedorn Performing Arts Center.
The Pauline R. Barrett Charitable Foundation — honoring Barrett and her Cedar Valley philanthropic and volunteer work — made the investment, which was announced in late June.
"During her lifetime, the university was fortunate to have her support for student scholarships as well as various capital projects across campus," UNI President Mark Nook said in a statement. "UNI and the Cedar Valley are stronger because of Pauline's transformational support of her community."
UNI's $23 million, 100,000-square-foot Gallagher Bluedorn opened in 2000 thanks to gifts from Cedar Valley residents Ed and Cathy Gallagher, Carl and Peggy Bluedorn, and more than 1,400 other donors statewide.
It boasts three concert halls, a glass-walled lobby, classrooms, and rehearsal spaces.
In November 2019, the Board of Regents allowed UNI to start planning a $15 million renovation and expansion that would add 16,400 square feet and remodel 4,500 square feet for amenities nixed from original construction plans "due to budget constraints."
The center was built to host 140 events and entertain 14,000 guests annually. But more recently it had been packing in nearly 600 events and more than 115,000 guests a year — "operating at 10 times its expected capacity," according to UNI Advancement, the campus' fundraising arm.
To recognize the recent Barrett gift, UNI intends to name its new marquee lounge the "Pauline R. Barrett Charitable Foundation Marquee Lounge."
"The marquee lounge is the heart of the entire renovation project," Gallagher Bluedorn Executive Director Steve Carignan said in a statement. "The marquee lounge will be a world class gathering place to match world class performances that take place on our stage."
Barrett, who lived in Waterloo and died in February of 2018, was known for supporting education, health and culture in the community. And Theresa Hoffman, member of the Barrett Charitable Foundation grant committee said the Gallagher Bluedorn improvements will "carry on Pauline's legacy of supporting UNI and the performing arts in the Cedar Valley.
"The Gallagher Bluedorn is a jewel in the Cedar Valley and one that Pauline was very proud of," Hoffman said.
The new space donning Barrett's name will serve as a place to gather for drinks or food before a show or grab coffee after, according to UNI Advancement.
Construction is set to start next summer.
Vanessa Miller covers higher education for The Gazette.
Comments: (319) 339-3158; vanessa.miller@thegazette.com