Home / News / Education / Higher Ed
UI phasing out inpatient eating disorder program
Patient: 'It's a pretty dire situation'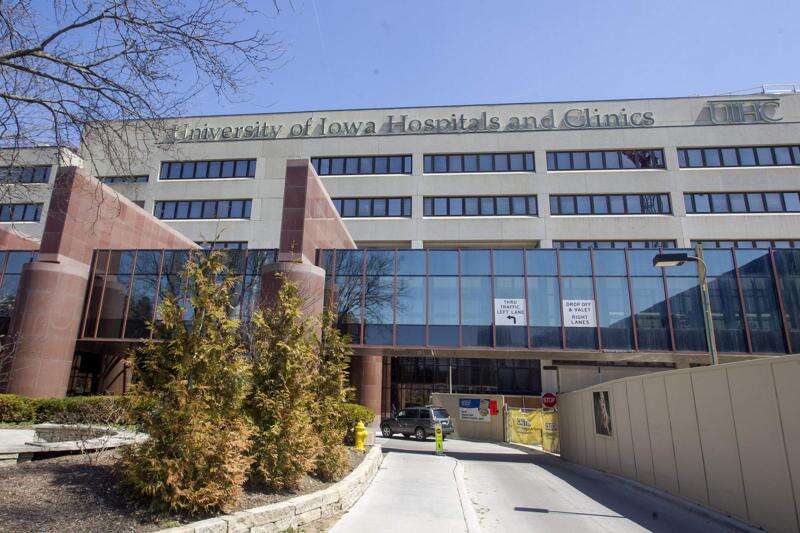 IOWA CITY — Every morning at 6 a.m., University of Iowa Health Care staff members ask April Bannister to step on the scale. An hour and a half later, she has to eat breakfast — and she doesn't get to pick what's on the menu.
It was Raisin Bran with soy milk Friday, paired with an egg and cheese biscuit sandwich. Should Bannister fail to finish the entirety of any meal UIHC providers serve her, she loses her phone for 24 hours until she eats a full day's provisions.
"It's hard," Bannister, a 22-year-old inpatient with the UI Eating Disorder Program told The Gazette. "If someone were to have a phobia of spiders, it would be like, 'You have to hold a tarantula on your hand all day long.' That's what we have to do here in this inpatient program.
"We face our biggest fear all day, every day."
And yet, the St. Paul native who recently graduated from UI will be forever grateful for the care — having been admitted to the UIHC Eating Disorder Program seven separate times in the last year and a half.
"This program has saved my life," Bannister said, sharing COVID amplified her illness. "Without this program, I wouldn't be here. I know many other people who wouldn't be here. I know people who have died without this program. It's a pretty dire situation."
So when officials with UIHC's Eating Disorder Program on Sept. 1 called a meeting to announce plans to phase out the inpatient portion, Bannister said, "I have never seen that many staff members cry."
"The occupational therapist was crying, the dietitian was crying, both of the behavioral health people were crying, the nurses were crying … I asked them, 'What happens when people start to die?'" she said. "It's been really hard to see, actually. Because I know how much these people care."
As of last week, UIHC officials stopped admitting new patients to the Eating Disorders Program's residential inpatient offering, according to Peggy Nopoulos, chair and departmental executive officer of the UIHC Department of Psychiatry.
Already admitted patients will be allowed to finish their residential program, she said. Bannister said that includes herself and three other women around her age.
"They will let the four of us who are still here finish out our program," she said. "They told us that our care won't be affected."
Lowest mental health beds
In addition to its inpatient services, UIHC offers a variety of specialty care through its Eating Disorders Program, including an intensive partial hospitalization and outpatient services. Officials said ending the inpatient program doesn't mean UIHC won't treat patients with eating disorders — even those needing to be admitted as inpatients.
"We will absolutely continue caring for patients with eating disorders," Nopoulos said. "We have a variety of treatment options available."
The primary reason for phasing out the inpatient program, she said, is to bolster UIHC's ability to address more of the state's broader mental health care needs, officials said.
"Iowa has one of the lowest number of inpatient mental health beds per capita in the country," Nopoulos said.
The inpatient unit housing the Eating Disorders Program was designed for acute-care patients needing to stay an average of 10 days — but offers months of additional residential-level behavioral treatment for medically stable patients.
"A full 30 percent of our adult psychiatric beds had been dedicated to the residential inpatient care for our Eating Disorder program," Nopoulos said. "Opening those beds to general acute care mental health will allow us to serve roughly three times as many Iowans for acute mental health needs."
In the past budget year, the UI inpatient Eating Disorders Program served 125 people. Freeing up the eating disorder beds, according to hospital administrators, will enable UIHC to serve 400-plus more Iowans each year.
"In an effort to expand lifesaving access to a growing number of Iowans with acute mental health care needs, UI Hospitals & Clinics is committed to allocating its resources to serve the greatest number of Iowans," according to a UIHC statement.
Even before the pandemic, mental health needs were soaring across Iowa, prompting UIHC in 2018 to open a 24-hour Crisis Stabilization Unit designed for people experiencing an emotional or psychiatric emergency. At that time, UIHC reported an average of 10 people with psychiatric issues were in the ER at any given time.
And, according to UI Emergency Department Clinical Medical Director Paul Van Heukelom, as the number of state-funded psychiatric beds waned, some patients were staying in the ER for extended periods of time.
"The intense environment of the emergency department is not an ideal environment for patients in crisis," he said around the opening of the stabilization unit. "The new space will allow patients to move to a different, more therapeutic environment with more specialized and dedicated care available."
As much as that unit has helped address some of UIHC's emergent mental health needs, officials said demand has continued to grow.
"This critical increase in capacity comes at a time when we are seeing unprecedented numbers of people experiencing acute mental health crises arriving in our emergency department," according to a UIHC statement. "We need more mental health resources — for all people with mental illnesses, including those with eating disorders."
'Save this program'
Some current and former patients, along with eating disorder recovery advocates, oppose the UIHC decision to phase out the program — arguing it's the only inpatient program in the state and among the few nationally that can accept "high-risk, medically unstable patients," according to a Change.org petition.
"Please help save this program," according to the online petition, which as of Saturday was just a few hundred signatures shy of its 7,500 goal. "Do not let our loved ones die."
One woman who signed identified herself as a current patient.
"This program has saved my life once before as well," she wrote on the Change.org petition website. "This program is my ONLY option for treatment specifically to target my eating disorder. This program saves lives, this program involves specialized therapy groups and a team who KNOWS how to properly treat/support anyone with an eating disorder."
Opponents of the inpatient program phaseout worry its dissolution will make admission for eating disorder-related reasons more difficult. And patients with eating-related emergencies might not know admission at UIHC remains an option.
Without the strict eating disorder protocol — involving mandatory meals, weigh-ins, and weight bench marks — Bannister said she worries more will succumb to the dangerous cycle common among those with disordered eating.
"Without this program," she said, "you're going to have some really sick people coming into the hospital, being admitted … and then they're going to get medically stabilized, and they're going to go home, and then they're going to come back to med psych, they're going to get sent home, and it's just going to keep repeating."
Vanessa Miller covers higher education for The Gazette.
Comments: (319) 339-3158; vanessa.miller@thegazette.com