Home / News / Education / Higher Ed
UI Hospitals seeks to expand primary care, eliciting more alarm from competitors
University says Iowa City site would help train physicians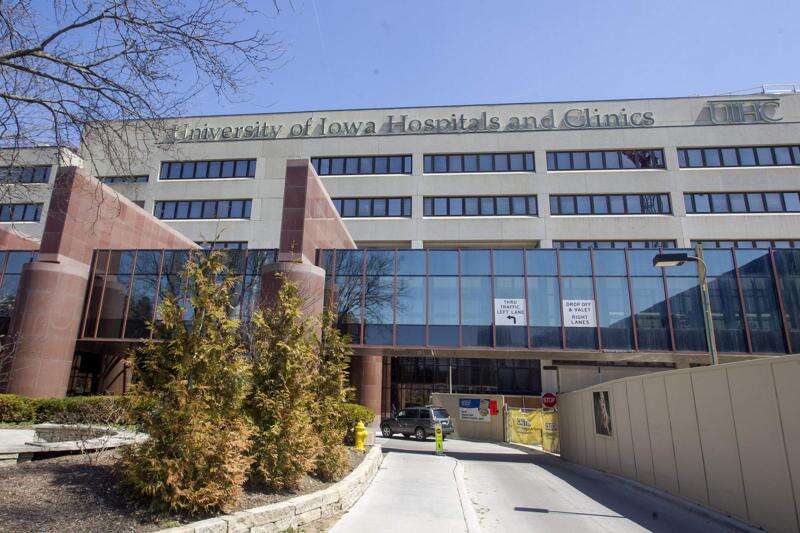 IOWA CITY — Adding to the growing list of construction and renovation projects that University of Iowa Health Care is pursuing in and around its campus, UIHC now is asking a development team to design, plan and build a new primary care medical office building in Iowa City.
The goal of erecting a UIHC-operated location in the same town as its main sprawling campus of more than 1 million square feet is to "increase access to primary medical care for the local community as well as train physicians in a setting most similar to other Iowa primary care offices."
"UIHC will be the long-term tenant of the facility following successful completion of the project," according to a request for qualifications from prospective developers. "The building will consist of exam rooms, diagnostic imaging, pathology lab, and associated spaces."
The project comes as UIHC is building or pursuing a growing list of facility endeavors — like a $525.6 million hospital in North Liberty; a $95 million vertical expansion of its existing inpatient tower; a $24.6 million renovation of its emergency room; an $8 million conversion of its south wing into inpatient rooms; and an entirely new inpatient tower it expects to spend $620.9 million on in the next five years.
UIHC officials have cited soaring patient demand, full beds and tight quarters in making the case for its explosive growth. When arguing last year for state approval to build in North Liberty, UIHC emphasized its focus on advanced and acute care that only it — as Iowa's single academic medical center — can provide to the state's sickest patients.
"The kind of care UIHC delivers cannot be relocated to a community hospital," UIHC officials in August 2021 told a state board considering approval of the North Liberty project — disputing assertions the university was veering out of its lane and threatening community hospitals.
"Expansion of tertiary care services at UIHC does not threaten community hospitals," officials said then, using the "tertiary and quaternary" term defining specialized and advance-level care.
Opposition
But administrators with those Eastern Iowa community hospitals that sounded alarms UIHC was threatening their patient and staffing pool — and thus their livelihood — told The Gazette that the university's community care development endeavor illustrates their earlier warnings and opposition.
"UnityPoint Health continues to have concerns with UIHC increasing its presence in primary care rather than focusing on tertiary health care," Michelle Niermann, UnityPoint Health-Cedar Rapids president and chief executive officer, said in an email.
In arguing against the need for UIHC expansion a year ago, Niermann cited there was "significant capacity" at existing hospitals across Eastern Iowa — including more than 40 percent of UnityPoint's available space at the time, more than half of Mercy Medical Center-Cedar Rapids' space and more than 70 percent at Mercy Hospital Iowa City.
"Given the role of our organization as a leader in primary care, market research has indicated our community is already well represented in primary and urgent care options," Niermann said last week.
When asked how the UIHC community care expansion — which doesn't require state approval — might affect UnityPoint Health, she said, "We remain concerned about developments that may draw care out of communities across the state and have the potential to weaken Iowa's community and rural hospitals.
"During the State's Certificate of Need Hearing for the North Liberty hospital, UIHC indicated their intent was not to duplicate services already offered by existing community hospitals," Niermann said. "Since this hearing, UIHC has opened an urgent care in downtown Cedar Rapids, which is directly competing and duplicating existing options."
Of UIHC's 78 locations statewide, it already has 21 in the Iowa City area and another three in Cedar Rapids — most of which offer some form of "family medicine" or primary care. The state has at least 125 hospitals — including 83 in the smallest classification; four characterized as rehabilitation or long-term acute care hospitals; 15 rural or rural referral hospitals; and 23 urban hospitals.
That doesn't include specialty clinics — like Steindler Orthopedics — and surgical centers.
"Again," Niermann said, "research has indicated primary and urgent care needs are currently being met by community hospital options."
A spokeswoman for Mercy Iowa City — founded nearly 150 years ago and sitting just 2 miles east of the main UIHC campus — agreed with Niermann that "the region is well served with the current number of primary care physicians, clinics, hospital beds and health care entities."
"As Iowa City's first and only community hospital, Mercy Iowa City is proud of its long-standing commitment to providing high quality patient care, whether it is for primary care or within our scope as a community hospital," Lisa Steigledar, Mercy Hospital Foundation president and marketing and community relations director, told The Gazette.
Staffing needs
Mercy Iowa City last year argued more UIHC development not only would increase competition for patients but for staff — with 12 hospitals and surgery centers in the Cedar Rapids-Iowa City corridor vying for health care workers.
That, UIHC officials said, is part of the reason it needs more primary care space.
"This outpatient clinic building would increase local access to primary medical care, as well as provide modernized clinic facilities in a community setting to support necessary training and education of future primary care physicians," according to a UIHC statement provided to The Gazette. "Nearly half of physicians trained at UI Health Care go on to practice in Iowa."
In arguing for expansion last year, the university cited population-based forecasts showing Iowa's unmet demand for primary care physicians will increase from 145 today to 418 in 10 years.
"Iowa needs UIHC to train more doctors," officials said at the time, noting UIHC educates half of Iowa's physicians and a quarter of its nurses. "UIHC cannot train more doctors without growing."
In U.S. News & World Report's 2023 "best medical schools for primary care" rankings, the UI tied for No. 16, topped by Big Ten Conference peers University of Minnesota at No. 3, University of Nebraska at No. 7 and University of Maryland at No. 15. But it beat the universities of Michigan and Wisconsin, which tied for No. 20 in the category, along with Indiana University at No. 23.
And the Association of American Medical Colleges has projected the country will experience a shortage of between 37,800 and 124,000 physicians by 2034, according to a 2022 report on the "state of academic medical centers," produced by JPMorgan Chase's Morgan Health unit.
That report indicated UIHC is not alone in expanding to address — among other things — the worker shortages and increased labor costs that "gnaw at AMCs' bottom lines."
"In recent decades, the stand-alone teaching hospital on a single campus has transformed into metro-wide or even statewide networks of partnerships with community hospitals and medical office complexes," according to the report. "By expanding, AMCs aim to provide primary- and secondary-level care closer to patients' homes, ideally at a lower cost than the flagship facility."
Although primary care physicians don't generate quite as much average revenue as specialist physicians, according to a 2019 Merritt Hawkins physician revenue survey, they did bring in an average of $2.1 million apiece that year, just under the $2.4 million specialist average and 50 percent more than in 2016.
'As soon as practical'
Given the university just issued the request for qualifications from developers two weeks ago and is pursuing a two-phase selection process involving a shortlist of finalists who'll be asked to submit more detailed proposals, UIHC officials don't yet have many details about their new Iowa City-based medical office building vision.
Although they project it will be about 65,000 square feet, "UIHC may consider other scenarios to new construction, such as a re-purposed existing facility, if a compelling business case can be structured."
Prospective developers have submitted dozens of questions to the university about what they're looking for, although UIHC answered most by reiterating more details will be shared in the second phase of the selection process.
They did affirm it would include only UIHC providers and the university would like to start using the new medical office building "as soon as practical."
"We anticipate the building being available for occupancy in the second half of 2024," according to a UIHC answer to a developer question.
Vanessa Miller covers higher education for The Gazette.
Comments: (319) 339-3158; vanessa.miller@thegazette.com