Home / News / Education / Higher Ed
Secretary of Labor praises Iowa's higher ed opportunities, touts proposals for more support
'I was super impressed with that school today'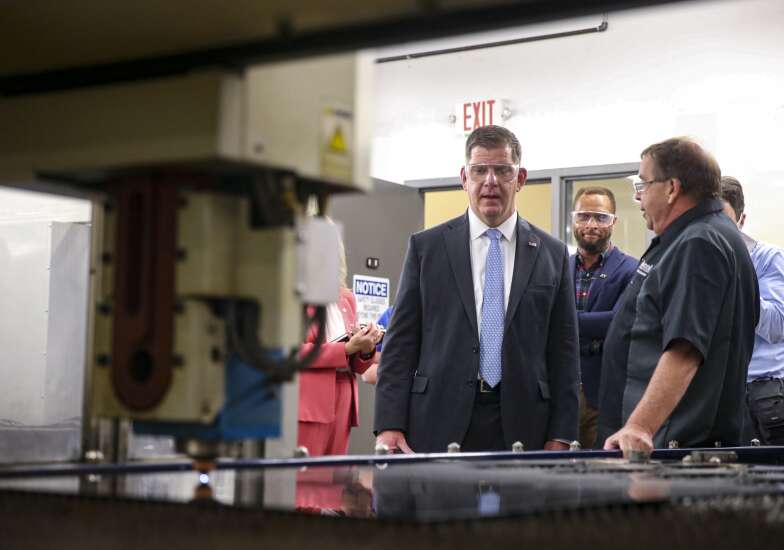 CEDAR RAPIDS — President Joe Biden's proposed American Jobs Plan includes a section on community colleges, designating $12 billion to boost their infrastructure and technology, and charging states to use their cut to improve access and opportunities at the higher education hubs.
But community colleges — like Kirkwood in Cedar Rapids — really hold some relevance to nearly all aspects of the overall $2.7 trillion jobs plan, which proposed to fix transit systems; provide clean drinking water and high-speed internet; modernize and retrofit homes, schools and child care facilities; and create more good-quality and good-paying jobs in a safe space, among other things.
"Everything in that school ties into everything in the jobs plan," U.S. Secretary of Labor Martin J. Walsh said Thursday after touring Kirkwood Community College.
Citing Kirkwood's programming related to transportation, welding, plumbing, carpentry, energy, and more, Walsh said. "I was super impressed with that school today."
As Walsh flew to the Corridor to build support for the jobs idea, congressional Democrats were trying to form a plan to get key elements of it and a $1.9 trillion American Families Plan that includes free community college tuition passed with just 51 votes in the U.S. Senate — and not risking an almost certain filibuster from GOP opponents opposed to such high spending on longtime liberal priorities.
After following up his Kirkwood visit with one to the University of Iowa's Medical Education Research Facility, he said that "I'm super impressed with this school today, too."
Walsh walked through the lab of UI microbiology and immunology professor and University Distinguished Chair Stanley Perlman, who until recently was one of just 10 full-time coronavirus virologists in the world.
Perlman's decades of work paved the way for the U.S. science community's COVID-19 response and rapid vaccine development. And Walsh on Thursday said he's not just touring the Iowa institutions to discuss the president's proposals and listen to thoughts and concerns.
"I really wanted to come by and say thank you," said Walsh, who was serving as Boston mayor until Biden named him secretary of labor. "Because some amazing things happened in this building and that building across the street that impacted us in the city of Boston and impacted people all across this country."
In his brief remarks, Perlman expressed his gratitude for the federal funding that supported his research.
"The reason we could do all this research was because we had some great support from the (National Institutes of Health)," Perlman said.
And Walsh, in talking with The Gazette on Thursday, said sustained federal support for research is a top priority.
"This administration is focused on science," he said, citing the former presidential administration's proposals to cut research funding. "I think that what the last administration was going to do was very shortsighted. … We have to stay ahead in manufacturing and technology and science."
During a roundtable at Kirkwood, Walsh connected with students who increased their skills and entered new careers by merging their education and work through the campus' apprentice programming.
With so many jobs lost during the pandemic and technological advancements opening new work opportunities at a rapid clip, Walsh and the students agreed colleges should expand their apprenticeship instruction.
"That's exactly what he is trying to do," Walsh said of Biden.
The secretary also spoke about the need for flexibility — like for non-traditional adult students — and other supports, like child care. And he touted the need to remove barriers to access by, among other things, making community college tuition free. Biden in April pitched a proposal to cover two years of tuition at community colleges and extend the same benefit to low- and middle-income students attending historically Black colleges and universities, tribal colleges and other minority-serving institutions.
"Meaning this is for everyone," Walsh said. "And the reason for it is to create skills and opportunities."
Comments: (319) 339-3158; vanessa.miller@thegazette.com
The Washington Post contributed to this report.