Home / News / Education / Higher Ed
UI Athletics hires diversity consultant as regents pause all other new DEI work
UI Athletics this week contracted DEI consultant following player lawsuit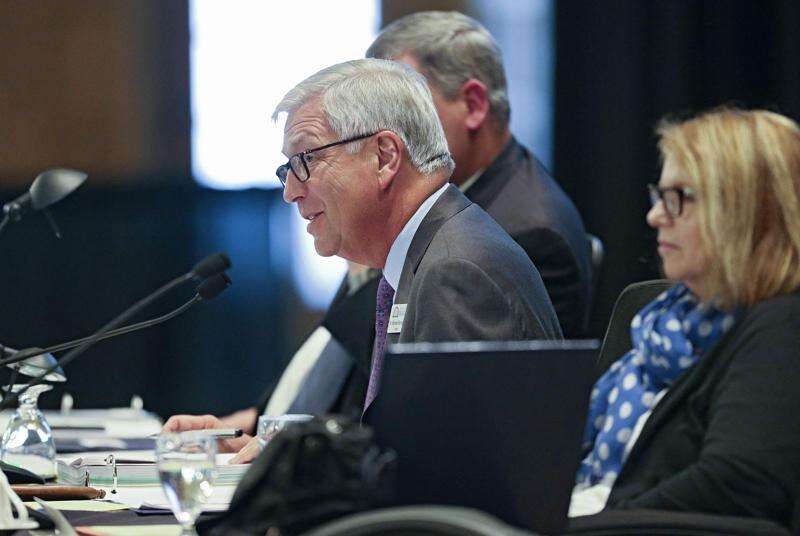 A Board of Regents pause on new diversity, equity, and inclusion programming — enacted last week in response to a Republican-led bill to bar Iowa's public universities from DEI-related spending, training, and hiring — doesn't apply to UI Athletics' hire this month of DEI consultant Leonard Moore.
The UI Department of Athletics earlier this week signed a contract with Moore — a University of Texas at Austin American history professor and former vice president of diversity and community engagement — as part of a recent settlement with 12 former football players who sued the program and its coaches, accusing them of fostering a climate of racism and discrimination.
Moore's hire was among five "non-monetary terms" mandated by the $4.2 million settlement — $2 million of which was supposed to be paid for by taxpayers until lawmaker outcry and proposed legislation compelled UI President Barbara Wilson to commit UI Athletics to reimburse the state.
According to the settlement and Moore's new $35,000 contract, he's charged with helping UI Athletics operationalize its new and first "diversity, equity, and inclusion five-year action plan" — which outlines "actionable activities" like creating educational programs, a "diversity conversation series," and "spotlight recognition awards for DEI teams and departments who exemplify our values."
Moore, whose engagement starts this month and extends through May 2024, must consult with UI Athletic Director Gary Barta and other assistant and associate athletic directors at the start and end of his work "to review existing structure, programming, and other initiatives."
He must consult quarterly with UI athletics about progress on its first DEI-specific plan, finalized in January; give advice on engagement, speaking, and program opportunities; meet with student-athletes, coaches, and other athletics staff; and visit campus.
Moore's work will complement other settlement-required mandates that UI Athletics provide — among other things — tuition support for former student-athletes who haven't completed undergraduate degrees; DEI educational programming for student-athletes, coaches, and staff; spaces for student-athletes to discuss issues; and mentoring and networking opportunities.
UI Athletics, per the settlement, must commit up to $90,000 to help the players who sued pursue graduate or professional degrees; provide a year of mental health counseling to the affected players; and fund up to 10 student-athletes' participation in an annual Black Student Athlete Summit.
Bill blocking DEI spending
The players agreed to and signed the settlement a few days before Republican lawmakers proposed a bill to prohibit Iowa's public universities from spending money on DEI offices, supports, and officers.
The proposed bill, which passed out of subcommittee and committee, also would bar universities from spending "any moneys appropriated by the General Assembly for a fiscal year beginning on or after July 1, 2023, until the public institution of higher education files with the state Board of Regents a report that details the institution's compliance with the bill's provisions."
The bill includes some caveats — noting the prohibition doesn't affect academic instruction; research or creative work; student organizations; guest speakers or performers; health care providers; or DEI policies and procedures required by a federal contract, like those tied to research grants.
It does authorize the state attorney general to bring action against any non-compliant university and provides for students, faculty, and community members wanting to sue for alleged violations.
The measure would force the universities to reallocate all of the current budget year's unspent DEI-designated money toward scholarships for low- and middle-income students.
In response to the proposed bill, Iowa's Board of Regents President Michael Richards last week initiated a systemwide "comprehensive study and review" of all DEI programming and efforts on its UI, Iowa State University, and University of Northern Iowa campuses.
The review will include the campuses' athletic departments and UI Health Care, according to board spokesman Josh Lehman.
Regents David Barker, Jim Lindenmayer, and Greta Rouse will form a working group to lead the study and report back findings and recommendations. They haven't yet started work, Lehman said.
'Good use of taxpayer money?'
Although Richards paused new DEI programming pending the study's completion, Lehman said he doesn't know how many initiatives across the campuses that might affect.
In response to lawmaker questions earlier this year, the universities reported employing a total of 128.5 faculty and staff "who work full-time in the areas of diversity, equity, inclusion, and social justice." UI has 44; ISU has 63.5; and UNI has 21.
In answering questions about how much the universities pay employees engaged in DEI work, UI reported paying nine DEI-affiliated employees six-figure salaries — including $255,025 to its associate vice president of diversity, equity, and inclusion.
Iowa State pays four DEI-engaged employees six figures, including $247,131 to its vice president for DEI. UNI pays its chief diversity officer $118,014 and its diversity, inclusion, and social justice director $90,000, according to the campuses.
"So, if my math is correct, that's about $750,000 for four people," Rep. Taylor Collins, R-Mediapolis, said to the university presidents during a budget discussion earlier this year. "Do you believe that's a good use of taxpayer money?"
All three presidents said yes, explaining their DEI work doesn't just address racial and ethnic diversity but those on their campuses with disabilities and veteran status.
"I can appreciate your concern about salaries, but … I can't underscore enough how much we're fighting for talent at Iowa," UI President Wilson said. "It's competitive out there and to bring people in who have the vision and ability to think about diversity, equity, and inclusion in a really expansive way — not just about race, not just about gender, but about things like learning disabilities … we have to have strategies that help those students and that help our faculty and our staff and even our physicians and nurses to deal with the complex differences that individuals come to our campus with."
Comments: (319) 339-3158; vanessa.miller@thegazette.com