Home / News / Government & Politics / Local Government
Jasmine Almoayyed leaves Cedar Rapids role to head Kirkwood Community College continuing education
Almoayyed served as city's first economic development manager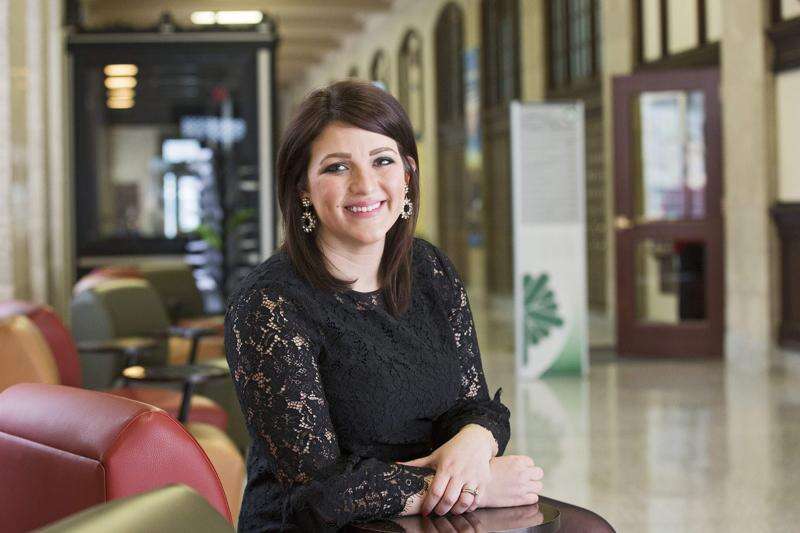 CEDAR RAPIDS — It's always been part of Jasmine Almoayyed's plan to get back to Kirkwood Community College.
After serving as the city of Cedar Rapids' first economic development manager, starting in 2013, Almoayyed, 38, has left her position with the city to do just that.
Almoayyed started Monday as the vice president of Continuing Education and Training Services at Kirkwood Community College, where she will lead its regional workforce development initiatives and lifelong learning programs. She replaces Kim Becicka, who is retiring after more than 30 years with the college.
Almoayyed, a Cedar Rapids native, took classes at Kirkwood before earning her bachelor's degree from the University of Iowa. She also previously worked at Kirkwood as a program manager of business outreach, in a department in the division she will now lead.
"I never in a million years would have dreamed that I'd be the VP of the division I worked in going back, so it's exciting," Almoayyed said. "In some ways, it's kind of always been part of my plan to get back there, and I'm really excited about all the opportunities that lay before me."
Almoayyed's parents immigrated to the United States and did not speak English when they arrived.
Now returning to Kirkwood almost 20 years after she'd enrolled, Almoayyed said, "through the resources that the college has to offer, it truly can make all the difference for people. It's that part of being the solution for people" that has driven her to return.
Almoayyed recalled being fascinated with the world of city government, when she started at age 29, having earned her master's in political science from Iowa State University.
The Cedar Rapids opportunity intrigued her because there was not much of a road map for the position — it was largely open for her to build a department from the ground up. City Manager Jeff Pomeranz set into motion a plan for the city to strengthen its economic development efforts when he began in 2010, and this position would be key to executing his vision.
When she first met with Pomeranz at the Blue Strawberry, a downtown coffee shop that now operates exclusively online, Almoayyed said his excitement in that meeting fueled her own.
"He always sees the end goal, so having somebody who can get that excited and who's just so certain and so deliberate in what he does — that to me was so appealing, and I just knew it would be fun, but kind of crazy, to work for him, and it was," Almoayyed said.
Some might not have considered hiring a 29-year-old woman for a brand-new city role, Almoayyed said, but Pomeranz did.
"It's so hard to leave a circumstance when you get to work for someone like him, because he does care," Almoayyed said. "… From a leadership perspective, I feel like I've gained a lot from him, and respect the way that … there's no difference in our office between the administrative staff and the senior-level management.
"Everyone's sort of the same, and that's something that you don't see very often, so I've really come to appreciate his style and the way that he works, and the respect and appreciation that I feel like he gives to people."
Pomeranz said Almoayyed has been a very effective leader of the city's economic development efforts with an understanding that, to grow the city's tax base, Cedar Rapids officials needed to develop a collaborative relationship with the business and development communities. He said he appreciates Almoayyed's leadership pulling together city economic development work into one focal point.
Almoayyed, along with her team, helped secure nearly $2 billion in new capital investment, the creation of more than 2,100 new jobs and the retention of over 3,100 positions. She also supported the creation of numerous business assistance programs — including city's MICRO lending program to help businesses with start-up or expansion expenses as well as the BACK program, which provides technical assistance to small businesses grappling with the effects of the COVID-19 pandemic and last summer's derecho.
"She has worked tirelessly with the development community, City Council, other city employees and the business community in order to develop new business, expand our tax base and address the needs of existing businesses in our city," Pomeranz said. "She will be very difficult to replace.
"However, we have under Jasmine's leadership built an outstanding team of economic development professionals at the city and they know what to do, and we'll very effectively continue the work of Jasmine and her team."
Economic Development Analyst Caleb Mason will fill the manager position on an interim basis while a search is underway, Pomeranz said. The salary range for the position is $75,545.60 to $105,747.20.
In some ways, Almoayyed said it is "almost scarier" to take the helm of a division that is already high-performing and succeed its longtime leader. But she sees unique opportunities in her new role given the status of the workforce and economy as the nation emerges from the pandemic.
"My brain's already going 100 miles an hour with all the things I want to do. But first I've got to get there and learn the ropes," Almoayyed said.
Comments: (319) 398-8494; marissa.payne@thegazette.com