Home / News / Education / Higher Ed
Iowa's regent universities look to increase room and board rates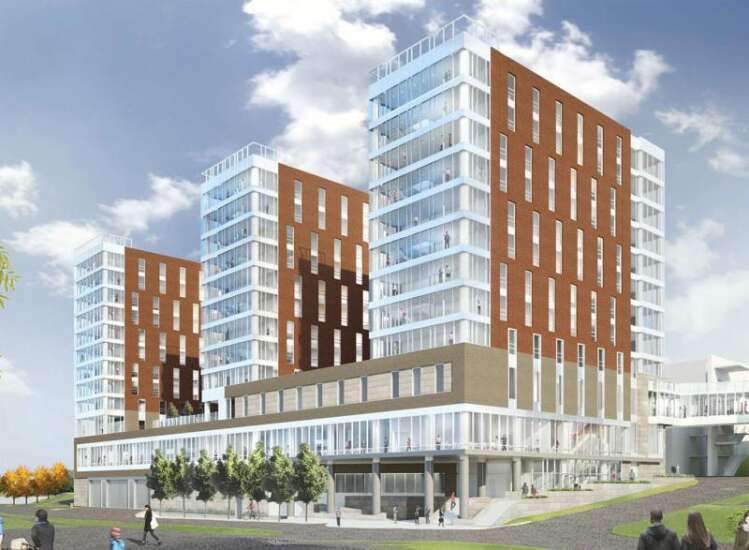 With campus housing already over capacity at Iowa's public universities and all three schools expecting even more enrollment growth in the hundreds - if not thousands - of students over the next five years, the institutions are proposing across-the-board rate increases for dorm and meal plans.
Officials at the University of Iowa, Iowa State University and the University of Northern Iowa want the Board of Regents at its meeting next week to approve the bumps, which - for the most popular double room and meal plan option - come to a 3.5 percent increase at ISU and UNI and a 2.9 percent increase at the UI.
The recommended increases are based on anticipated operating cost increases, proposed improvements and debt payments. The residence hall systems are self-supporting, meaning they don't receive state money for operations or capital improvements.
And there have been a lot of those capital projects to keep up with demand.
At the UI, for example, enrollment is projected to swell from 32,593 this fall to 34,599 by fall 2020, regent documents show. Admissions indicators and housing applications project the next UI entering class at 5,441 first-time students - 200 more than last fall, which was the largest in school history.
Housing occupancy is expected to exceed the university's capacity of 6,126 by about 290 students, forcing the UI to continue providing off-campus leased space for returning students.
In response to the growth, the UI recently added a 500-plus-bed Mary Louise Petersen Residence Hall, is building the 1,049-student Madison Street Residence Hall for $95 million and plans to build another new residence hall near athletics and health care facilities.
But the planned demolition of the antiquated Quadrangle Hall will cut the university's bed total by 132 until the Madison Street dormitory opens for fall 2017.
'With demand expected to exceed capacity in fall 2016, the university may limit the number of returning students who will be allowed to return to the residence halls," board documents say.
ISU has seen even more enrollment growth in recent years, and officials expect the numbers to keep climbing - from 36,001 to 37,085 in 2020, according to the regents report. Accordingly, the university's Department of Residence housed 12,733 in the fall - the most on record and 496 more than the previous year. And requests for on-campus housing exceeded permanent capacity by more than 1,700 beds, regents documents show.
To meet that demand, ISU provided 348 residence hall spaces that had been converted from other uses and 1,505 leased spaces off campus, which it plans to use at least through the next budget year, after which a new 784-bed Buchanan II Residence Hall will open.
'Consideration is being given whether leases should be extended beyond that date," documents say.
Enrollment at UNI also has been trending up, although not as fast. Enrollment is expected to climb from 11,981 to 12,674 by fall 2020. The more modest growth will allow the campus to focus on renovations rather than building new residence halls, regent documents show.
All three schools are expecting an increase in room and board revenue in the next budget year, in part due to proposed increases.
Most UI room and meal plan rates would increase in the 2.9 percent range - meaning a $164 increase for a standard double room, to $5,861. The most expensive UI residence hall option - a single room with bath and air conditioning - would cost $11,611 next fall, $324 more than now. The least expensive option - a standard quad room - will cost $4,436, or $124 more.
The roughly 3.5 percent increase at ISU and UNI mean a traditional double room at ISU would cost $5,067 (or $171 more) and a traditional double at UNI, calculated with its meal plan, would cost $9,029 (or $289 more).