Home / News / Education / Higher Ed
Iowa Board of Regents hire Mark Braun as executive director with incentive to nearly double capped salary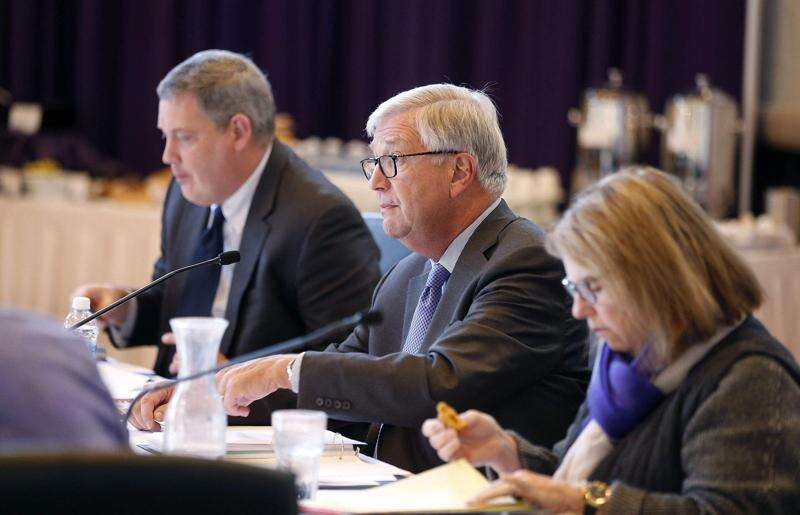 CEDAR FALLS - As predicted, the Board of Regents on Thursday chose Chief Operating Officer Mark Braun to fill its vacant executive director job, agreeing to supplement the position's state-imposed salary cap of $154,300 with a $185,000 incentive.
That bump in Braun's three-year contract will be paid over 18 months, with the first installment worth $46,000 coming after 30 days.
When the incentive is factored in, he'll earn $195,364 in the roughly eight months left in this fiscal year after he starts Nov. 1. For the full fiscal 2019, it will be $246,800.
Braun, 48, earns a base salary of $240,000 as chief operating officer. State records show his total compensation, though, was more than $286,000 in the 2016 budget year.
'We had to give him a recruitment incentive to take a job that was paid $90,000 less than what he is currently getting," regents President Mike Richards said.
The board in subsequent years could consider additional incentives and deferred compensation packages for Braun, according to Richards. And, he said, the board plans to ask lawmakers to increase the cap - something former Executive Director Bob Donley, who resigned, suggested.
The national average for this type of position is $330,000, Richards said.
The board for years skirted the cap for Donley through bonuses and deferred compensation.
Even with Braun's incentive, Richards said the board office has found about $300,000 in savings, including a decision not to fill the chief operating officer position it created last year.
The board and its universities have been scrambling to cut costs after lawmakers earlier this year cut more than $20 million in base appropriations in the middle of the 2017 budget year and another nearly $10 million from the regent base for the 2018 term.
A regents committee earlier this year whittled a pool of 42 applicants for the job down to five semifinalists. In September, the committee voted to advance just one of those semifinalists - Braun.
'It was unanimous that Mark was far superior, partly because of his institutional knowledge - with 20 years of experience working for the regent institutions and for the Board of Regents," Richards said. 'This made him uniquely qualified for the position."
In his new role, Braun will report to the nine-member volunteer board and oversee its office staff and operations.