Home / News / Education / Higher Ed
Bruce Harreld installed as University of Iowa president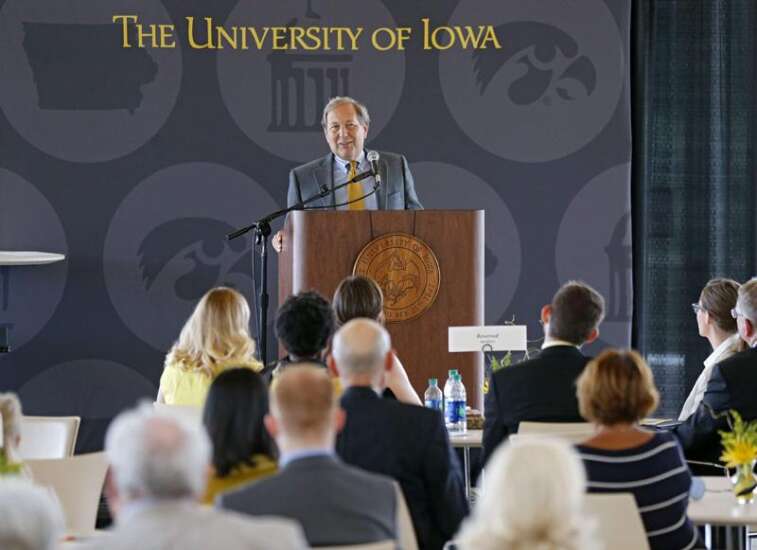 More than a year after the Board of Regents announced his hiring, J. Bruce Harreld on Friday officially was installed as the University of Iowa's 21st president during a ceremony attended by state and local dignitaries that included Gov. Terry Branstad and UI President Emeritus Willard 'Sandy" Boyd.
'President Harreld likes people and has an open and inquiring mind," Boyd said during the event. 'He's had diverse and broadening experiences, and he has a passion to lead our beloved university in pursuing its never ending educational frontier."
Speakers at Harreld's installation acknowledged the bumpy start to his tenure. His hire prompted protests and votes of no-confidence in the Board of Regents, who selected Harreld - a former IBM executive with no academic administrative experience - despite widespread criticism of his candidacy.
'It's not shocking that a new president from outside the academy stirred some discontent and fears on our campus," said Josh Schoenfeld, president of the UI Graduate and Professional Student Government. 'Reactions that are honest and important but which must now be focused into productive dialogues."
Schoenfeld highlighted ways he's seen Harreld work with the campus in his first year to 'move the university forward together."
'Bruce, as he prefers to be called, began his presidency not by imposing his ideas of how things should be done, but instead by immediately doing what any good leaders should do - by listening to the concerns of the faculty, staff and especially important - at least from my perspective - the students," Schoenfeld said.
He talked about Harreld's advocacy for underrepresented groups on campus, work with parking issues and efforts to increase student involvement. And he conceded they still have some 'slight" disagreements.
'My approach to Bruce is somewhat how I approach many things in life," Schoenfeld said. 'With a heathy dose of skeptical optimism and evidence-based reasoning."
Schoenfeld was among those who presented Harreld with the presidential medallion. Afterward, Harreld spoke about why he took the job and where he sees the university going.
'I want my grandchildren, who are sitting here today, to attend a classic liberal arts university, like the University of Iowa. And I worry, in fact, that someday they may not have that choice," Harreld said.
'Iowa showed me that it holds its values deeply and dearly. And my goal - which involves, frankly, a very personal stake - is to help us keep, elaborate and advance the character and excellence we are known for."
Harreld said today's challenges must drive us toward tomorrow's achievement, stressing the necessity of teamwork and technology, innovation and collaboration. He dared Iowa's educators to evolve their curriculum and continue thinking broadly for individual students.
'We must not educate the masses as a mass," he said.
Although Harreld said he doesn't know the answers, he knows many of the issues.
'And I will work the Faulty Senate and Staff Council and all the rest of the community to see how we can creatively best intent and reward our university to become world-class mentors of individuals," Harreld said.