Home / News / Health Care and Medicine
With threats to abortion access looming, one Iowa woman fears the worst
State Republicans continue to make abortion restrictions a priority in shifting national landscape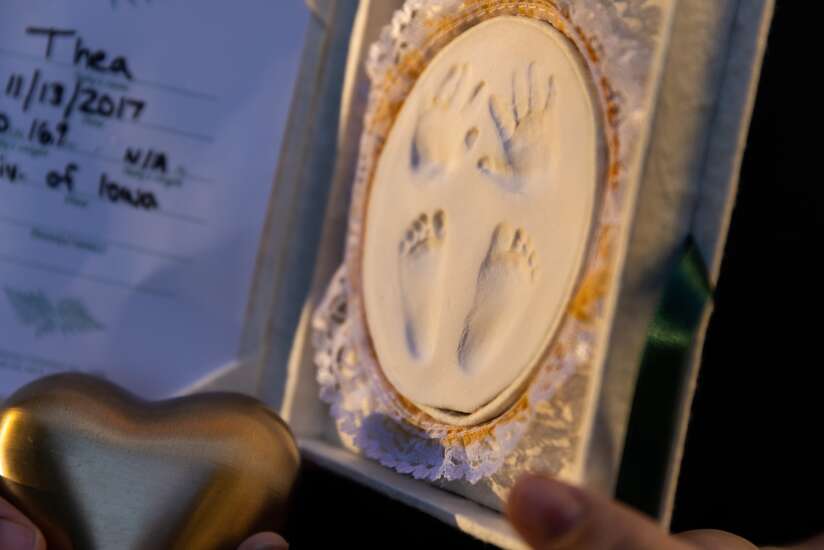 The future of abortion in Iowa could change dramatically in the coming years.
The Republican-led Iowa Legislature and governor have attempted to restrict abortion services in Iowa for years, although with limited success. Abortions still are legal in Iowa for up to 20 weeks of pregnancy.
But a shifting landscape — both nationally and in Iowa — could pave the way for stricter abortion restrictions in the state in the near future. With these threats looming, one Iowan says she fears what further curtailments could mean for other women in situations similar to hers.
Marcy Peltz, 35, had an abortion in November 2017 after doctors discovered abnormalities that put her life at risk.
"You have to do what is right for your family," the Council Bluffs woman said. "It's parents who have to live with the decision they made. I don't regret what I did. I felt like it was the best option for my family."
'Whose decision is that to make?'
In late 2017, Peltz was expecting her first child with fiance Shane Reeves, a pregnancy they had planned "since ovulation." They had thrown a gender reveal party — it was a girl — and named their daughter Thea Brook.
During a 19-week ultrasound, Peltz's providers discovered a cervical teratoma growing on the baby's neck, which is a rare congenital tumor that can make it impossible for a newborn to breathe at birth.
Peltz said she believed wasn't hearing all her options from her religion-affiliated provider, so she sought out another opinion from the University of Iowa Hospitals and Clinics a week later.
There, providers shared more devastating news. The tumor had grown exponentially and was now on the baby's chest and face, crushing her jaw.
Doctors also said the tumor was causing a secondary condition called hydrops fetalis, a serious and life-threatening condition that causes an abnormal buildup of fluids around the organs of a fetus.
"I don't regret what I did. I felt like it was the best option for my family."
Peltz was informed there was an option to try to perform a surgery on the baby to remove the tumor while she still was in the womb — called an EXIT procedure — that only two out-of-state hospitals could perform.
To be eligible for the surgery, the pregnancy needed to reach 26 weeks gestation. And based on the progression of her health conditions, it was unlikely the baby could survive that long.
Even if the baby had beat the odds, Peltz's providers estimated the baby only had a 20 percent chance of surviving the EXIT procedure itself.
Peltz and Reeves decided to end the pregnancy. Peltz said she was worried about her two older children — a son and daughter, now both aged 14 — if she were out of state for months to have the surgery, or if things took a turn for the worse.
"I chose my children I have now," she said. "… They need their mom alive and breathing right now."
At that time, Peltz was 21 weeks pregnant — past the parameters set by an Iowa law that had passed earlier that year that bans most abortions after 20 weeks or pregnancy. However, the law does allow abortion to be performed after 20 weeks if doctors determine its necessary to preserve the life or health of the mother.
"I made decision for me and my family, so she didn't have to suffer any more and I didn't have to suffer any more," Peltz said. "It wasn't a pregnancy that wasn't going to make it to term. It was going to be extremely dangerous for all parties. Whose decision is that to make?"
Republican 'not rushing' to draft legislation similar to Texas
Since Republicans have held the majority in the Iowa House and Iowa Senate, the Legislature consistently has pushed legislation on abortion restrictions. University of Northern Iowa political scientist Chris Larimer said that would suggest there would be action in the next session starting in 2022.
"They pushed hard on those bills in 2018 to 2021, and there doesn't seem to be any let up on their push against abortion," Larimer said.
As a result, abortion advocates across the state are raising the alarm, saying it soon may be difficult for women to access an abortion.
"This is a warning to Iowans, abortion access is certainly under attack," Jamie Burch Elliott, director of public affairs at Planned Parenthood Advocates of Iowa.
For state Rep. Steve Holt, a Denison Republican who has helped shepherd recent abortion policies through the House, it remains a top priority.
"We will continue on state level to look for ways to protect unborn children," Holt said.
He added, "I'm pro-life, I believe life begins on conception and that is something I will continue to work toward."
Nationwide, abortion advocates have raised the alarm on a law that was implemented in Texas that effectively bans abortion after six weeks of pregnancy. Burch Elliott said as the law doesn't name government as the enforcing body — but rather allows private citizens to file lawsuits against anyone who helped a women obtain an abortion — there's "a big enough loophole" that Iowa could pass similar legislation.
Holt called the Texas law a creative approach, but said he's watching to see how it will play out in the courts. He's not rushing to implement a similar law in Iowa, he said.
The U.S. Department of Justice is suing the state of Texas and asked a federal judge this past week to temporarily block enforcement of the law.
This past session, lawmakers approved a proposal for an amendment that states the Iowa Constitution does not guarantee the right to an abortion. The amendment aims to return Iowa's constitutional to a neutral position on abortion, which still would be legal under federal law, Holt said.
Legislators need to agree on the language of the constitutional amendment in the upcoming session before it can appear on Iowan's ballots — most likely in the 2024 election.
The state Supreme Court has changed since 2018, now with four of the seven justices appointed by Republican Gov. Kim Reynolds. And if the constitutional amendment is passed, lawmakers could follow with a number of bans that previously had been overturned by the courts to test the constitution again, Burch Elliott said.
The 2022 elections could shift how Republicans approach the topic in the next legislative session, Larimer said. If perception is the public generally is against highly restrictive abortion laws such as the one in Texas, some state elected officials may chose to focus on less contentious issues and leave abortion policy for the following year.
"If Texas unfolds in a way that is problematic or unexpected, maybe Iowa legislators will be less likely to take it up," Larimer said.
It's unclear how Iowans may vote on the constitutional amendment, should it appear on 2024 ballots. According to a Des Moines Register/Mediacom Iowa Poll published in March, fewer than one-third of Iowans support the proposed constitutional amendment while 58 percent oppose it.
However, Holt said he's confident Republicans will continue to hold the legislative majority.
Peltz says her story like many others
On a shelf in Peltz's home sits an urn of Thea's ashes as well as a mold of her hand- and footprints. The family still mourns Thea, even as their family continues to grow.
Less than a year after November 2017, Peltz gave birth to a boy, now three years old. She's also six months pregnant with a boy they plan to name Keanu.
Reflecting back, Peltz said the most painful aspect was the fact she had to seek out another provider to actually obtain the abortion.
"Knowing we planned to terminate, that was the hardest thing emotionally," she said in tears. "I had to fight so hard to do that medical procedure, and not because I wanted to. That was the most traumatic thing to do."
Peltz said there are many nuances to a decision to end a pregnancy, nuances that many others "don't understand until you live it." She believes her story is not far off from dozens of other women who seek abortions each year.
"I think a lot of moms make that decision," she said. "It's scary when they don't consider my story in abortion (policy), just because it doesn't fit their narrative."
Comments: (319) 398-8469; michaela.ramm@thegazette.com