Home / News / Health Care and Medicine
Wedding at UI hospital chapel includes heart transplant bride, son on waiting list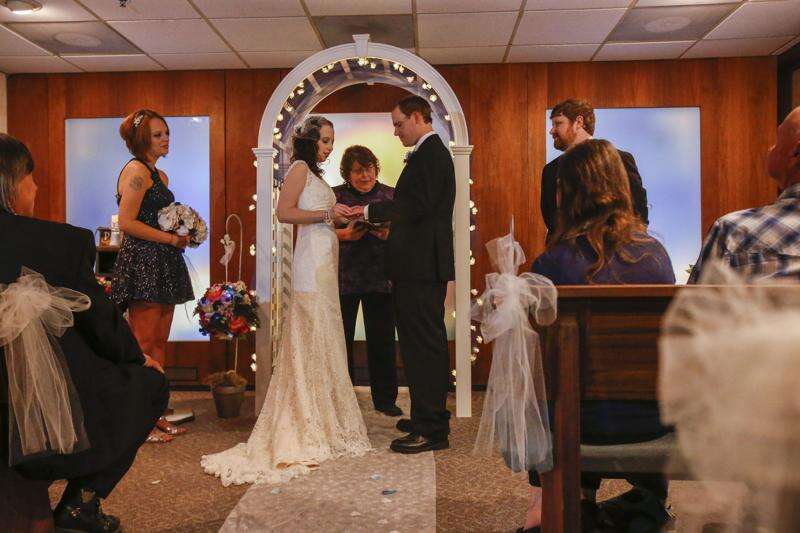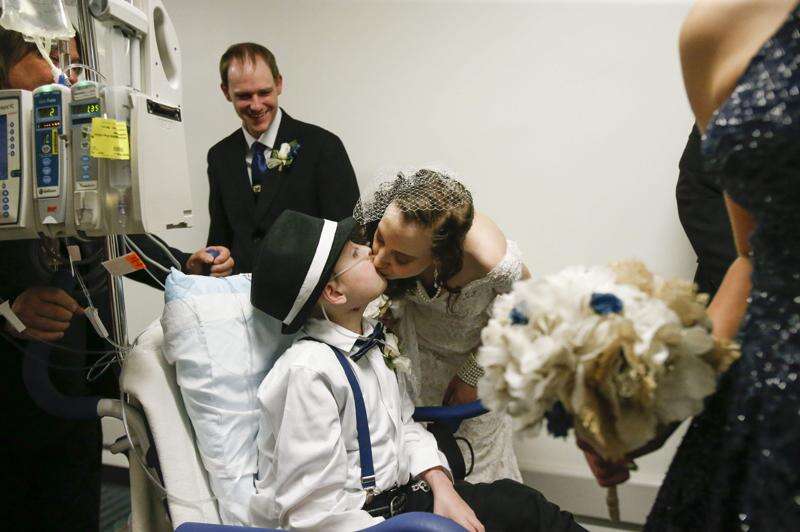 IOWA CITY - As she watched the bride walk down the aisle Saturday, Katrina Frondle couldn't help but feel the presence of her son.
Keith Frondle wasn't there, but his heart was - serving as the keystone for a simple, yet extraordinary ceremony.
Keith died on Sept. 17, 2001, at the age of 10 after suffering an asthma attack. His heart was harvested for transplant and given to Nikole Carey, a 12-year-old girl battling a degenerative heart condition called dilated cardiomyopathy. Doctors at the University of Iowa Children's Hospital in Iowa City performed the surgery to give Carey a second lease on life.
On Saturday, Carey, now 27, of Orion, Illinois, walked down the aisle with her father - Buddy Carey, 54, of Moline, Illinois - at her side, and Keith's heart still beating in her chest.
'I'm so happy," said Frondle, 42, of Cedar Rapids, who wore a boutonniere of white and blue flowers and charms bearing her son's initials, along with a silver heart. 'It kind of feels like my son got to live on and he got to love. Whether it's female or male, it don't matter. He got to experience love."
UNIQUE WEDDING
Nikole Carey and Brandon Kommer had intended to be married in an outdoor ceremony in their hometown of Orion.
Instead, they found themselves Saturday in the chapel at the University of Iowa hospital, the same place where Carey's heart transplant surgery had taken place years before. The room is small, barely big enough to hold the 30 or so people who arrived to help the couple celebrate their big day.
Why hold a wedding at a hospital chapel?
For Carey and Kommer the answer was simple: so one very important young man could attend and participate as the ring bearer.
You see, Kameron Brown, 11 - Nikole's son from a previous relationship - is a patient at the University of Iowa Children's Hospital. He's also a heart transplant candidate, suffering from the same condition as his mother. He's been on the transplant waiting list for nearly 18 months and has been at the UI hospital since May.
'We were actually just going to wait until he got out of the hospital and got his heart and everything, but he wanted us to get married now," said Carey. 'He said he wanted us to get married now so we could start our future together as a family."
And so, on Saturday, Kameron carried the rings, heard the couple's vows and craned his neck to witness their first kiss as husband and wife.
That surprised his mother, who said Kameron typically would have protested such a public display of affection.
Carey and Kommer said they now plan to focus on getting Kameron healthy and back home. They hope to keep his life as normal as possible in the years to come.
'I look at it as an obstacle," said Kommer, 28. 'I don't look at it as a weight that will bring us down. I don't want Kameron to look at something like, 'I had a heart transplant, so I can't do something.' I don't think it means he can accomplish any less than he would have been, because it doesn't.
'If anything, it makes him stronger."
FAMILY CONNECTIONS
Nancy Jordan, the mother of the bride, used two words to describe Saturday's wedding - 'surreal" and 'special."
'It's very surreal just to be able to celebrate this where Nikole received her second chance at life," she said. 'It's just really special to us."
Jordan, 49, of Moline, Illinois, said she had the usual mother-of-the-bride jitters on Saturday. But she was well equipped to deal with it after all her family has been through over the past 15 years.
Five years after Nikole's heart transplant surgery, Jordan found herself back in Iowa City where her other daughter, Tarryn Erickson, 30, of Port Byron, Illinois, also received a new heart at age 21. She, too, suffers from dilated cardiomyopathy, a condition that reduces the heart's ability to pump blood.
Now, Jordan continues to wait for news there is a heart for her grandson.
Dr. Erik Edens, director of pediatric heart transplant at the University of Iowa Children's Hospital, said Kameron is 'high" on the waiting list and could receive a heart any day.
He said this is the first time the UI hospital has ever had a mother-son transplant combination. He's certain the condition they suffer from is genetic, but said researchers have not yet found the exact source on the genetic code.
Like a member of the family, Edens also attended Saturday's wedding.
Jordan said she takes comfort in knowing the same doctor who performed Nikole's surgery is on board for Kameron if and when a suitable organ is found.
'As bad as the situation was, it gave so much comfort to have that relationship established," she said. 'It's really amazing that as a family, we have the ability to move forward, even during the times that aren't ideal."
A CHANCE TO FIND LOVE
After saying 'I do" on Saturday, Nikole and Brandon Kommer, ate cupcakes and sipped iced tea in the Healing Garden outside the main entrance of the hospital. The bride immediately kicked off her shoes and family members posed for photos.
Katrina Frondle thought back to the dark days after her son died 15 years ago and the choice she made to donate his heart.
'I looked at all the negative things and I got to thinking, 'There's a little girl who got a chance to find love and get married,'" Frondle said.
'I'm so glad I made the right choice. When I hug (Nikole) my whole body tingles."